Best time to visit Cornwall: when should you go?
The best time to visit Cornwall is going to depend on your individual circumstances but hopefully this post should help you to judge when you want to book your holiday here.
I've visited as a tourist in many different seasons and now that I live in Cornwall I can see it every month of the year. There are pros and cons to each month and each season.
If you have kids of school age the answer is going to be different to a young couple with no kids, a solo traveller or someone with toddlers. What you like to do will dictate which month is best. Who you are travelling with might also dictate just when you can go as well.
But, if you really want an answer to the question of when to visit Cornwall, here goes:
The best time to visit Cornwall is in June or September when the weather is still good but it's not as busy. There are no school holidays and no bank holidays making the county busy.
Let's dive into the seasons and see what the benefits and restrictions of each one are. Hopefully that will help you to discover the perfect time for you to go on holiday to Cornwall!
I'm compiling posts about each month and season in Cornwall – I'll link from here when they are complete!
When is the best time to go to Cornwall?
Each season has its pros and cons for visiting. That might be the weather, the busyness of the county or maybe the events and things to do that are going on. Let's take a look at each one.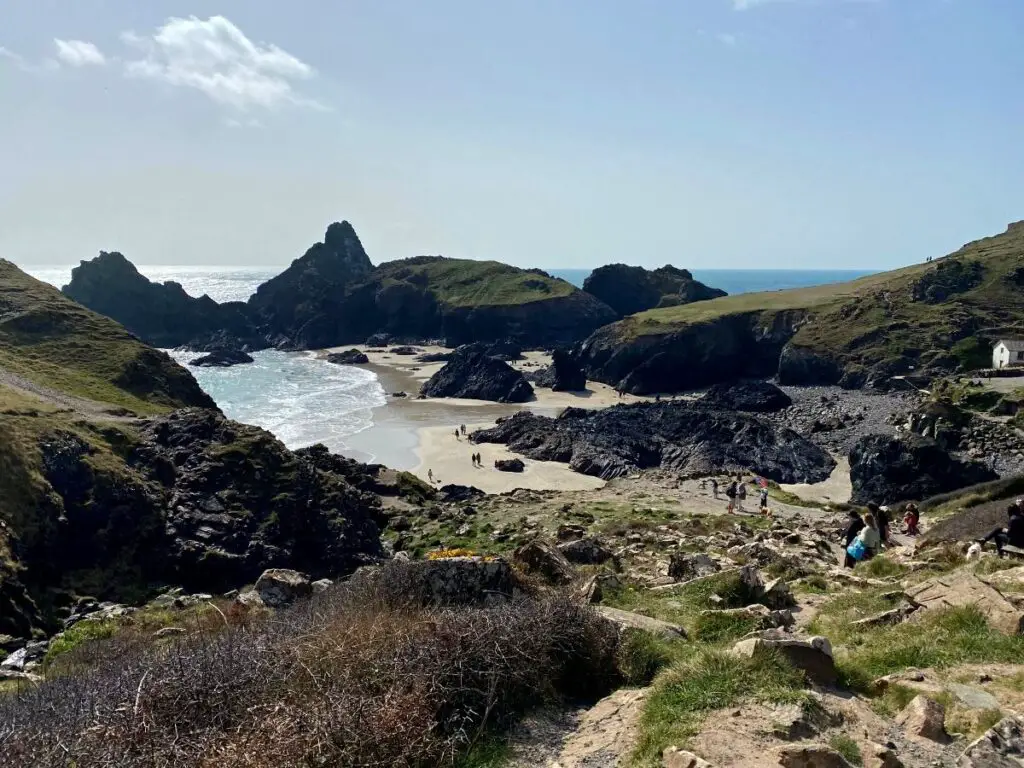 Spring
(In Progress) Check my articles about each month and season in Cornwall:

March
April
May

Visiting Cornwall in Spring
One of my favourite times of the year to visit Cornwall is Spring but it has it's difficulties when planning a trip here with all the bank holidays around.
I love Cornwall in Spring for the abundance of flowers around and the freshness of the air. You can get some stunning days in Spring, it can sometimes be warm enough to paddle in the sea (last year we were paddling in April) and everything is open for the season.
Weather in Spring in Cornwall is definitely becoming warmer but not too stifling. You'll get plenty of rain though, don't worry about that!
You'll find lots of flower festivals at this time of year and gardens are a joy to explore. Food festivals start popping up too so if you want to enjoy some Cornish food this can be a good time to come.
What lets Cornwall down in the Spring when planning is trying to stay away from all of the busy periods that are around which can also push prices up.
Easter is the start and the two weeks that schools are off can start to become busy. There are two bank holiday weekends in May as well when even those who are kid free decide it's time for a break from work.
Pros:
weather is improving
dogs are allowed on most beaches still
attractions are almost all open
Festivals and events start
Cons:
School holidays and bank holiday weekend are busy
Prices start to increase for the busy periods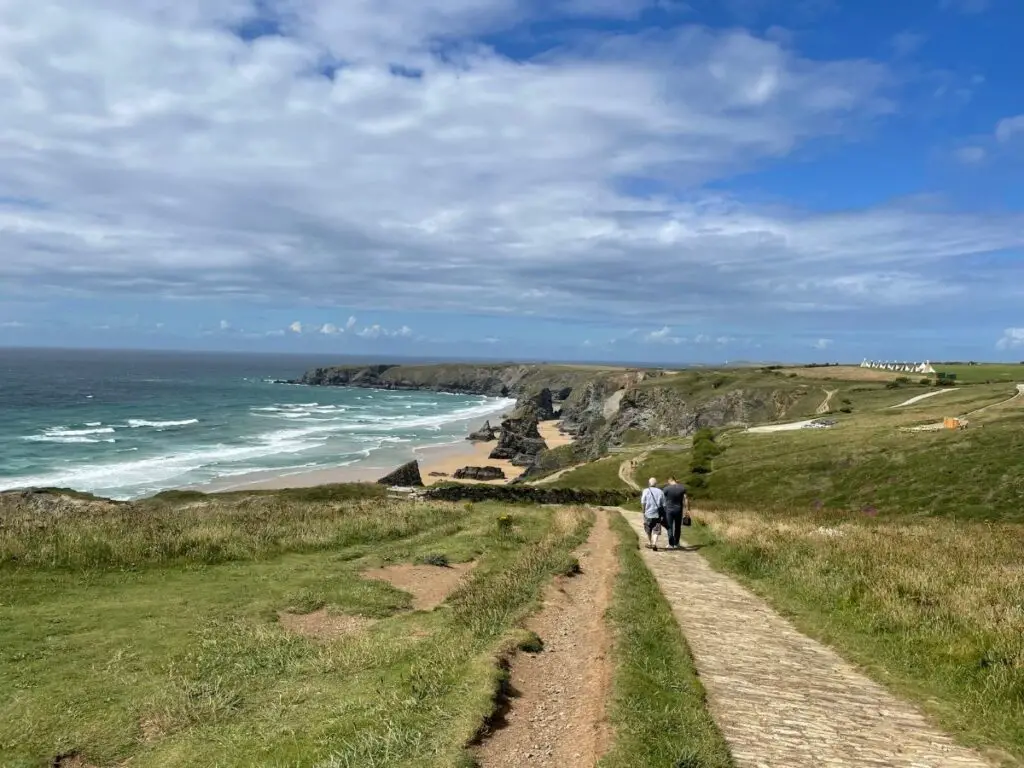 Summer
(In progress) Check my articles about each month and season in Cornwall:

June
July
August

Visiting Cornwall in Summer
The time of the year when Cornwall is at its busiest. A combination of good weather (hopefully!) and schools being off for 7 weeks means that it's the best choice for many people making Cornwall their holiday destination.
June is one of my favourite times of the year in Cornwall and probably my pick for the best month to visit Cornwall. You can see amazing wildflowers all over the county, like the poppies at Polly Joke. The whole place is just really pretty in June and the weather is great.
Early July can see some families come to the area, especially since Scotland's school holidays are earlier than the rest of the UK's, but it's still a more pleasant time to come than late July and the whole of August.
While schools are off, from mid July to end of August, it's the busiest time. That brings traffic issues, parking can be hard at attractions and queues for food and things to do. The drive when getting to Cornwall can be hard, Saturdays can often have really bad tailbacks throughout Cornwall, Devon and the motorways leading and leaving the South West.
August bank holiday is at the tail end of the month and can be one of the busiest weekends of the year.
In saying that, high season means that eveything is open. You'll find events taking place like the Royal Cornwall Show, Boardmasters in Newquay and also lots of kid friendly things to do everywhere.
For those that have kids wanting to spend time at the beach or people wanting to learn to surf you'll find a plethora of surf schools and the major beaches will all have extensive lifeguard cover.
While Cornwall is really busy and the crowds can be frustrating it has a great vibe at this time of year too.
Pros:
Early summer has a riot of wildflowers around. It's really stunning
A lot of beaches have lifeguard cover
The weather is the best in the summer
Attractions and restaurants are all fully open. Lots of pop up food options.
Lots of events, music and food festivals and things to do
Cons:
July and August are the busiest months
Accommodation prices are highest in Summer
Some sites, like Eden Project, have higher entry costs in high season
Although weather is the best in summer you can get weeks of solid rain – it's not guaranteed
Roads are very busy with caravans, motorhomes and tourists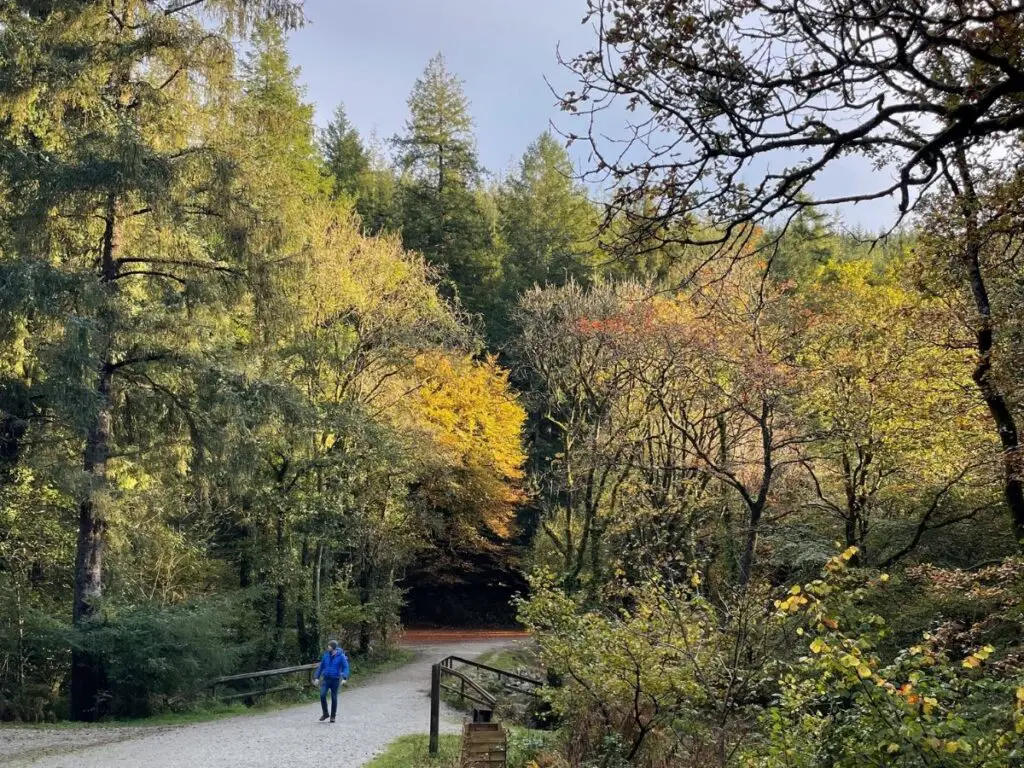 Autumn
(In progress) Check my articles about each month and season in Cornwall:

September
October
November

Visiting Cornwall in Autumn
After the craziness of summer, autumn starts to calm down again and cool down as well.
September is one of my favourite months to visit Cornwall because you get the benefits of the summer (weather and attractions) while enjoying a much quieter experience and having much cheaper accommodation and more choice too.
Up until the beginning of October the weather is still really warm, you get really nice days that will make you question whether it's actually Autumn!
Some attractions will wind down in Autumn with opening hours possibly restricted to weekends.
Beaches where dogs were restricted in the summer months start to be open again for them so it's a great time of year to visit with dogs too.
Autumn doesn't have any bank holidays so there's no worry about fitting yourself around those but you do have a school break at the very end of October and around Halloween that you should bear in mind if you want to avoid kids.
Pros:
Prices drop and much less busy
Still lots of attractions open at the beginning of the season
gorgeous colours when the leaves turn – tends to be in October/November, a little later than the rest of the UK
Cons:
Days start to draw in and evenings are getting longer
October half term can push prices up again
Attractions might be slowing down or reducing hours – you'll have to keep an eye on them
Weather can be more unpredictable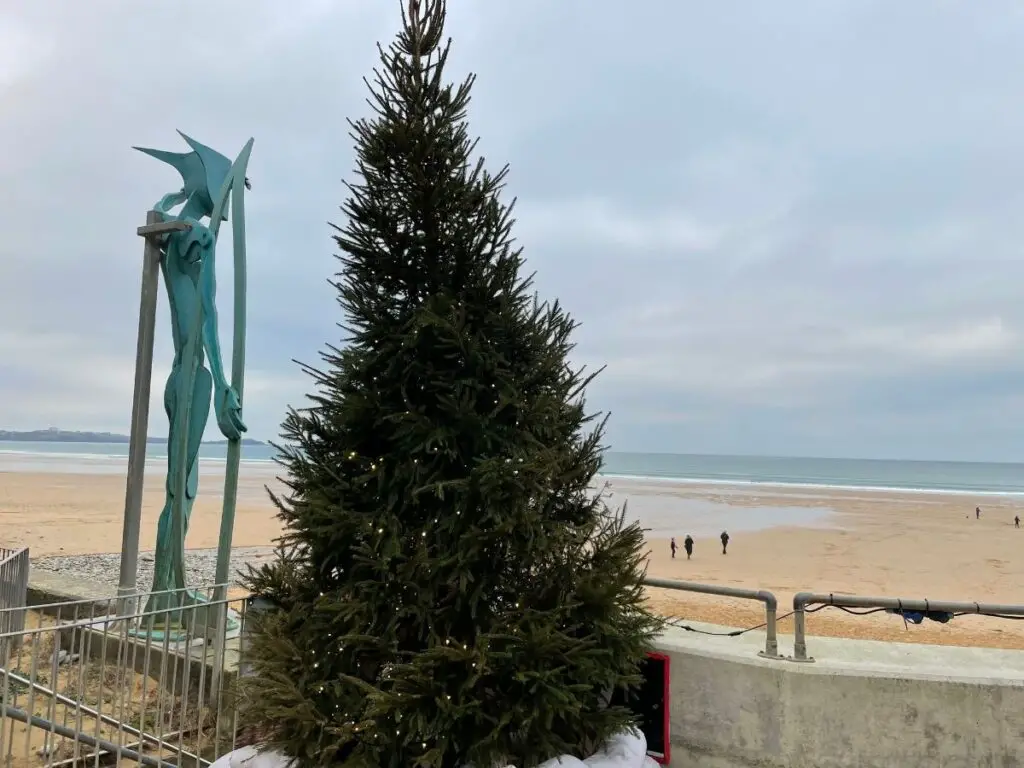 Winter
(In process) Check my articles about each month and season in Cornwall:

December
January
February

Visiting Cornwall in winter
The cheapest time to visit Cornwall is in the winter months but what to gain from cheap prices will be offset that the county is a very different place than in high season.
Christmas and New Year sees a slight spike in visitors but it's not nearly as bad as the other bank holidays through the year. You might find the beaches are busy on Christmas Day, Boxing day and New Years day but nothing too bad. The weather is normally not so good that people spend all day there.
The weather in Cornwall in winter is generally grey and damp. It rarely gets cold enough for snow, in fact I've hardly ever seen any here, but you might do on the high points of Bodmin Moor.
Clear, sunny days are also plentiful but you need to make the most of them when they are here. Weather forecasts can be unpredictable and it can change depending on where you are in the county.
Short days mean that if you're coming here on holiday you'll need to compress all your sightseeing into a shorter time.
Winter is great if you're looking for a romantic Cornwall break with plenty of cottages with open fires and evenings spent in cosy pubs.
Pros:
Quietest time of the year to visit Cornwall
Cheapest time to visit
Dogs can visit most beaches
Cons:
Many attractions have limited opening hours. Some close down completely.
Days are shorter
More storms and bad weather
Some places are like ghost towns.