Things to do in Cornwall in March – 2023
Updated for 2023
The days start to get lighter and everyone begins to think about maybe getting away from it all after a couple of months back in the office or work. So is March a good time to visit Cornwall? Here's a guide to things to do in Cornwall in March and some tips for visiting in this first spring month.
I love March for the signs of Spring appearing everywhere. Dark days are coming to an end and everything is coming back to life.
In Cornwall this is true not just in nature but in the tourism industry as well. While it never totally shuts down, March sees many places reopen, opening hours extended and tourists start to trickle back a bit more.
Cornwall is truly a wonderful place to visit at any time of the year but if you're thinking about visiting Cornwall in March here's some things that you should consider and what's happening in the county.
Is March a good time to visit?
March in Cornwall is a great time to visit as it's that moment in the year where most things are open yet the crowds haven't quite arrived. You get all the benefits of the area with less crowds.
What to consider when visiting Cornwall in March
As always there are things to consider when planning a holiday in Cornwall in March such as what the weather is like, whether anything is open and how busy it will be. Let's take a look.
Weather
The weather in March starts to definitely improve. We've experienced lots of lovely warm days down here in March.
You'll find a low of 5°C and a high of 11°C. You'll still get days when it's wet, misty and a bit cold, but that's March in the UK! You'll also hopefully encounter bright and sunny days too.
School holidays
Mostly March is free from the busyness that school holidays bring. This only changes if Easter falls early and even then it's confined to the end of March.
Easter in 2023 is in April but in 2024 falls at the very end of March – Good Friday is 29th March 2024 and Easter Sunday is 31st March 2024
Attractions
Many attractions that are not open year round will start to open again at some point in March to get themselves up and ready for the upcoming Easter and summer season.
If you have a particular place you want to visit I'd definitely recommend checking their website in case they are still closed when you come to visit, especially if you're visiting earlier in the month.
Some attractions might still be open for limited days and hours, again it's best to check before planning your days in Cornwall.
Car Parks
Lots of the council run car parks in Cornwall are free over the winter months, up until the 31st March, which means you can enjoy a lot of the towns and villages without worrying about paying.
Not all are free, Truro and some other towns are still charged so check the council website for the car park you're thinking about visiting. In Newquay some of the central car parks still have a charge while the outer ones don't.
Normally I check the car park on Google Maps and click the link that is there if it's a council run car park – that will take you direct to the car park page and you can see what the costs are.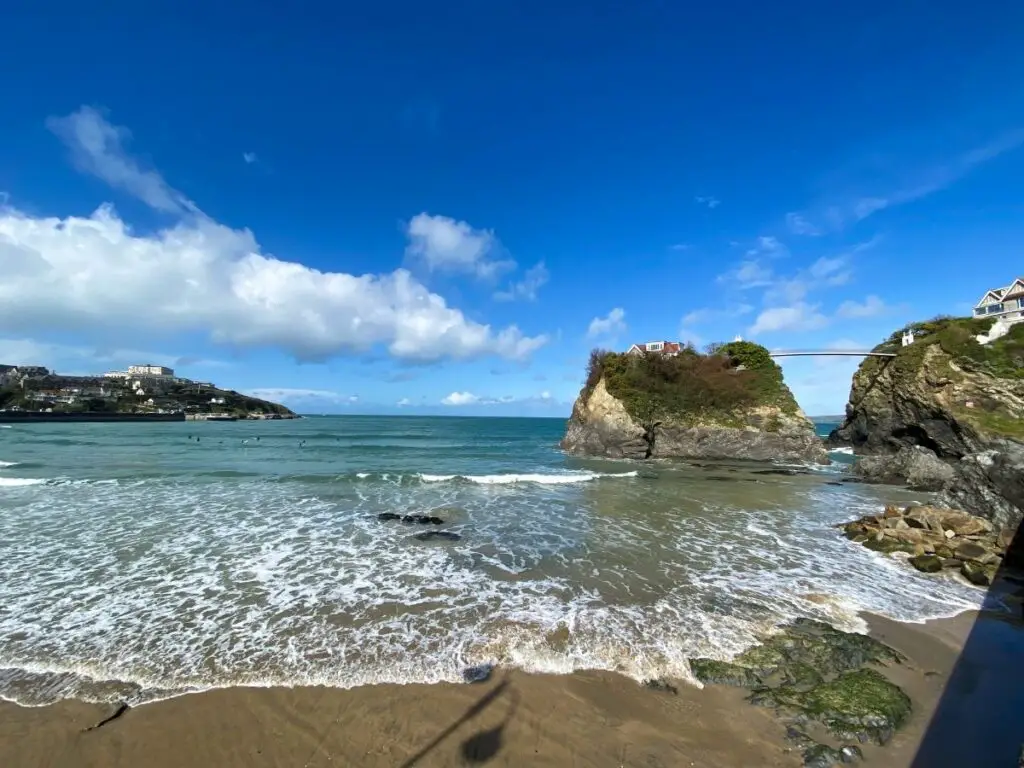 Things to do in Cornwall in March
Please also check my 'things to do' articles as I can't fit everything here and it might depend where you're based as to what you might want to do.
Visit Castles
Cornwall has lots of castles to explore and March sees a few of them open for the year. (Not all, Restormel and Launceston don't open until April 1st 2023)
You have a few to choose from: Tintagel is on the North coast and has a dramatic coastline. St Mawes and Pendennis are both on the south coast for a different feel. These are all owned by English Heritage – members can visit for free.
Of course, there's also St Michael's Mount which opens back up in February. March is a good time to explore here before the crowds come.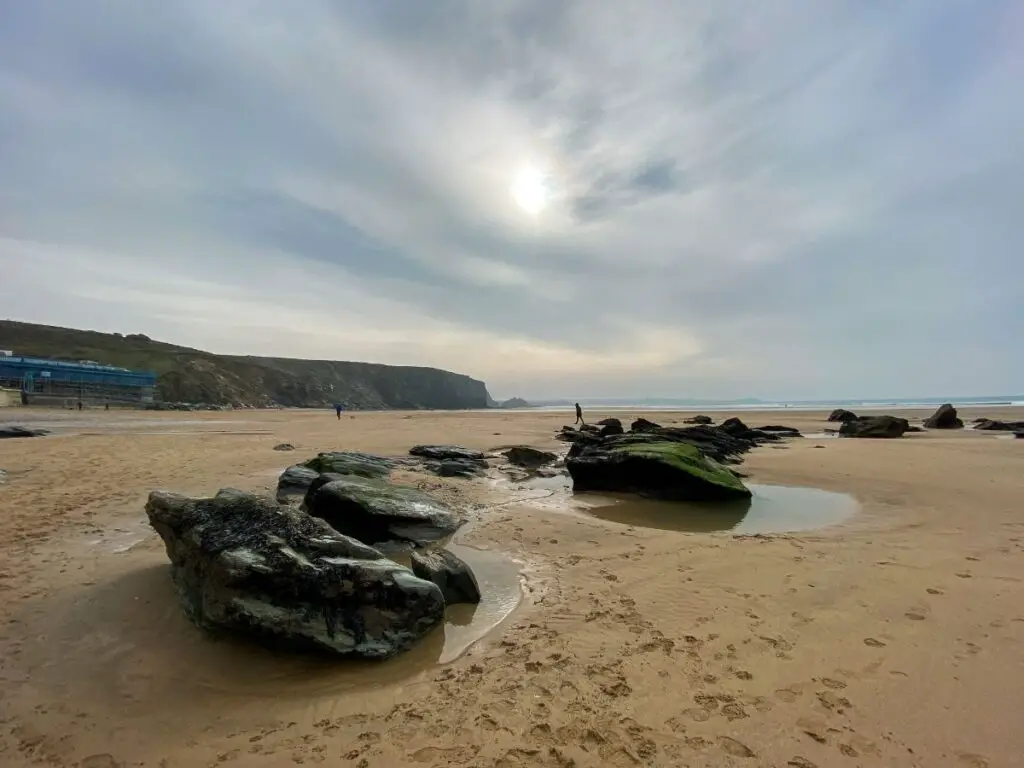 Head to the beach
I feel like I say this in all of my seasonal posts about Cornwall (that's because I do!) but you can't ignore the beach on a trip to Cornwall.
It's still really quiet on the coast in March and council car parks are, mostly, still free up until the end of the month too so you can spend hours exploring if you want to.
Flowers everywhere
Spring means flowers and you can be sure to find them all in Cornwall.
National Trust properties are a great place to see daffodils and woodlands with their flowers growing (see below for a couple of specific events too). Properties like Trerice, near Newquay, also open back up after their winter closing (4th March onwards in 2023).
Why not also consider visiting the Japanese Garden near Newquay which opens in March for the season for something a little different.
Explore museums
With the weather being somewhat unpredictable, although that's not really just for March, it's a good idea to have some wet weather activities on hand.
Museums are a great idea and since we're not in school holidays they tend to be a little quieter. So that's perfect for any adults exploring and wanting to learn about Cornwall or maybe those with toddlers looking for a good child friendly day out.
One to consider might be the National Maritime Museum in Falmouth which is open year round.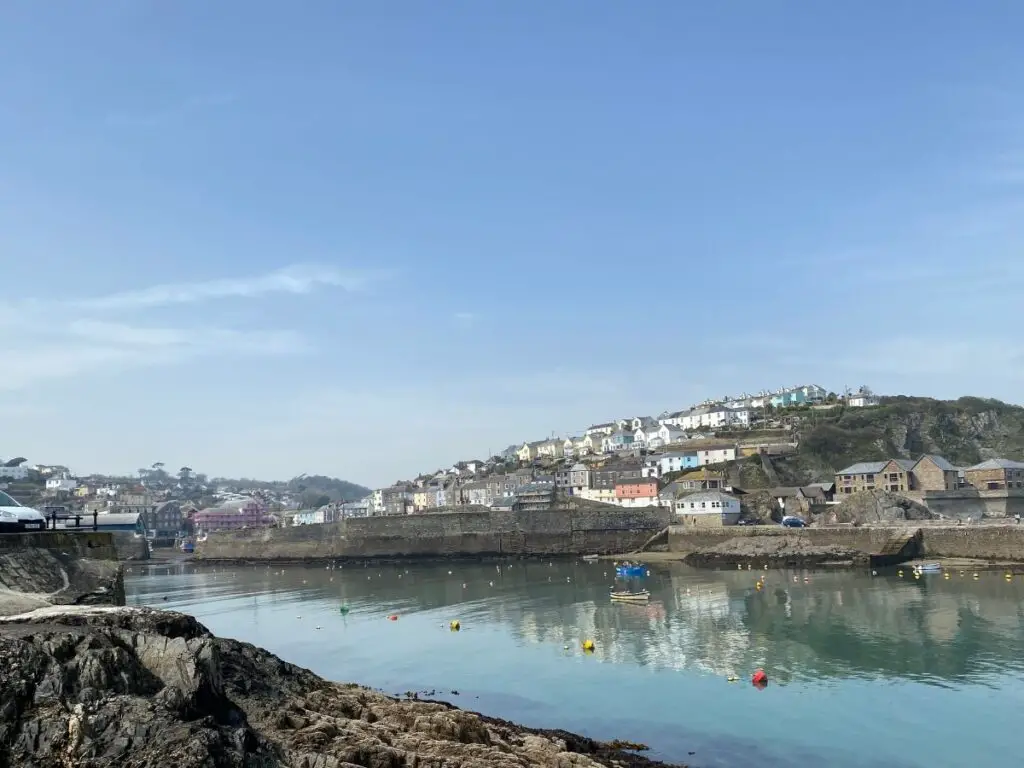 What's on – Cornwall March events
St Piran's Day
St Piran is the Patron Saint of Cornwall and Saint Piran's day is the 5th of March. In 2023 that is perfectly timed to fall on a Sunday for many events in the county.
You'll find parades and events up and down the county. My tip for you is to check what is on locally to where you are staying, many of the larger towns will have parades.
Mother's Day
While March in general is a fairly quiet month in Cornwall you might see some increased traffic at attractions and restaurants on Mothering Sunday which this year is Sunday 19th March 2023.
It coincides really nicely with many of the flower events listed on the page. A visit to one of the many gardens like Trebah or the Lost Gardens of Heligan might go down well too.
If you're looking to eat out on Mother's Day in Cornwall then I suggest booking in advance.
Daffodils at Cotehele
Cotehele is a National Trust property in the East of Cornwall, not far from the Devon border. Every spring they have a daffodil display which shows of over 300 varieties of the flower.
Falmouth Spring Flower Show
Taking place on the 25th and 26th March at the Princess Pavillion. See entries from many flower growers vying for first place in a LOT of categories! See their FB page for more info.
Minack – Superstition Mountain
From the 28th March 2023 – 14th April 2023 is the play The Massive Tragedy of Madame Bovary on at the amazing open air theatre at Minack.
〓〓 Cornwall Travel FAQ 〓〓
Recommended accommodation providers for Cornwall?
For hotels I recommend Booking.com
For apartments and cottages check out VRBO
Do I need insurance for travelling to Cornwall?
YES! I always recommend people take travel insurance even when travelling domestically! If you have booked something non refundable it might be the only way you'll get money back if you need to cancel (check terms).
Do I need a car for visiting Cornwall?
Possibly – if you want to explore the county fully then a car is a good idea.
I recommend DiscoverCars to compare car rental prices if you're needing to pick up a car here.
What's the best guidebook for Cornwall?
I really like this Bradt guide for a good overview of the county and if you want some walks I really like this Wild Swimming Walks book
Where to get flights for Cornwall
Skyscanner is my first port of call for finding cheap flights to Cornwall – you can get to Newquay from many places in the UK to save you a drive!