Top Ten Newquay Hotels on the Beach – get sea views and more!
Stunning sunsets, the surf vibe on your doorstep and access to one of the coolest towns in Cornwall – who wouldn't want to spend their holiday with that?
You can, of course get all of that if you decide to stay in one of Newquay's hotels by the sea, and there are quite a few of those too!
I love Newquay for the vast array of different beaches it has – there's really a different one for each day of your holiday if you wanted! The surf vibe is also really strong here meaning that if you wanted to have a go this would be the perfect place for you too!
Newquay is also a really family friendly place and there's some excellent family friendly hotels to stay at too (some are even dog friendly!) and with so much to do in Newquay it's really an excellent base.
I'm sure you're already sold on Newquay as a location, so let's get on to the best Newquay hotels on the beach so you can live out those beach dreams!
Top Ten Newquay Hotels on the Beach
All these hotels are in different areas of Newquay but I have a real soft spot for Fistral beach, and wouldn't you know, my top pick of hotels look over this stunning stretch of sand!
While there's a few options around Fistral Beach, this is my top pick for a few reasons.
First of all it's the closest to the beach itself. Yes, you do have a few steps to go down to reach the sea but it's so close!
This side of Fistral beach is also great for kids since it's quite rocky so loads of opportunities for going rock pooling.
Some of the rooms are also pet friendly too so you can even take your dog!
The Esplanade Hotel also features:
An indoor swimming pool
Spa bath
Sauna
A surf school with discounted lessons for guests
Amazing Atlantic Ocean views from the on site restaurant
You're still within reach of the town of Newquay with all the shops, cafes, restaurants and other beaches too – it's only around 10 minutes walk away.
This side of the beach has a cafe to enjoy while on the other side of Fistral beach you also have a Rick Stein Fish and Chips restaurant too.
Situated just a stones throw along the road, so still in a perfect position for all that Fistral Beach has to offer, the Fistral Beach Hotel & Spa is a luxury adults only hotel in Newquay.
So if you're looking for somewhere romantic in Cornwall with amazing views of the sea, beach and with an abundance of things to do this is going to be the hotel for you.
The hotel has the following features:
Adults only
Beautiful, luxurious rooms
Sea views
Indoor pool
Fitness Suite
Luxury Spa and Sauna – included for overnight guests
On site restaurant with stunning views
This is really one of the best hotels in the area if you're looking for modern luxury on your Newquay break.
On the other side of Fistral Beach, so a little closer to the town, is the Oceanside Hotel.
It's a great location if you're wanting to go and catch some early morning surf at Fistral being so close to this end of the beach which is a little easier access wise (less steps!).
It's a smaller hotel which is makes the vibe much more cosy and it's great for families and couples alike.
The Oceanside Hotel features:
contemporary and casual vibe
amazing sunset views
very close to Newquay's centre
dog friendly
restaurant that overlooks the beach
For a cool hotels that oozes that classy surf vibe this is a great place to lay your head in the town!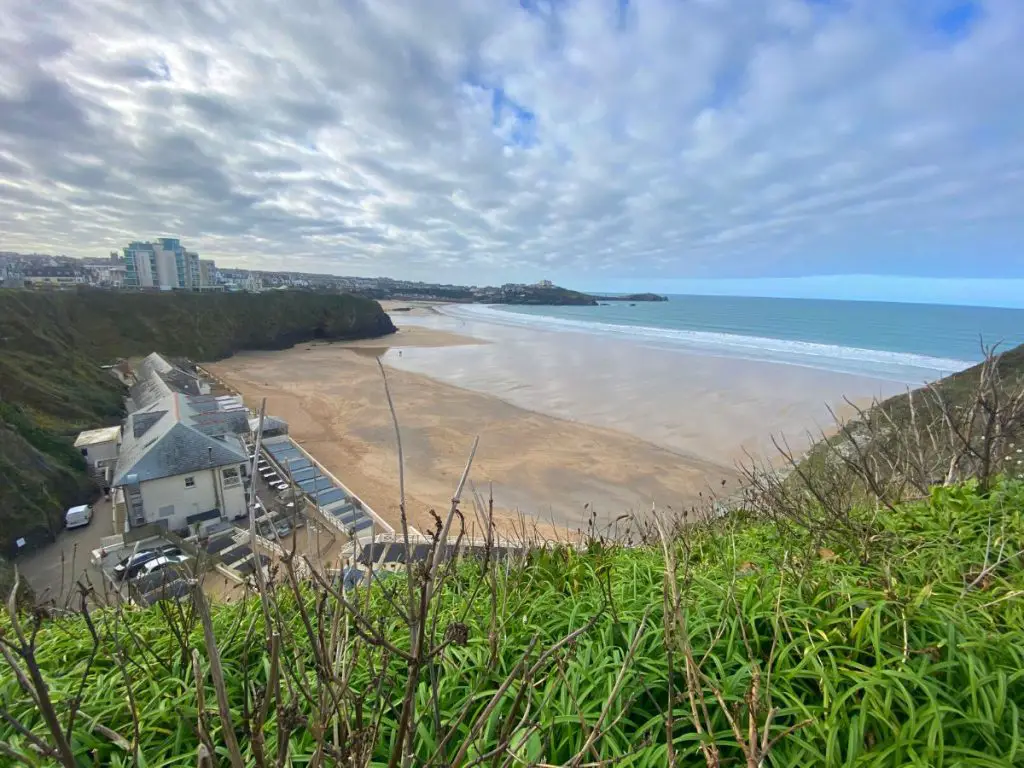 If, when looking for a Newquay hotel on the beach, you mean 'actually on the beach' then you'll want to consider the Tolcarne Beach Village.
The rooms in this exclusive hotel are really interesting and are perfect for an extra special getaway. Imagine waking up to the sound of the sea right outside your door and being able to enjoy it before the rest of the world gets there?
I recommend getting a room with either a balcony or a terrace (the suite) so you can just sit there and appreciate that amazing view with a drink in your hand!
Here's what the hotel features:
Located directly on Tolcarne Beach in the centre of Newquay
A-la-carte breakfast included
Some rooms are dog friendly
Free wifi
Just around the coastline from we come to an iconic hotel in Newquay – the Atlantic Hotel which is a wonderful 4 star hotel with everything you could wish for in it. It has history too being the location where the Beatles came on their Magical Mystery Tour in the 60s!
Situated on the headland and with 360 degree views of the coastline, it's a great location if you're wanting to head to the beach. You have Fistral beach on one side and on the other you can walk towards Newquay Harbour and Towan Beach.
All rooms overlook the sea
Indoor and outdoor pool
Dog friendly (except in July and August)
Family rooms
Amazing dining opportunities with ALL the views!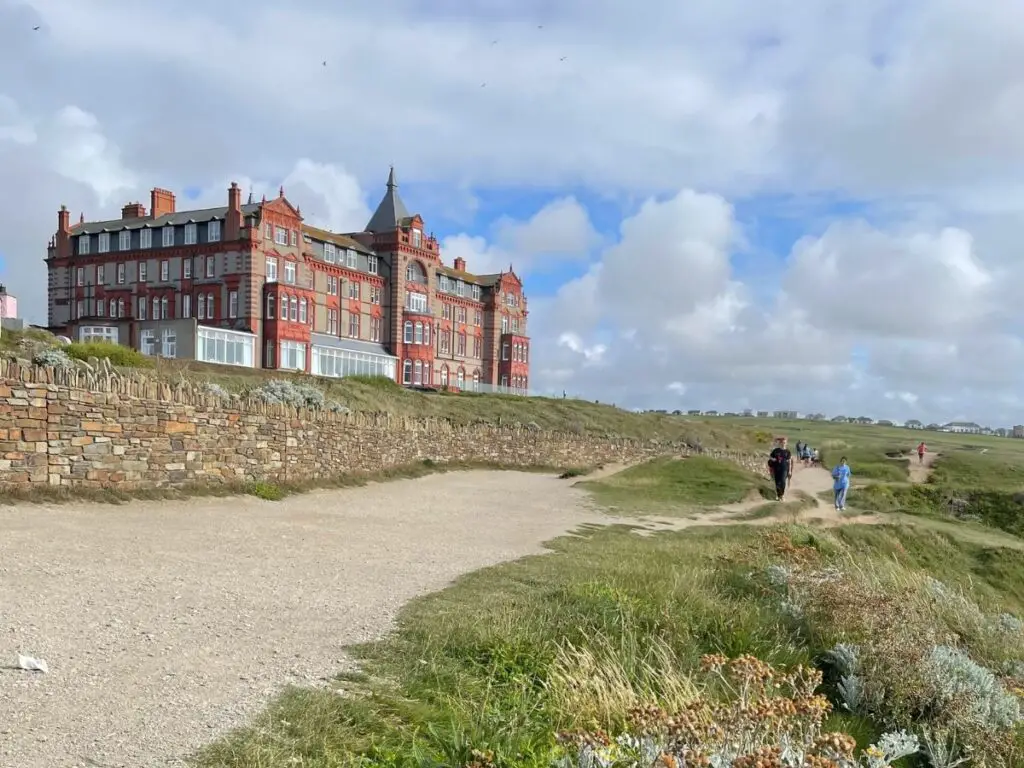 Another icon in Cornish hotels, the Headland Hotel will forever be known to me as The Witches hotel! Of course it featured in the 90s film version of the Roald Dahl tale but now it's just much more known as the place to go for good, traditional luxury and style in the town.
The Headland Hotel is, unsurprisingly, perched on the headland by Fistral beach and so is excellent for access to there and all of the shops and food options. It's also fairly close to town, only being a few minutes walk to the action.
The hotel itself is full of luxury from the rooms and suites which overlook all areas of the coast and the restaurant where you can enjoy afternoon tea or a sumptuous meal.
Large, luxurious rooms – many overlooking the sea
Local food served in one of three restaurants
Indoor Swimming Pool
Adults only Aqua Club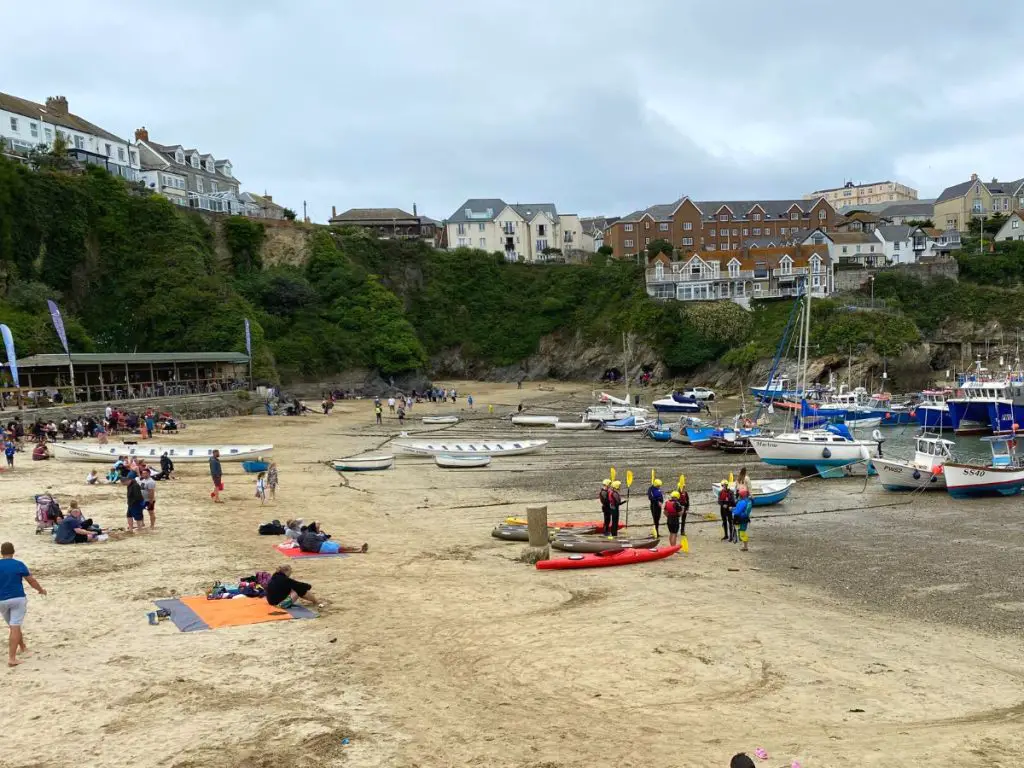 The Harbour Hotel is located overlooking Newquay's small harbour and so when the tide is out there's a small beach there that children love and just over from there is the wonderful Towan beach as well. All well within a short walking distance.
With a more bed and breakfast feel to it this is the place to come if you're looking for a cosy and friendly holiday. They have a number of double rooms with balconies and also a family friendly room.
All rooms have a balcony overlooking the sea
bar within the hotel
breakfast is included
The Pentire Headland is one of my favourite places to walk and there's a pretty fab hotel there where you can stay too.
On one side of the headland you have the wonderful Fistral Beach with all the surfing opportunities that that presents and on the other you have Crantock Beach – a family favourite! Crantock is a little trickier to access – but in the summer months there's a small boat that can take you over!
The hotel has a simple and classic seaside style and has some beautiful rooms, many with stunning views.
20 minute walk to Newquay Centre
Peaceful location, away from the crowds
Modern leisure centre
Traditional restaurant serving local food
Free parking
Heading back into the centre of Newquay and perched on a cliff is the traditional Great Western Hotel which is minutes away from a couple of beaches in Newquay.
You're also right in the town here too so if you're interested in the nightlife, cafes and shops in the town this could be a good location for you.
It's a pub chain so there's also pub lunches and drinks to enjoy while you are staying here.
Situated across the road from the beach but with some stunning views is this newer boutique hotel in Newquay. It's located in the centre of town so you're near to everything,
The Newquay Beach Hotel offers small but perfectly formed rooms with amazing views over the sea and towards the coast.
A full English breakfast is included for guests of the hotel.
Cheap Newquay Hotels by the sea
Some notable extras – especially if you're on a budget. Newquay isn't just home to some luxurious hotels overlooking the sea, it also has some cheap hotels by the sea too.
If you're on a budget check out these two chains, both right by the sea!