Visiting Cornwall in April: tips for easter breaks and holidays (2023)
As soon as the sun starts shining, Cornwall starts to tempt people with crystal clear turquoise seas. Perhaps you don't need tempting and know you want to just escape here! Whatever the reason you're considering visiting Cornwall in April here's our guide to the county at this time.
April means we're well into Spring and the county is springing to life with events celebrating Easter and local food. The local's are ready for another season of tourists and are not yet worn out from the visitors!
With weather starting to brighten in April we often look to taking off and having holidays again, so is it a good time to visit Cornwall? (Spoiler: I always say yes – Cornwall is always a good idea!)
Is April a good time to visit Cornwall?
April is a great time to visit Cornwall with almost all attractions and restaurants opening up again after the winter period. The towns and villages start to bustle again with tourists and it's a wonderful vibe.
The presence of the Easter holidays does mean that it can be a little busier if you visit then, but it's nowhere near as busy as it gets in the summer so don't let that put you off.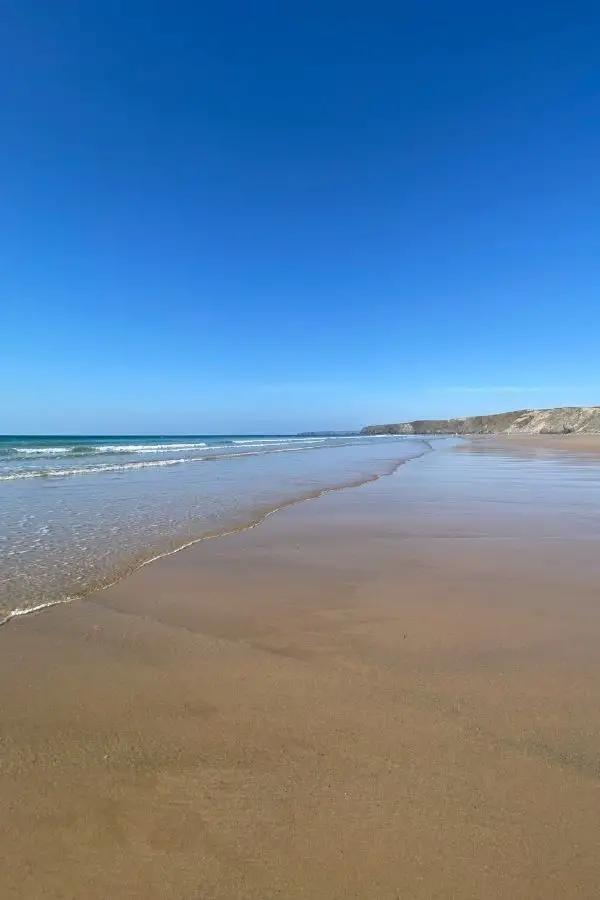 What to consider when visiting Cornwall in April
Weather
As with much of the year, Cornwall weather is changeable so nothing is set in stone and we do get some rainy days down here as well as some gorgeous sunny days. Of course, storms still happen so be just be aware of weather forecasts.
One year on my birthday, which is the first week in April, it was warm enough to take sandals to the beach and even take them off for a paddle. My tip is to just embrace the weather and if it's a nice day make sure to make the most of it!
Typically Cornwall sees a low of 7°C and a high of 12°C and an average of 10 days rain in the month.
Easter
Easter, more often than not, lands in April and with that comes the long weekend for workers and the Easter holidays for schools. This can make places a little busier than usual and can also make prices for accommodation rise as well.
On the plus side there are often events taking place and it means that you'll find that most, if not all, attractions are open.
School Holidays
As stated above, Easter comes with a two week holiday period for schools in general. Sometimes the dates can change for schools in different areas of the country so if you want to avoid this period it's good to check that out.
In 2023 in Cornwall the school holidays are from 3rdh April to the 14th of April.
Attractions
Most attractions will be open and starting to increase their opening hours. Easter holidays are often the date when places will change to their summer opening times if they have them, often opening later and taking advantage of the lighter evenings.
If you're coming to Cornwall before the Easter holidays it's wise to check any attractions you're interested in visiting beforehand.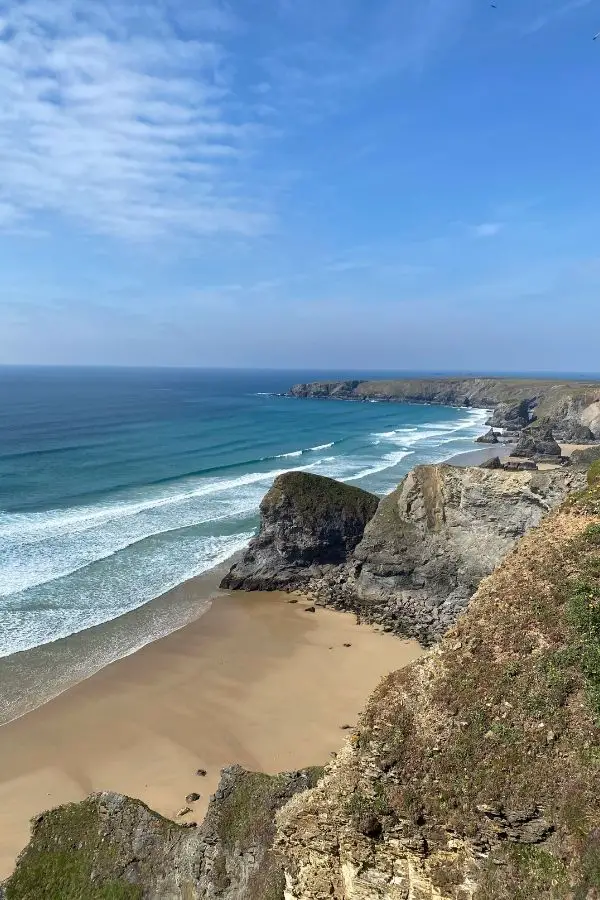 Things to do in Cornwall in April
Please also check my 'things to do' articles as I can't fit everything here and it might depend where you're based as to what you might want to do.
Go on a steam train ride
Bodmin & Welford Railway starts back up their services at the end of March which means if you're visiting in April it should have some dates and times available to go on. It's a steam train that runs around Bodmin through the stunning countryside and allowing you to go on some walks around the area. It's also a pet friendly experience so great for those taking dogs to Cornwall!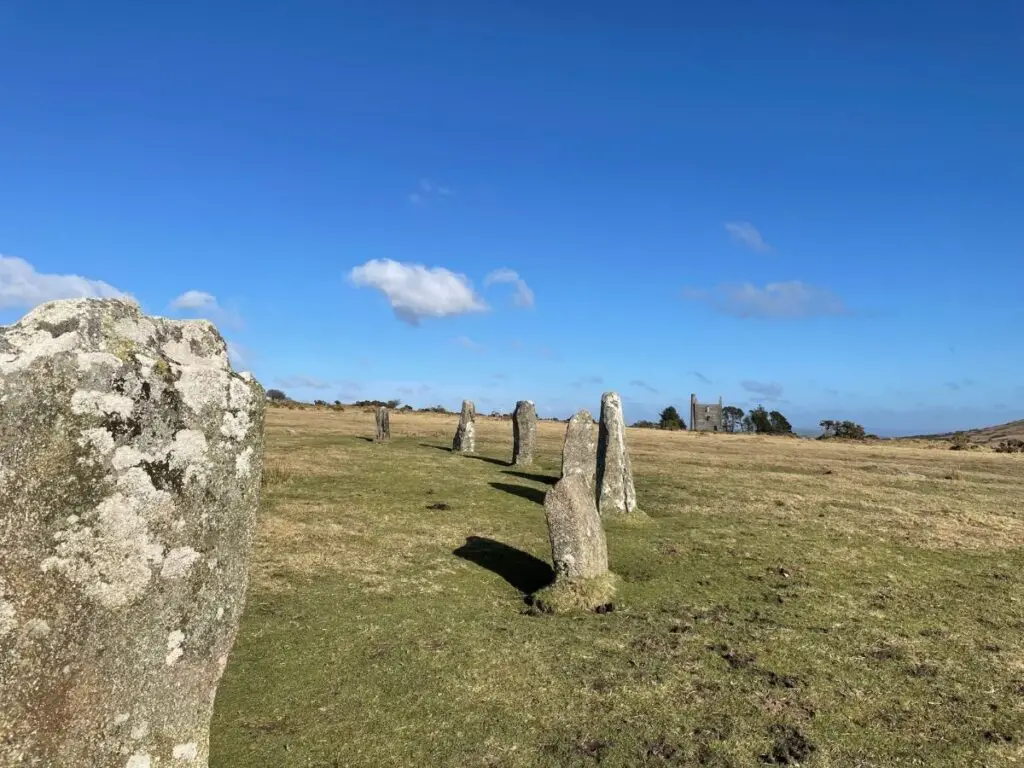 Explore stone circles and Cornwall's ancient past
As the weather improves it's a great time to explore some of the ancient sites in Cornwall. Sites such as the Hurlers Stone Circle near Minions is easy to walk to from the car park but the area invites you to explore more if the weather is on your side.
Chysauster Ancient Village, an English Heritage site at the far west of Cornwall, also opens from April onwards for the summer where you can see the remains of an iron age settlement.
Go for a bike ride on the Camel Trail
The cooler weather in spring makes for a nice time to explore the bike trail between Padstow, Wadebridge and Bodmin. It's a fairly flat trail, and perfect for kids, and there are bike hire places all around too if you don't manage to bring your own.
What's on – Cornwall April events
Port Isaac Shanty Festival
21st – 23rd April 2023 brings some shanty singers to the home of the Fisherman's Friends in Port Isaac (after a coupe of years break due to Covid). The event goes on all weekend and there's loads to see and enjoy there. See their site here for details.
Porthleven Food Festival
A community led food festival taking place on 21-23rd April 2023 in Porthleven. Taste your way through all of the local and interesting foods on offer and enjoy bands and events throughout the day. See their site for more info here.
Easter Adventure Quest at Pendennis Castle
From Saturday the 1st April to the 16th of April 2023 Pendennis Castle near Falmouth is running family friendly trails and games.
See their site here.
Easter at Eden
The Eden Project has a number of exciting things happening over the Easter break. From trails to story telling and also some interactive shows it's a good time for bringing kids to the attraction. They run from the 1st – 16th April 2023.
See more about Easter at Eden here
Easter hunts at National Trust Properties
Many of the National Trust sites are open fully now for the summer season and and they also are running some easter egg hunts and events for kids if you happen to be visiting in the Easter holidays. Dates might vary so check which property you're interested in visiting. Lanhydrock, Trelissick, Cotehele and Trerice are all doing trails in 2023.
〓〓 Cornwall Travel FAQ 〓〓
Recommended accommodation providers for Cornwall?
For hotels I recommend Booking.com
For apartments and cottages check out VRBO
Do I need insurance for travelling to Cornwall?
YES! I always recommend people take travel insurance even when travelling domestically! If you have booked something non refundable it might be the only way you'll get money back if you need to cancel (check terms).
Do I need a car for visiting Cornwall?
Possibly – if you want to explore the county fully then a car is a good idea.
I recommend DiscoverCars to compare car rental prices if you're needing to pick up a car here.
What's the best guidebook for Cornwall?
I really like this Bradt guide for a good overview of the county and if you want some walks I really like this Wild Swimming Walks book
Where to get flights for Cornwall
Skyscanner is my first port of call for finding cheap flights to Cornwall – you can get to Newquay from many places in the UK to save you a drive!