Cornwall Road Trip from London: how to get here and where to stop
If you're thinking about taking a Cornwall road trip from London you're probably looking for some advice on how to do the trip easily and where to stop en route.
There are often horror stories told about getting to Cornwall, which is the furthest south west point of England, and how it can take people hours to get there. It can really put people off from doing the trip.
If you do take the chance, jump in the car and head south west through England, you'll be rewarded with one of the most beautiful places in the UK with the most stunning beaches, quaint, pretty villages and fantastic food and drink too.
Let's take a look at the best ways to do a road trip from London to Cornwall!
London to Cornwall by car – your questions answered
Cornwall is quite large and there's a good hour or so of driving from one end of the county to the other. For the sake of this article I'm going to assume that you're heading to Newquay which is fairly central and has good roads to get there.

If you're going as far as St Ives, add on another 20-30 mins to your trip.
Is it an easy drive from London to Cornwall?
The drive from London to Cornwall takes mostly motorways and A roads so it's a fairly easy drive.
What can cause issues is the volume of traffic if you're travelling in high season. Accidents and break downs on the motorways can cause some build up and tail backs. It's always a good idea to allow more time to get here than you think and perhaps add in some stops on the way.
Once you get into Cornwall you can also have issues with small roads as you get to your destination. Some are so narrow with high hedges around that they can be quite a shock to drive down.
Often there are better ways to go so it pays to be prepared before you set off.
Always check on a map the best way to go, or ask your accommodation provider for directions, and never rely on Sat Nav down here!
How far is Cornwall from London
It's around 260 miles from the centre of London to Newquay in Cornwall.
How long does it take from London to Cornwall
On a good run and having no traffic issues it's a little under 5 hours from London to Newquay by car.
What's the best way to go on the way to Cornwall from London?
You have a couple of options to get to Cornwall by motorway from London. It may also depend on which side of London you're travelling from as well.
The M3 to the A303 which will turn into the A30 to Cornwall
The M4 to Bristol, then the M5 to Exeter and then A30
If you're looking to do a road trip and have a couple of stops on the way then that might also help you decide which route to take.
Whatever you decide, it's worth double checking the traffic before you set off and after each stop in case there are any issues. It pays to be flexible!
What's the best time to drive to Cornwall from London?
If you're driving in high season try to set off early to give yourself plenty of time to get there. Plan in some stops along the way.
Some people like to set off really early so they can arrive with the day ahead of them. Some people just risk it and hope the traffic will be ok.
Outside of high season just be aware of rush hour at either end of the day, especially around London, Exeter and Bristol if you head past there.
Can you do a day trip to Cornwall from London?
You could do a day trip from London to Cornwall but it would be a long day. It would require a good amount of driving at either end of the day, at least 5 hours, depending on your start and finish point, so be prepared for that. It's easier if you can perhaps share the driving with another person.
My tip for you if you only have time for a day trip in Cornwall is to stick to the towns and villages in the east of the county, certainly no further than perhaps Newquay. Save the far west of Cornwall for when you have much more time!
BTW – If you're looking for beaches then Newquay has it all – it's a surf town, really chilled and big enough to spend the day in.
Are you needing to hire a car?

Rentalcars.com is one of the best sites I've found because it compares prices from different rental agencies in the area and you can choose the best for you from there.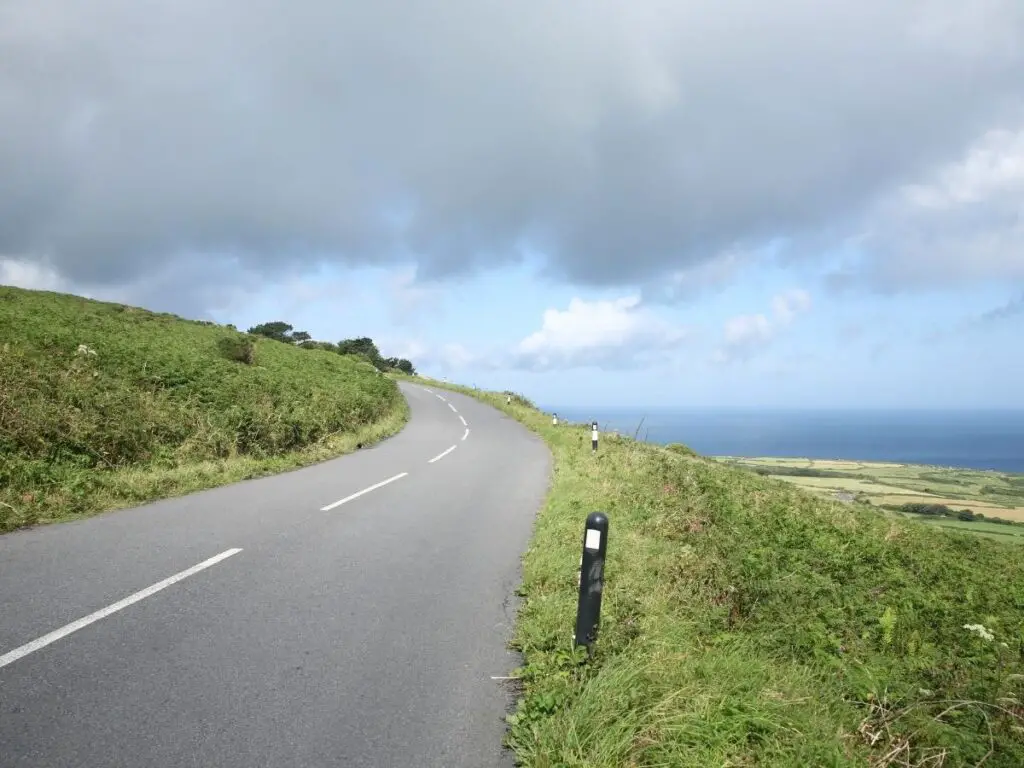 Top places to stop on a Cornwall road trip from London
While you can choose to just head straight to Cornwall and spend all the time down here, the 5 hour drive can sometimes take it out of you.
Another option is to take a day or 2 on your road trip to get here, then perhaps spend 3 days in Cornwall, before slowly exploring on the way back.
(As someone who, as a child, was always just driven hours and hours to holiday destinations this is a little alien to me but I think it has merit!)
If this sounds like fun then some of the following places could be a good half way stop on your way, perhaps spending an hour or two before getting back in the car. Some places you might want to linger and perhaps even spend the night.
Service Stations on the way to Cornwall from London

Sometimes you just need a leg stretch and toilet break! Once you get past Exeter the choices are few without finding supermarkets etc.

On the M4:

Moto Reading (between junctions 11 and 12)
Moto Chievely (junction 13)
Welcome Break Membury (between junctions 14 and 15)
Moto Leigh Delamare (between junctions 17 and 18)

On the M5:

Welcome Break Gordano (junction 19)
Sedgemoor (between junctions 21 and 22)
Taunton Dene (between junctions 25 and 26)
Cullompton (junction 28)
Moto Exeter (junction 30)

On the A30:
Cornwall Services (Victoria, just past Bodmin)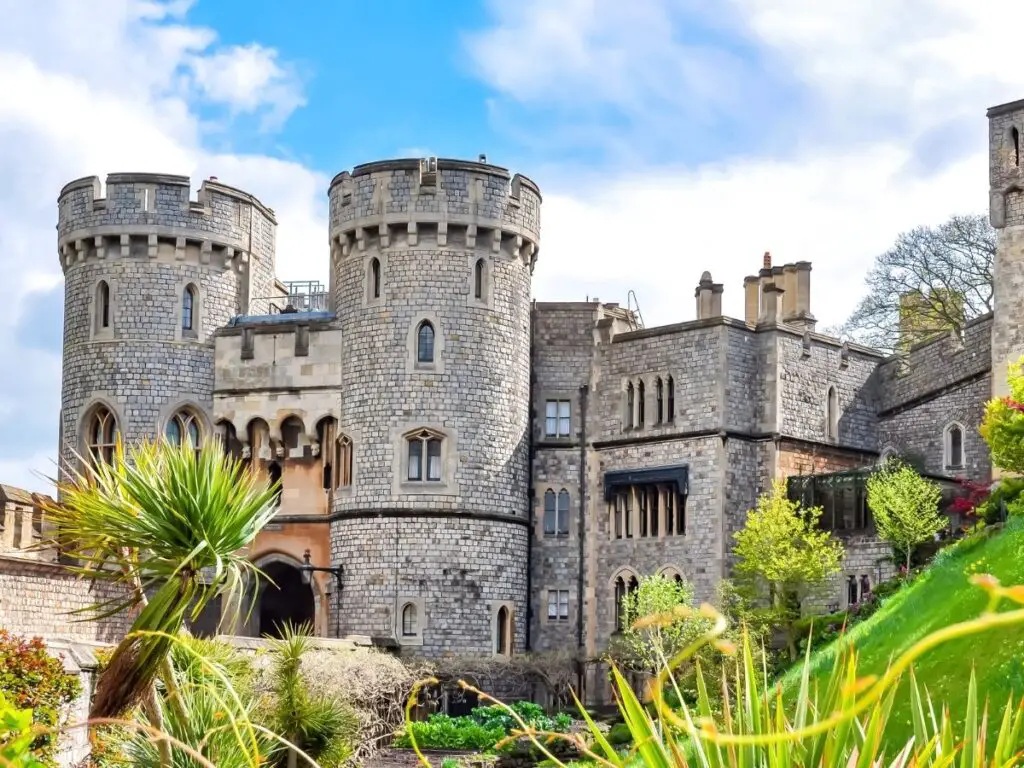 Windsor Castle
Approximately 50 mins from London
Approximately 4 hours 2 mins from Newquay
It's only a little way out from London but this could be a great stop off if you're setting off from the east side of London or if you've simply never seen the Queen's residence before (well, one of them!). You can do tours of the castle or just enjoy a stretch of your legs walking around the grounds.
If you're travelling with kids you have Legoland in Windsor as well – you could definitely spend a good few hours here, or even the whole day but might tire them out for the journey onwards to Cornwall.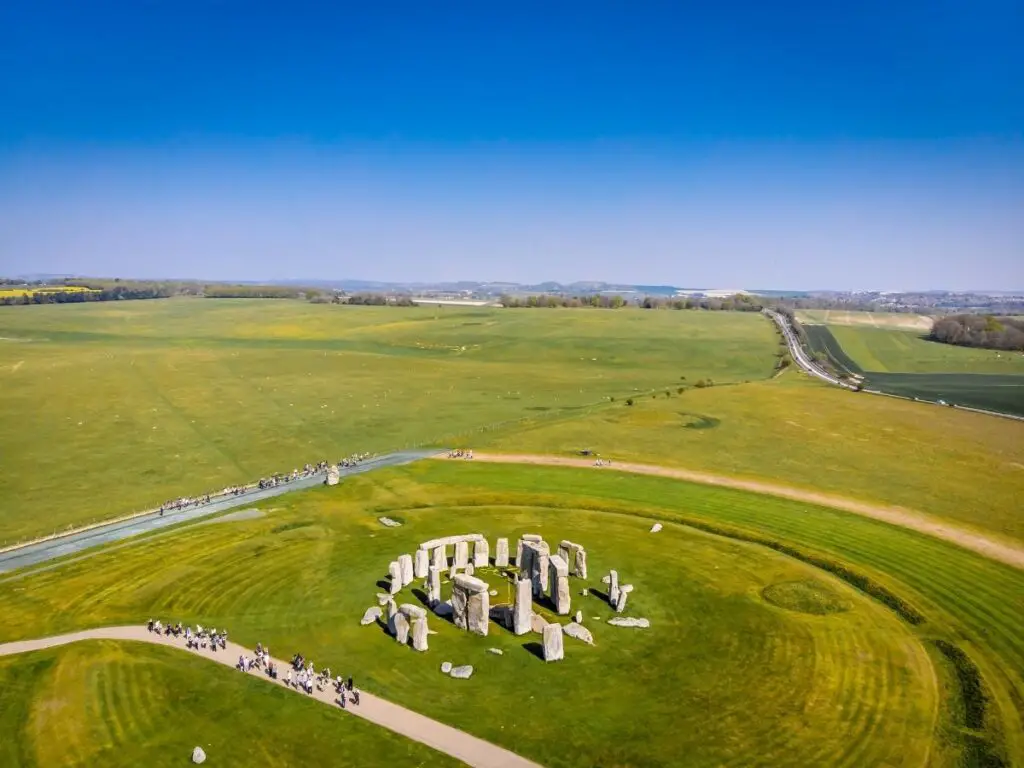 Stonehenge, Wiltshire
Approximately 2 hours from London
Approximately 3 hours from Newquay
If you're driving the A303 route to Cornwall then you'll drive right past Stonehenge and you'll be able to see it as you go by.
While it's in view on the drive, it's definitely not a substitution for visiting Stonehenge if you can and I really recommend it. Lots of people feel like it's not worth it, but I'm a personally a big fan, even though you can't touch the stones any more.
It's a good stop off on your road trip if you want somewhere to stretch your legs half way on the journey. If you decide to set off early then you can get to Stonehenge as it opens and hopefully miss some of the crowds too. Be aware that it is not dog friendly although there's some walks in the area that might be a good alternative.
You'll need a ticket to see the stones. Get one in advance here.
Salisbury, Wiltshire
Approximately 2 hours from London
Approximately 3 hours 20 mins from Newquay
If the ancient site of Stonehenge doesn't appeal then another option would be the city of Salisbury.
There are country houses, cathedrals and shops to explore in the city so a great way to spend a few hours before getting back in the car for the next leg of your journey.
You could explore Salisbury, Stonehenge and some surrounding area if you wanted to have an overnight stop here.
Exeter, Devon
Approximately 3 and a half hours from London
Approximately 1 and a half hours from Newquay
Exeter is a charming small city that's directly on the route from London to Cornwall so it makes a really good stopping off point.
You can explore the Cathedral, take a kayak on the canal or even explore the tunnels under the city which date back to medieval times!
If you like to get a bit of mileage under your belt then Exeter is a really good place to stop, you'll be on the A30 which is the last road to Cornwall which always makes you feel like you're almost there!
Bath, Somerset
Approximately 3 hours from London
Approximately 2 and a half hours from Newquay
An excellent half way stop from London to Cornwall is the city of Bath. If you're looking for a good stopping point that will have lots to do and be a part of your holiday as well then Bath could be a great option.
The Roman baths, the architecture and the filming locations (Bridgerton, probably all the Jane Austen films!) all attract tourists to here. You could spend hours just wandering round and soaking up the history here.
Glastonbury, Somerset
Approximately 3 hours from London
Approximately 2 and a half hours from Newquay
I absolutely love the town of Glastonbury and if you like places with a bit of a hippy and mystical vibe you'll also love it there.
There are a lot of independent shops selling all sorts of weird and wonderful things and if you really want to stretch your legs then a trip to the top of Glastonbury Tor is a must. You can get some stunning views from there over the surrounding countryside.
It's such a peaceful place, highly recommended if you want to get in a chilled state before your holiday!
Wells, Somerset
Approximately 3 hours from London
Approximately 2 hours 45 from Newquay
A wonderful, small city boasting a magnificent cathedral is Wells. It's a very chilled city with a nice shopping area and you have a lot of history here too if that's what you enjoy.
You could simply enjoy a picnic in front of the cathedral though and watch the world go by.
Film fans will also love spotting locations from the British comedy Hot Fuzz, an absolute favourite film of mine (and 15 years old now – yikes!)
It could be combined with some time in Glastonbury and exploring Somerset. You also have Cheddar Gorge here and some wonderful walking countryside
Dartmoor, Devon
Approximately 5 hours from London
Approximately 1 and a half hours from Newquay
If exploring Devon also appeals on your way to Cornwall then you have to think about stopping off at the beautiful and expansive Dartmoor.
There are a lot of walks to do in the area, villages to explore and Dartmoor ponies to find as well! You'll not be too far from the end of your journey, just an hour and a half away, but if you wanted to get some mileage done before stopping it could be a good option.
Perhaps look at the towns of Okehampton or Moretonhampstead which shouldn't take you too far off the A30.
〓〓 Cornwall Travel FAQ 〓〓
Recommended accommodation providers for Cornwall?
For hotels I recommend Booking.com
For apartments and cottages check out VRBO
Do I need insurance for travelling to Cornwall?
YES! I always recommend people take travel insurance even when travelling domestically! If you have booked something non refundable it might be the only way you'll get money back if you need to cancel (check terms).
Do I need a car for visiting Cornwall?
Possibly – if you want to explore the county fully then a car is a good idea.
I recommend DiscoverCars to compare car rental prices if you're needing to pick up a car here.
What's the best guidebook for Cornwall?
I really like this Bradt guide for a good overview of the county and if you want some walks I really like this Wild Swimming Walks book
Where to get flights for Cornwall
Skyscanner is my first port of call for finding cheap flights to Cornwall – you can get to Newquay from many places in the UK to save you a drive!