UPDATE! June 10th 2022 – we've just spent a lovely evening around the poppies. They are out and looking gorgeous!
In late spring a riot of colour explodes on the West Pentire headland near Polly Joke. The wildflowers and poppies in the fields near the popular Crantock beach near Newquay are a real treat to see!
When I first saw pictures of this spectacle I knew I had to see the fields for myself. Luckily we live just a few miles from here and after some gloomy days happened on a great day to see them.
If you're looking for tips on how to see the Polly Joke poppies and wildflowers this year in 2022 hopefully this blog post will help you. Sometimes you'll hear it referred to as West Pentire Poppies or maybe Porth Joke Poppies but they are all the same!
These fields are looked after by the National Trust and you aren't allowed to walk through them at all. Please stay on designated footpaths to protect the wildflowers and poppies.

Unfortunately this season (2022) we saw many people disregard this, including standing in the field with a tripod and camera – don't be one of these people as it encourages others to do the same.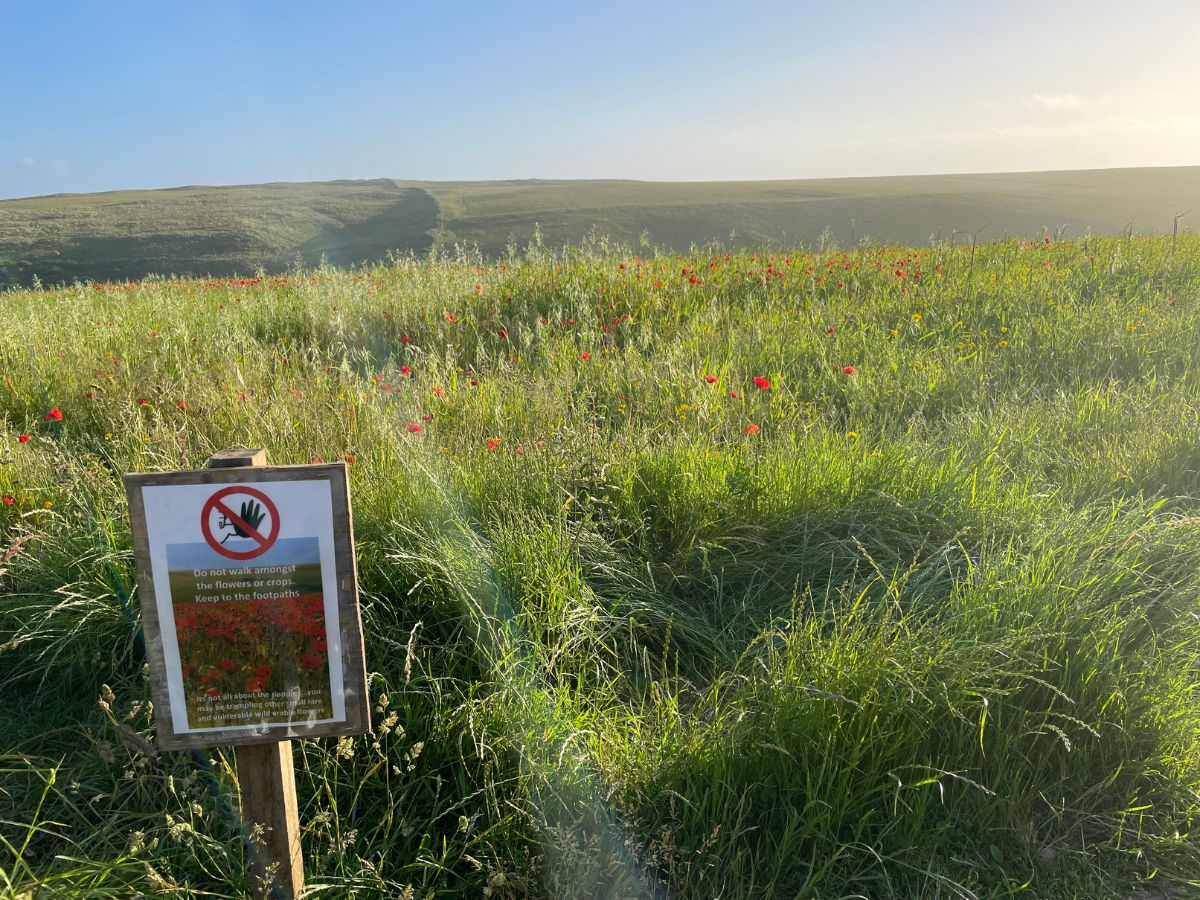 Don't forget a guide book!
If you're looking to explore Cornwall then I highly recommend getting a guide to some of the walks and areas around. Here are some of my favourites:
Where are the Pentire Poppies (Polly Joke Poppies)
The Polly Joke Poppies are located near Newquay on the West Pentire Headland.
Once you park up (check out the info on car parks below) you want to head to the coastal path where you'll see plenty of different fields around.
You don't need to walk far to see some great views but I encourage you to also take time to wander the coastal path and head down towards Polly Joke beach too, especially if it's a little busy. You might be lucky and get some areas to yourself!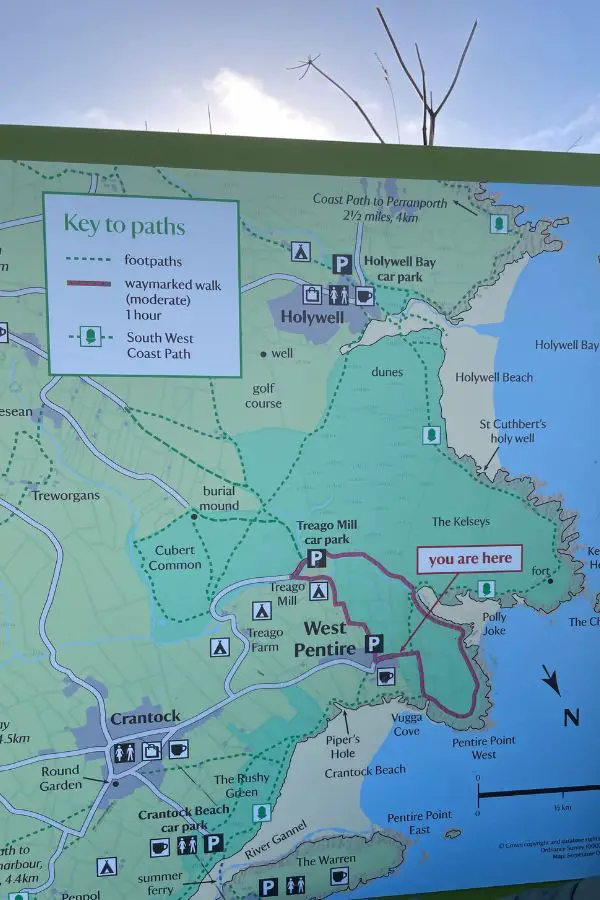 When to see the Polly Joke poppies
Obviously it depends on the weather as to the exact time the poppies are blooming, but as a rough guide you're looking at late may, through June.
In 2021 we visited on the 18th June and the poppies were still out and looking fabulous.
Clear sunny days will give the best light for seeing the poppies but of course you may not have much choice as to when to go if you're just visiting for a week or two. Try getting up early for sunrise or heading there late in the evening as we did.
It can get busy in the car parks, especially at weekends and in the school half term that might coincide with the beginning of the poppy season so bear that in mind if you're planning a trip to see them.
June is definitely one of the best months to visit Cornwall!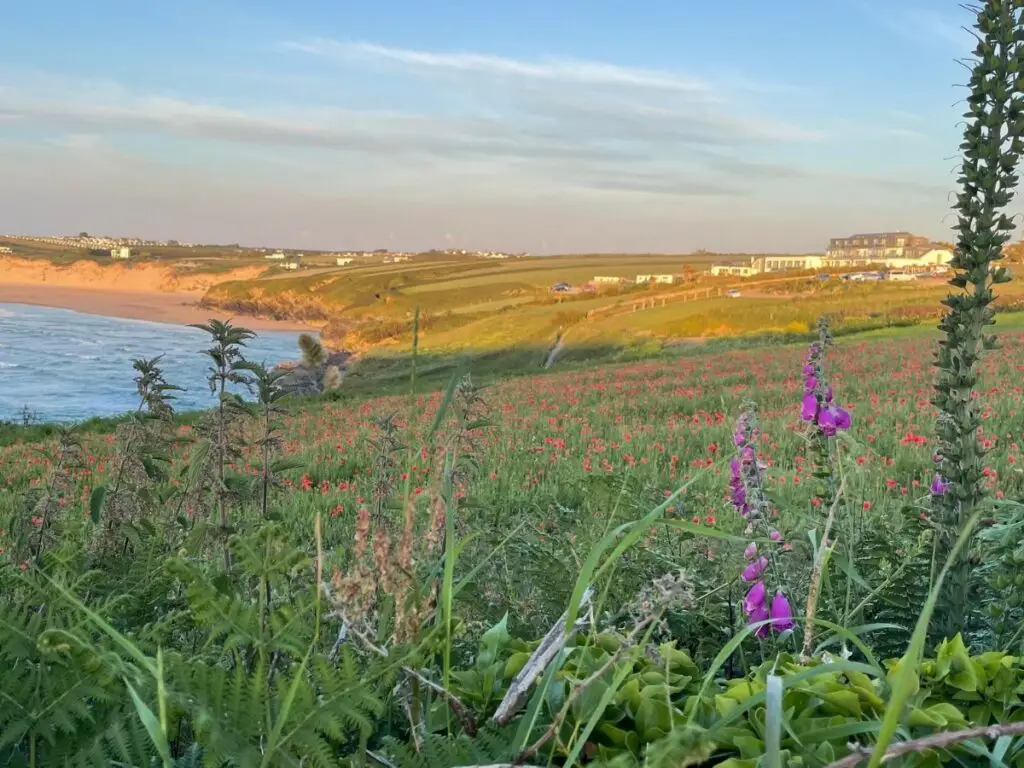 Where to park
There are two car parks at the village of West Pentire which are right next to the Polly Joke poppy fields. Both are pay and display and even though the area is National Trust owned the car parks are not run by them so members must still pay. Both accept cards and cash.
In 2022 the charges are as follows (photos were taken May 2022, obviously they could change):
Polly Joke Car Park (towards the left as you drive in). Charges apply 8am – 10pm all year round.
Up to 1 hour: £1.00
4 hours: £3.50
All Day: £5.00
West Pentire Car Park (next to the Bowgie Inn Car Park). Charges apply 6am – 11pm all year round
Up to 1 hour: £2.50
Up to 4 hours: £4.50
All day: £10.00
There is also the option of visiting the restaurants in the village and being able to park there too which might suit if you only want a quick look at the poppies and want to combine it with a drink or meal. See below for details.
Polly Joke beach
Polly Joke, or Porth Joke, beach is just down from the car parks, about 10 minutes walk. It's a really nice, quiet beach even when the rest of Cornwall seems to have descended on Crantock! It's definitely one to consider if you like quiet beaches. It's dog friendly year round too.
You can either walk down the hill straight to the beach or take a walk around the West Pentire head on the South West Coast path which has the added advantage of giving more views of the poppy fields.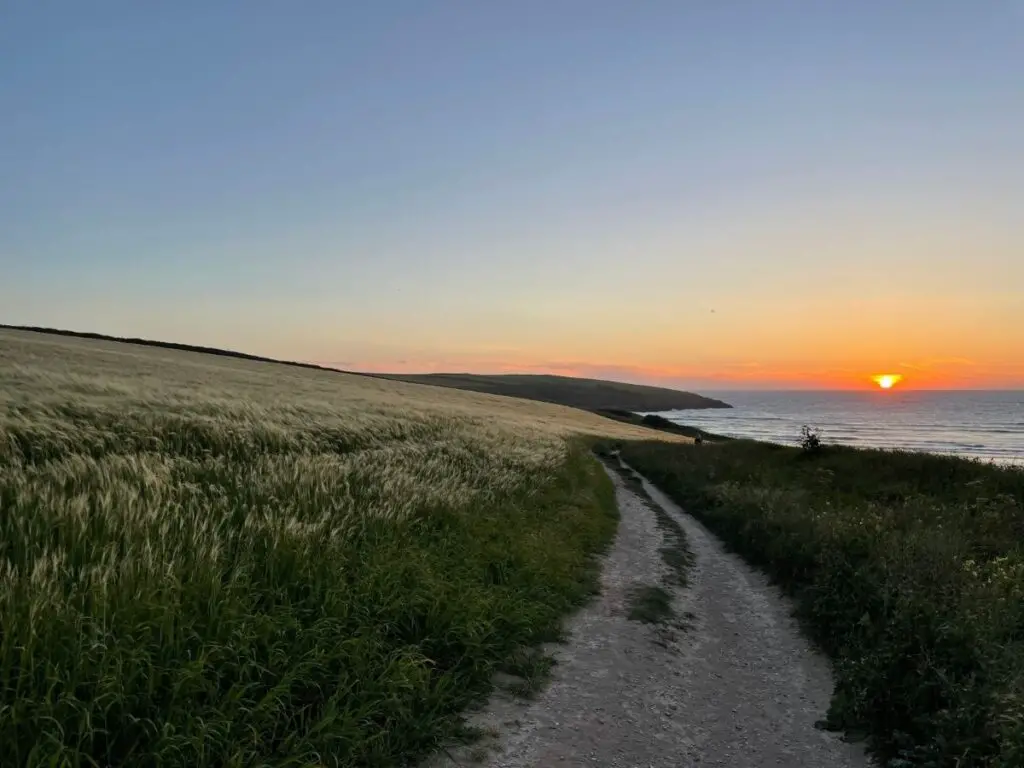 Coastal walk from Crantock
When we visited we decided we'd try and walk from Crantock along the South West Coastal Path to the poppy fields. We chose a gorgeous evening for the walk and it has everything, stunning views, sand dunes, peace and quiet and then we ended by seeing the poppies.
You can see a small video I made for my Instagram below about our walk:
I'd definitely recommend the walk if you wanted to enjoy a couple of hours in the area. You could combine it with a bite to eat or a drink.
If you go for a sunset walk like us, just be careful not to leave it too late to return as it can get very dark! You could alternatively return via West Pentire Road but that's not as pretty to walk along and you should be careful of cars.
For this walk we parked at the Crantock Beach car park, which is free for National Trust members, walked up the steps near the car park payment machine and continued on the coastal path.
It's easy to find and walk although as you're going through the dunes you might go off the path a bit – be careful not to get too close to the edges of the sand dune/cliffs as they can be dangerous.
It's a dog friendly walk too – Annie, our Bedlington Terrier, loved it!
Where to eat nearby
There are two options for having a bite to eat. They both do full on meals or lighter bites to eat too. The first is C-Bay cafe bar bistro and right next to it is the Bowgie Inn.
Both options serve alcohol.
If you're around in the day time I highly recommend a cream tea sat overlooking the sea and enjoying the view!
Where to stay nearby
West Pentire village has a number of properties that are let out to holidaymakers.
If you're looking to stay near Polly Joke for the poppies then I definitely recommend booking in advance as they will become sold out quickly at this time of year.
Always a good idea to book at least a year in advance I find, especially if the time and place are important for you. But cancellations do occur so keep an eye out!
Here are a couple you could try: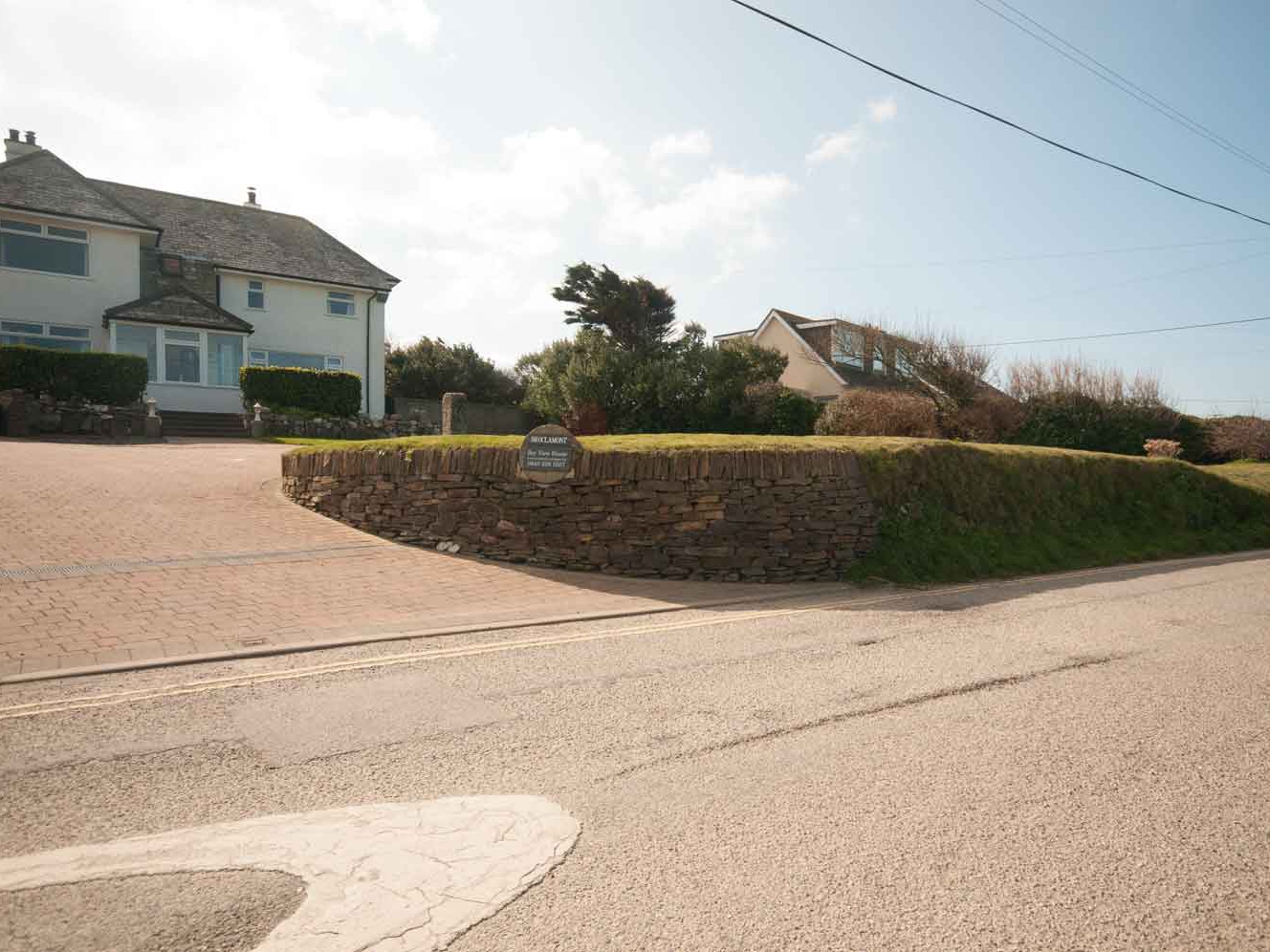 Bay View House – just by the poppy field area. This one has some stunning views over the sea and surrounding countryside.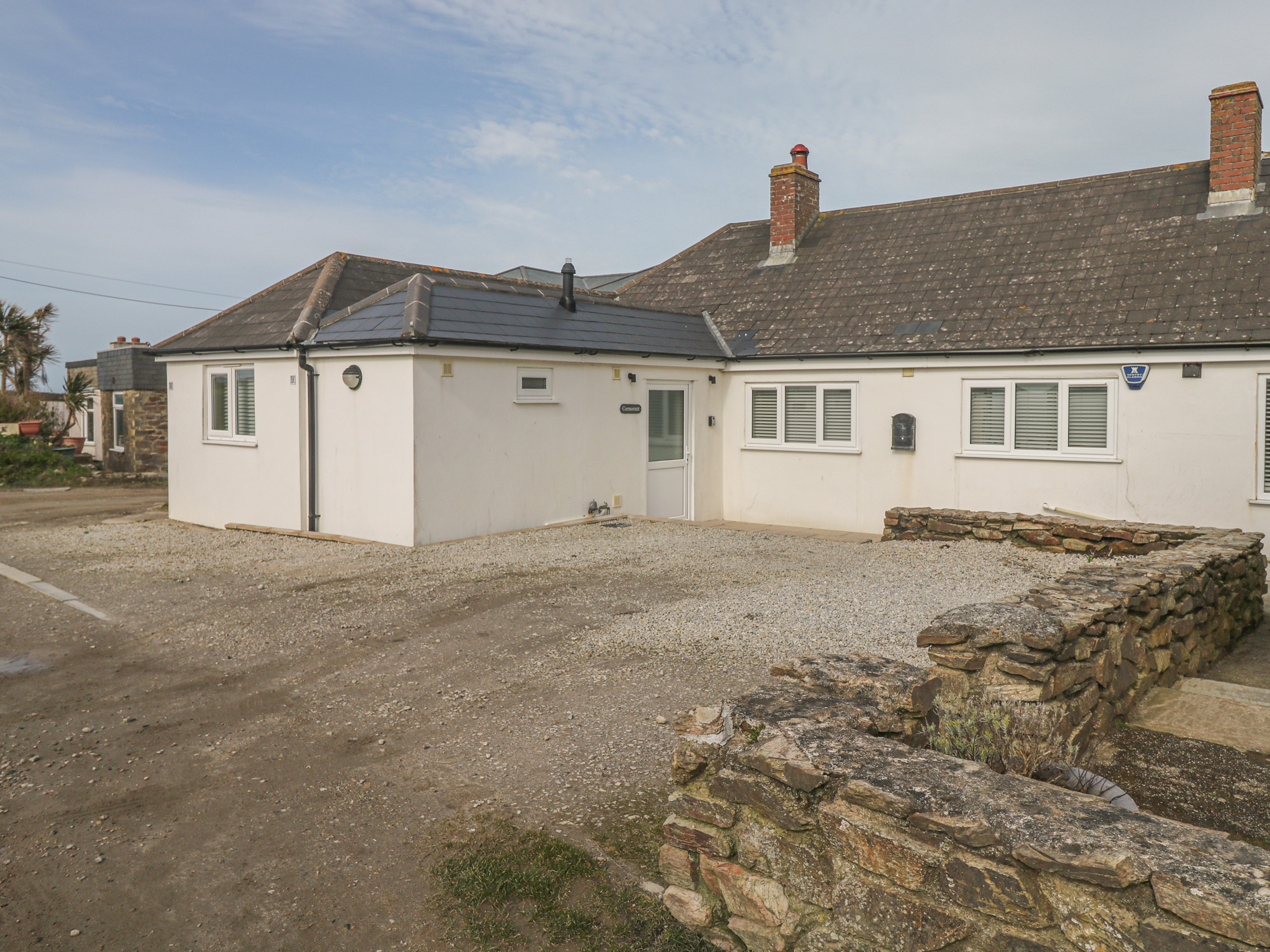 Cormorant – One of a couple of cottages that are on the West Pentire Headland and just by the coastal path. Stunning views and a perfect spot for walking and exploring.
If you're finding it tricky to locate the perfect place to stay right by the poppies then perhaps try Crantock village. There are a little more to choose from there and it's just a short walk up to the headland to see the poppies and Polly Joke.
For campers, motorhomes and caravans there's the Treago Farm Campsite which is close by and would be a stunning spot. They also have some static caravans too.