Visiting Cornwall in Winter – what you need to know
Cornwall is a stunning place to visit at any time of the year but in the winter months hold a special place in my heart. So if you're planning on visiting Cornwall in winter and have some questions about it I hope that this post will help you out and encourage you to come and see this beautiful county for yourself!
Is visiting cornwall worth it in the winter months?
So first things first, Cornwall in Winter is completely different to how it in in other seasons. The days are shorter, there are less people here and many attractions close down completely.
That said, it's a great place to come if you do like to visit in more quieter periods. Perhaps you don't like crowds, the price increase for accommodation, or busy roads – if so then definitely consider a winter trip to Cornwall!
I'm like that – I hate fighting for car parking spaces, love some peace and quiet and enjoy having a more chilled time on holiday. Going off season is perfect for me. But for some, that ghost town feeling is not what they are after so do have a think about what you're looking for in a Cornwall winter holiday before you book.
You might also like to read our guide to the best time to visit Cornwall.
What's the weather like in Cornwall in Winter?
Many people wonder whether it's worth coming to Cornwall in winter because they are worried about the weather.
So what's the weather like in Cornwall in winter? To sum it up quite simply – mild, damp and windy!
I've now lived in 2 winters in Cornwall and can say that it's been a real surprise how mild it's been here. I always knew Cornwall was warmer than the rest of the UK but hadn't experienced it for myself.
While it is milder in temperatures and there is rarely a frost it is pretty damp in Cornwall. Mizzle is a term for that really fine rain and it's often like that and that can easily turn into a foggy mist
Storms are often a feature in Cornwall and it can be hit badly since we're one of the first places that storms land in the UK. You'll want to be aware of them but they generally don't last too long when they do come so won't upset a holiday too much – be careful driving and also if you're walking by the coast. I mean it can be spectacular to watch, but it can also be dangerous so take care!
With all that though you do get some stunning sunny days too and it can change depending on where in Cornwall you are. It might be sunny on the coast but raining inland. A good weather app can really help!
Does it snow in Cornwall?
It snows really rarely in Cornwall and I haven't experienced it myself. You might get some snow on higher ground and maybe on Bodmin Moor but since Cornwall is surrounded by sea it keeps the temperature mild enough to keep the snow at bay.
Things to do in Cornwall in winter
Walks – you have coastal, woodland, river and moorland walks you could try. Don't just stick to the coasts!
Beaches
Ancient history – explore stone circles and quoits
Explore towns – St Ives and Padstow are completely different in the winter months and some say better!
Boat trips – most are closed for the winter but you could try the St Mawes Ferry across the river Fal
Pubs and restaurants – look for a fireside cosy pub perhaps?
Christmas markets and fairs
Of course the countryside remains open and that's a big part of Cornwall's winter attraction. Walks can be done year round and many of the National Trust properties keep their grounds open even if the house closes for the season.
Also check out my monthly guides to visiting Cornwall – December | January | February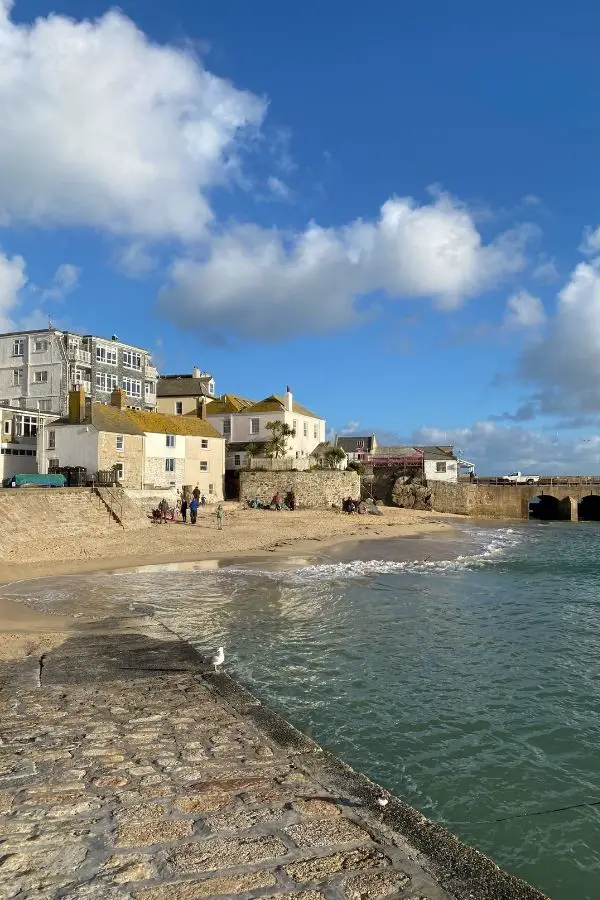 Attractions open in winter
While lots of places do close down in winter completely you'll still find plenty to do.
Here's just a few attractions in Cornwall that are open year round (list is not exhaustive!):
Eden Project
Lands End (although closed over Xmas and New Year)
Tintagel Castle
Botallack Mine
National Maritime Museum, Falmouth
Truro Cathedral
Seal Sanctuary, Gweek
If you have a specific thing you'd like to do or place you'd like to visit in the Cornish winter then I highly recommend checking their website to see if they are open.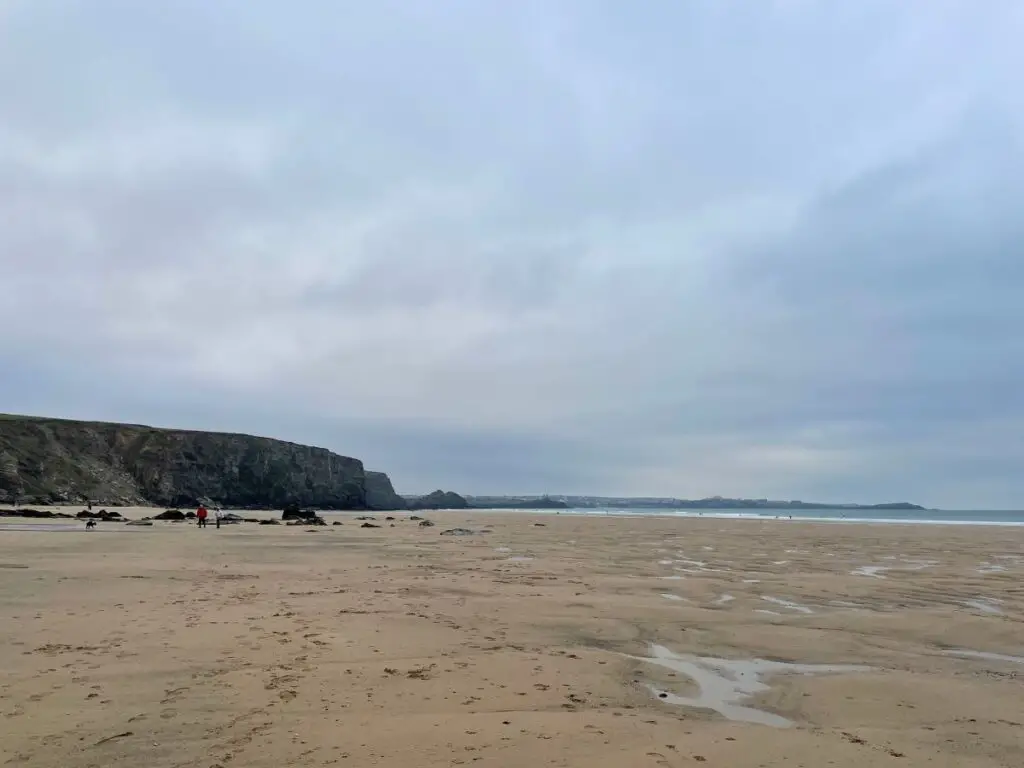 Cornwall Beaches in winter
I love going to the beach in all weather, love walking, love having a paddle and of course there are so many to choose from in Cornwall.
You'll notice that the beaches are still full of people surfing and enjoying the sea. One thing to remember though is that there is no lifeguard cover in the winter months so be aware of that if you're looking to have a surf, a wild swim or some other watersport.
Dogs are allowed on some seasonal beaches in the winter so you'll find that there isn't many places that dogs can't go. With a lack of people there's much more space to let your dog run around too which we definitely enjoy!
Cornwall accommodation in winter
When looking for cottages or hotels in Cornwall in winter here are a couple of things I think you should bear in mind.
Days are short so you'll want to have somewhere comfy to retreat to in the evenings. So think about cottages or apartments with comfy sofas, a large tv and maybe even a fireplace.
Hot tubs are great all year round and remember it never gets super cold in Cornwall
If you have walking planned and don't want to drive much then a cottage near to the coastal path or by some footpaths are also worth considering.
If you want to enjoy evenings in a pub then a hotel in a town might make sense.
Check out HolidayCottages for a great selection of apartments and self catering cottages in Cornwall.
For hotels I always recommend Booking.com as they are so easy to book with and often their cancellation policies are good too.
Things to bring on a Cornwall winter holiday
Of course it will depend on what you're planning to do in Cornwall but if you're visiting in winter you'll definitely not want to forget:
A good waterproof jacket
waterproof walking shoes
hat, scarf and gloves
layers are good especially if you're not sure how cold it will be
an umbrella for walking round town
a flask
hot chocolate (always space right?)