Things to do in Cornwall in the rain: 20 ideas for when it's wet!
You open your curtains on a morning and your heart sinks as you realise that rain is going to really dampen your day in Cornwall (pun fully intended!). So what is there to do? Beach is out, as is the coastal walk and the moor is probably not a good idea either.
After years of Cornwall holidays where at least one day is always wet and the last two years of living down here I've had to be creative and discover what fun things there are to do when it rains. I'd love to say that the weather here is great and not to worry but we all know that rainy days happen!
If you'e stressing about a bad weather forecast for your trip away or you've just woken up to an unexpected rainy day read on for lots of ideas of things to do in Cornwall when it rains. Plenty to keep everyone occupied no matter where you are in the county!
Things to do in Cornwall when it rains:
A note about the weather in Cornwall:
While it can be disheartening to see the line of rain symbols for your week at the coast or to see drops on your cottage window when you wake up try not to worry too much.
Many times when we've had visitors for the week we've worried about the forecast and when the day arrives it's either just the tiniest bit of rain, very localised or just confined to a couple of hours in the day. Of course sometimes it does set in for the day and that's where these tips come in.
Keep an eye on the forecasts but also check what the weather is like in different parts of Cornwall too – often the coast can be different to inland.
Lastly, take plenty of rain jackets!
Museums
Museums are the mainstay of the rainy day activity in the UK and in Cornwall it's no different! Thankfully there are some good options based all over the county.
Tate St Ives
The Tate in St Ives is an art gallery showcasing modern and contemporary art often from local artists or inspired locally.
It's in the centre of the fishing village of St Ives and is a great place to spend an hour or two exploring art and then watching the (still gorgeous) coastline from the cafe.
National Maritime Museum – Falmouth
This museum in Falmouth is a great idea for those with kids of all ages as there's plenty to keep little hands occupied while exploring.
With exhibitions on boats, the RNLI, and the sea and coastline it's an educational day out too for all.
What's good is that once you've paid you can come back again for free which makes it a good idea if you've got a couple of rainy days in your forecast!
Royal Cornwall Museum – Truro
Based in the centre of the city and easily reached using the park and ride (it can drop you off right by the museum) the Royal Cornwall Museum has lots of exhibitions about the history of the country and in all different areas from WW1 to mining.
Note – closed on Sundays and Mondays
Bodmin Keep
Bodmin Keep, in the centre of Bodmin is an Army museum and tells the story of soldiers in many different eras from Cornish regiments.
It's a family friendly museum with some hands on things for kids to do including dressing up in uniform! Dog friendly too.
Note – closed on Sundays and Mondays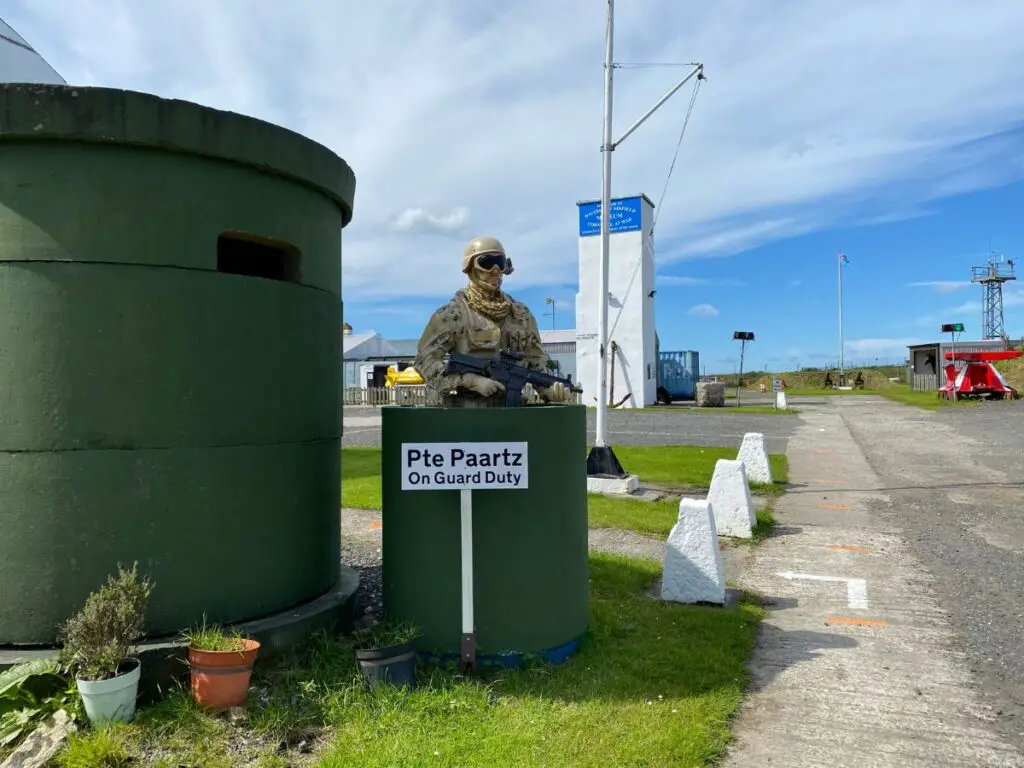 Cornwall at War museum
Situated in the north of Cornwall near Davidstow the Cornwall At War Museum has an interesting collection of war relics and artefacts.
This is a dog friendly attraction and while there are some outdoor things to see much of it is indoors too.
Note: Closed in winter
Wheal Martyn – St Austell
The Wheal Martyn Clay Works is an indoor and outdoor museum so is a great place to explore when it's a bit wet outside. You can learn all about the china clay mining that takes place in central Cornwall.
This is a dog friendly attraction too!
All weather attractions
These attractions either have indoor areas where you can still have fun despite the rain or are all indoors.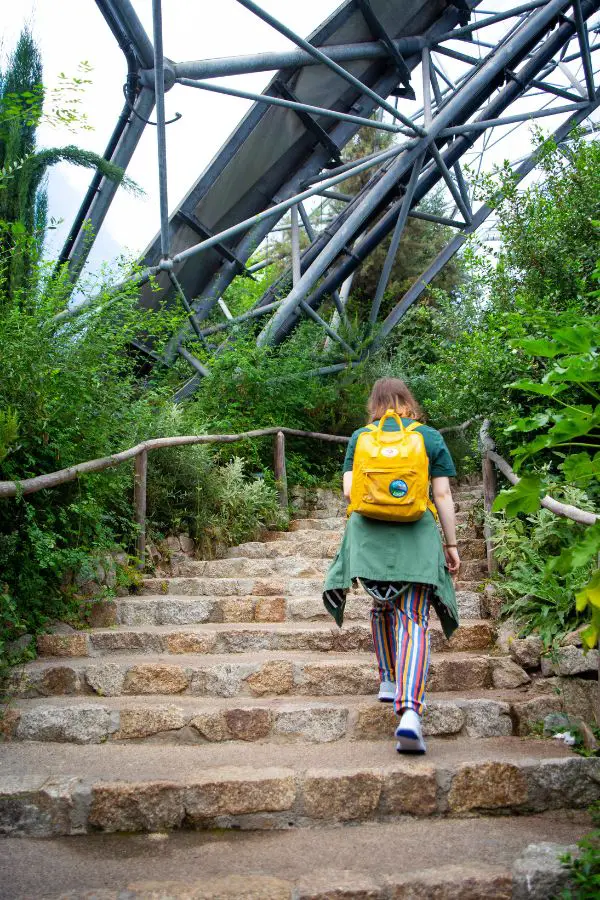 Eden Project
The Eden Project is one of Cornwall's top attractions and it's also a good place to go when it's rainy. In saying that though, be prepared to get a little wet as there's still a little way to walk to get from the car park to the biomes which are all indoors.
I love exploring the different plants in the temperate zones of the biomes and there's plenty to see there for a few hours. You'll find some cafes indoors too so you can grab a bite to eat as well.
Note – although the Eden Project is dog friendly the indoor biomes are not so it's not too great for a rainy day if you have pooches!
Carnglaze Caverns
The Carnglaze Caverns were man made from a slate mine and recently it's been turned into a tourist attraction and a concert space.
There are caves that are completely covered and so are great for a rainy day. There's also a woodland to explore as well if the rain isn't too bad.
Note – Outdoor areas are dog friendly but the underground parts are not.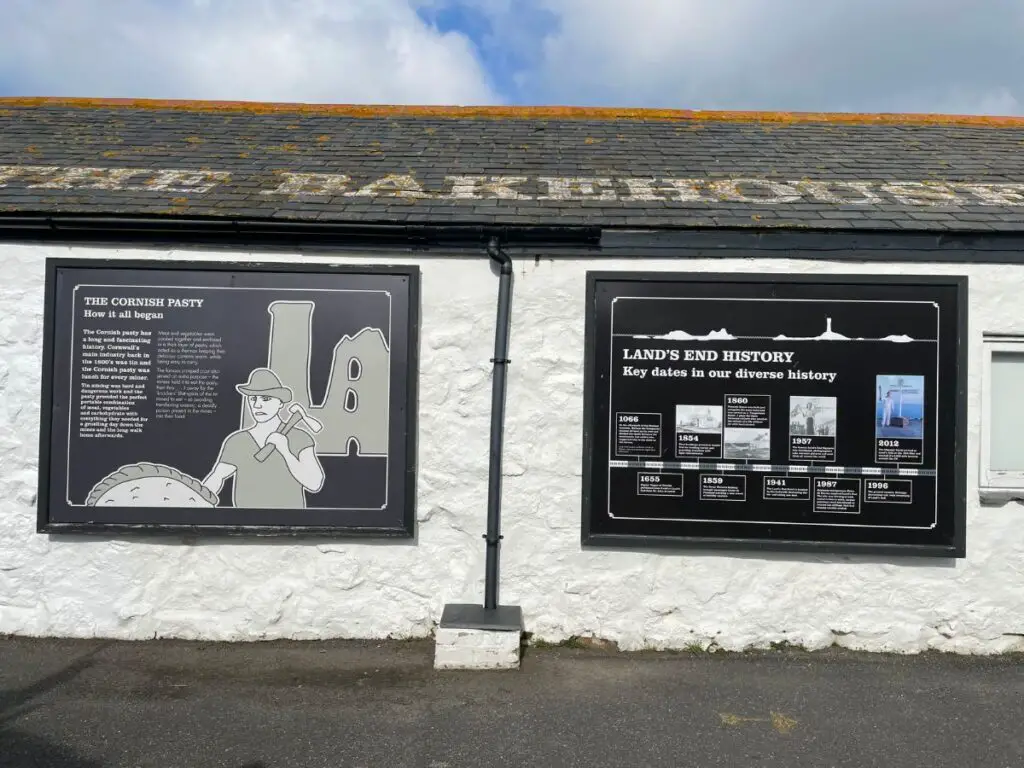 Land's End
While out on the tip of the county and battered from all the wind there are a couple of attractions at the Lands End landmark which are indoors and as such will provide some respite from the rain.
I'd probably only recommend this is there's a chance that the rain will pass over at some point so you can get outside and also see the coast – not so great if it's set in for the day.
Tolgus Mill
Tolgus Mill is a small attraction near Redruth and it shows how tin mining happened in the past. It's all indoors so a good option for a rainy day. Kids might enjoy gold panning too!
There's also a small jewellery shop where you can help support the restoration project and get yourself a unique souvenir. It's free to visit as the shop is a big part of it.
Bodmin Jail
Fans of gruesome and dark history will love Bodmin Jail with plenty of interesting stories to tell about the history of this building. You can do self guided tours or even enjoy some paranormal events as well!
Perfect for those with older kids looking for something to do in bad weather.
Newquay Aquarium
If you're in Newquay town and need a place to go while it rains then the Bluereef Aquarium next to Towan Beach is a good option.
It houses a number of sea life from things that can be seen in Cornish waters to more tropical fish that need warmer seas.
Bodmin & Wenford Steam Railway
The Bodmin Steam railway rides are a great idea for wet days as you can stay fairly dry for most of the day. If the weather clears up you can also go for a walk and enjoy some of the countryside around too.
The Steam train is also dog friendly!
Flambards
A theme park near Helston, Flambards has rides to suit all ages. While much of it is outdoors there are some indoor parts including a Victorian Street so if you're worried about an impending shower storm through the day it might be good – not so much if it's heavy rain all day.
Note: Closed over the winter months from October until Easter
Stately houses & castles
There are a number of indoor options when visiting stately houses in Cornwall.
National Trust properties
There are a number of National Trust properties in Cornwall that have an indoor area to explore and that are good for wet days. No matter where you are in Cornwall there will be something to explore.
Unfortunately, even though they tend to be good dog friendly attractions in the main, they don't extend to the indoor parts and dogs aren't allowed.
Explore Cornwall's Food & Drink
When the rain comes down a great option is to look to classic Cornish food and drink for an idea on a day out!
Healey's Cyder Farm
When down in Cornwall you'll definitely spot Rattlers Cyder and this is where it's made. Healay's Cyder Farm is a family friendly attraction with a farm, museum, tasting room and trailer rides. Much of it is indoors but some is outside too so good for when it's showers on and off.
It's located in central Cornwall, near Perranporth so easy to get to from much of the county.
Have a Cream Tea
Taking a Cornish cream tea is a must when visiting the county (Jam first!) so if you're stuck with what to do on a rainy day this could be a way to incorporate it.
Loads of places offer cream teas from hotels like The Headland Hotel (the one from The Witches film) in Newquay to farm shops, cafes in attractions and local gems in villages.
Gin distilleries
If you're a fan of gin, which has gained a lot of popularity in recent times, you'll probably know about some of the gin makers around. The most famous is Tarquin's Cornish Gin and they offer tours of their distillery near Wadebridge.
Other ideas for wet weather in Cornwall
Cinema
Newquay, Truro and St Austell all have larger cinemas with the latest films on offer. You'll also find some smaller cinemas through the county as well such as in St Ives, Penzance and Helston.
Go to a local pub and wait for it to blow over!
Finally, you could of course just head to a local pub for a good Cornish meal and drinks while you wait for the bad weather to pass. It could be worse eh?