Visiting Cornwall in Autumn
With the extremely busy summer months behind them, Cornwall in Autumn is like a breath of fresh air. If you're planning on visiting Cornwall in the autumn months and have some questions about it this post should help you out and get you to push the button on booking your autumn trip!
This will be my 3rd autumn living in Cornwall, I love the season in general and with the wealth of wonderful places to visit here makes it just spectacular.
Is visiting cornwall worth it in the Autumn months?
Autumn sees the county quiet down a lot, but that doesn't mean that it isn't busy. You'll still find a lot to do and plenty of people around enjoying it.
If you're expecting it to be deathly quiet, like it can be in the winter, you'll be wrong. In saying that, September and October are busier than November is.
Like visiting in Spring, Autumn seems to have the best of all the worlds. The weather can still be really nice, most attractions haven't shut or reduced their hours yet and it's pleasant enough to explore without feeling overly busy.
You might also like to read our guide to the best time to visit Cornwall.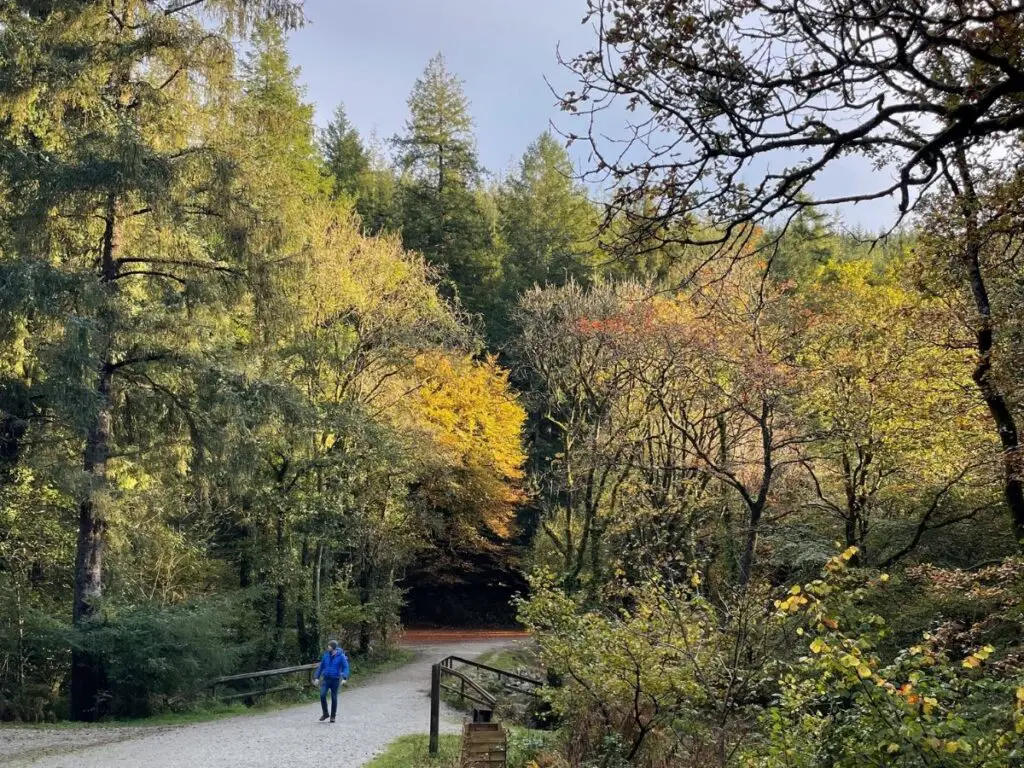 What's the weather like in Cornwall in Autumn?
If you're looking to enjoy cosy cottages after a bracing weather then remember that since Cornwall is so far south it takes a little longer for the cold days to come in. September can still have plenty of beach days!
So what's the weather like in Cornwall in Autumn? To sum it up quite simply – mixed! You can have wonderful sunny days well into the season and you can have storms. Friends visited in October last year and we expected to have damp weather but they were greeted with wall to wall sunshine!
Cornwall is definitely milder than the rest of the UK and you can see that in the Autumn for sure. It also has an effect on changing colours in the forests. If you're looking to see the beautiful leaves change then try and come later in the autumn – November sees the best foliage colours.
You'll still have the potential for damp days and even autumn storms coming through. Always take care to keep abreast of weather reports and take care when driving and walking around the coast if a storm is coming.
Like the rest of the year, if it's bad weather where you are it might still be nice elsewhere. We often head 10 minutes down the road to the coast and it can be completely different!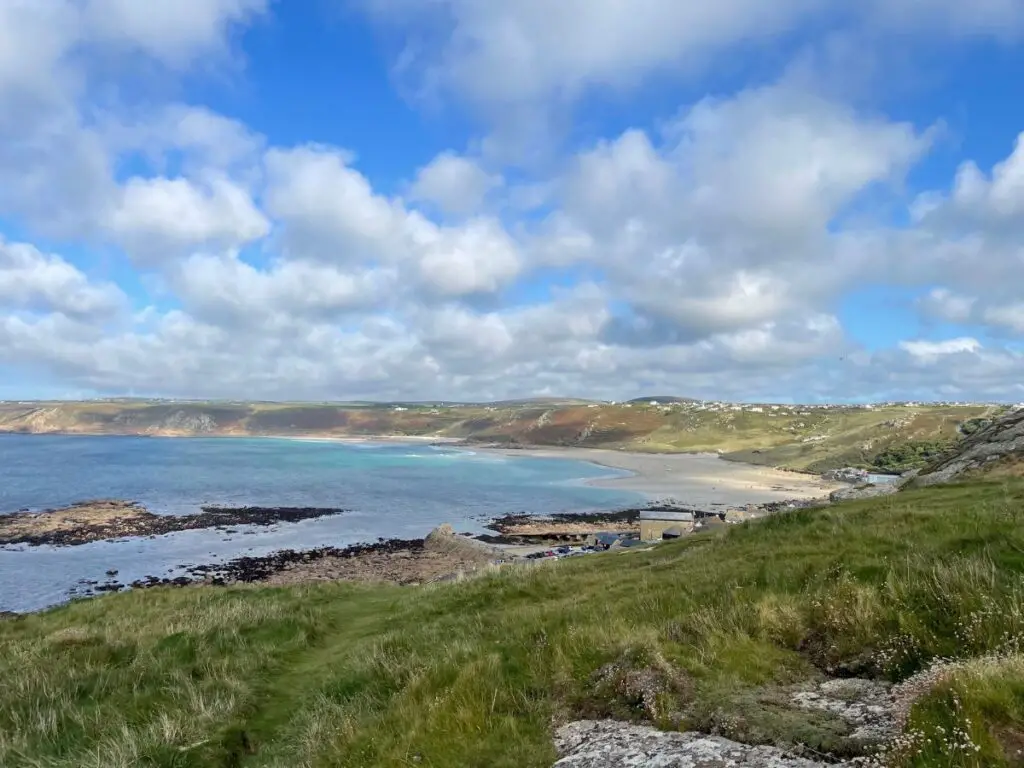 Things to do in Cornwall in Autumn
Forest Walks – Check out some of the beautiful woods like at Cardinham to see the changing colours (later in the season is better)
Beaches – September is a great time to enjoy beach days
Water sports – check out surfing lessons and paddle boarding before the weather changes!
Explore the moors – Bodmin moor is a great place to walk and enjoy the scenery
Spot wildlife – we saw dolphins off Land's End in October!
Plenty of sunset walks – easy when the sun sets earlier!
Lots of attractions that don't stay open all year will start to reduce their hours and even close after the school holidays in October. If you're hoping to visit anywhere particular it's always a good idea to check what their out of season hours are like before booking.
Also check out my monthly guides to visiting Cornwall – September | October | November
Attractions open in autumn
While a few places do close down straight after summer, or reduce their hours you'll still find plenty to do.
Here's just a few attractions in Cornwall that are open year round (list is not exhaustive!):
Eden Project
Land's End
Tintagel Castle
Botallack Mine
National Maritime Museum, Falmouth
Truro Cathedral
Seal Sanctuary, Gweek
If you have a specific thing you'd like to do or place you'd like to visit in the Cornish autumn then I highly recommend checking their website to see if they are open.
Cornwall Beaches in autumn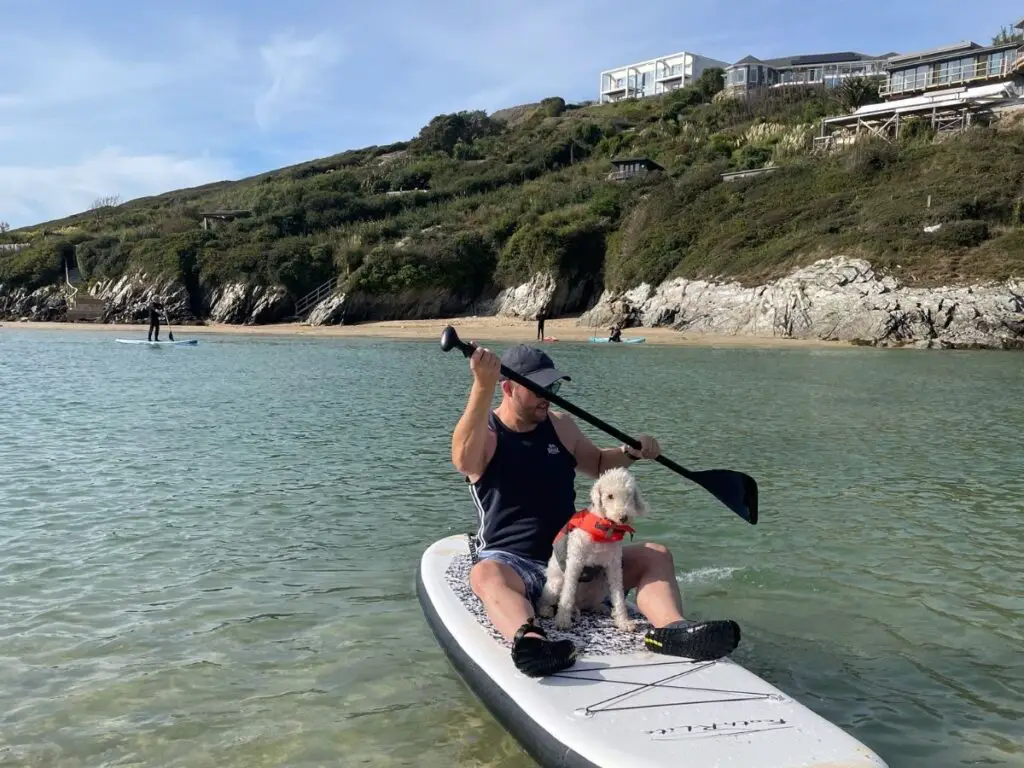 Cornish beaches are a mixed bag in autumn but you'll still find plenty of people out there surfing, paddle boarding and swimming. Lifeguard cover starts to wane in the autumn months so do be aware of that.
If you're travelling with dogs you'll find that many of the beaches where they weren't allowed in the summer months are now open for them. In fact, you'll find that there isn't many places that dogs can't go – even lots of shops and cafes are dog friendly!
Always be aware of the tides. No matter which time of year you're visiting the beaches there's a risk of being cut off when walking or being swept out if you're in the water.
Cornwall accommodation in autumn
When looking for cottages or hotels in Cornwall in the autumn season here are a couple of things I think you should bear in mind.
Days are beginning to get short so you'll want to have somewhere comfy to retreat to in the evenings. I like cottages or apartments with comfy sofas, a large tv and maybe even a fireplace.
Hot tubs are great if you want to extend your day and take in some stargazing while at your accommodation!
With a reduction in costs due to being out of season it's worth checking out some places with sea views – you can get some amazing deals in the autumn.
Towns like St Ives and Padstow can still be busy at these times but they are also good if you like to go out for meals on and evening.
Check out HolidayCottages for a great selection of apartments and self catering cottages in Cornwall.
Another I always recommend is Booking.com as they are so easy to book with and often their cancellation policies are good too. They do hotels as well as some self catered accommodation.
Static Caravan parks, lodges and similar are a good choice at this time of year. Much quieter but still with nature on your doorstep. Check out Park Leisure Holidays or Park Holidays
Things to bring on a Cornwall autumn holiday
Of course it will depend on what you're planning to do in Cornwall but if you're visiting in autumn you'll definitely not want to forget:
A good waterproof jacket
waterproof walking shoes
hat, scarf and gloves – especially if coming in later in the season
layers are good especially if you're not sure how cold it will be
a flask
hot chocolate (always space right?)