February is a wonderful time to visit Cornwall for many reasons but I think the best reason is that it's so quiet down here compared to other times of the year. Winter in Cornwall is a fun time to holiday here for all.
I've experienced Cornwall through all the months of the year. February is great because the nights are getting lighter, some attractions begin to open again (many take the whole of January off for maintenance and a break) but it's still quiet. The main thing for many is that you can have a much cheaper holiday compared to the summer months.
Whether you're looking for a break with the kids, a romantic Valentine's getaway or just want to see somewhere new, a February holiday in Cornwall could be perfect!
If you're tempted to take a break here and wondering if it's a good time to visit Cornwall, I hope you'll find this post about visiting Cornwall in February helpful in planning.
What should you consider before visiting Cornwall in February
While I'd love to simply say that February is the perfect time to visit, pack your bags and get down here, I'd be lying if I said there wasn't some issues about coming down to visit Cornwall at this time.
Weather
Weather in Cornwall is rarely cold enough to snow but it can be very damp and still pretty cold and grey. You'll want to make sure you bring warm clothes, waterproof jackets and shoes and perhaps a flask!
February can still see some very cold snaps and it might touch freezing point or dip below making some frosts.
You do typically get some stunning sunny days through February though where the sky is a bright blue. Grey is probably more common though!
February Half Term
You also have the February half term to consider when you're planning your holiday.
For 2022 the main dates for most English schools are between Monday 21st – Friday 25th February although you might find some schools are the week before.
This might impact by a) making holiday accommodation more expensive and b) making attractions busier.
(For those looking ahead – 2023 half term dates look to be 13-17th February, but check with your local authority)
Attractions
Many attractions in Cornwall don't open for their summer season until the Easter period which means visiting in winter could leave some disappointed if what they want to see isn't open.
I advise you to check their website, because they may well decide to shut for maintenance over some weeks in the winter. Many do this in January but some might spill over into other winter months.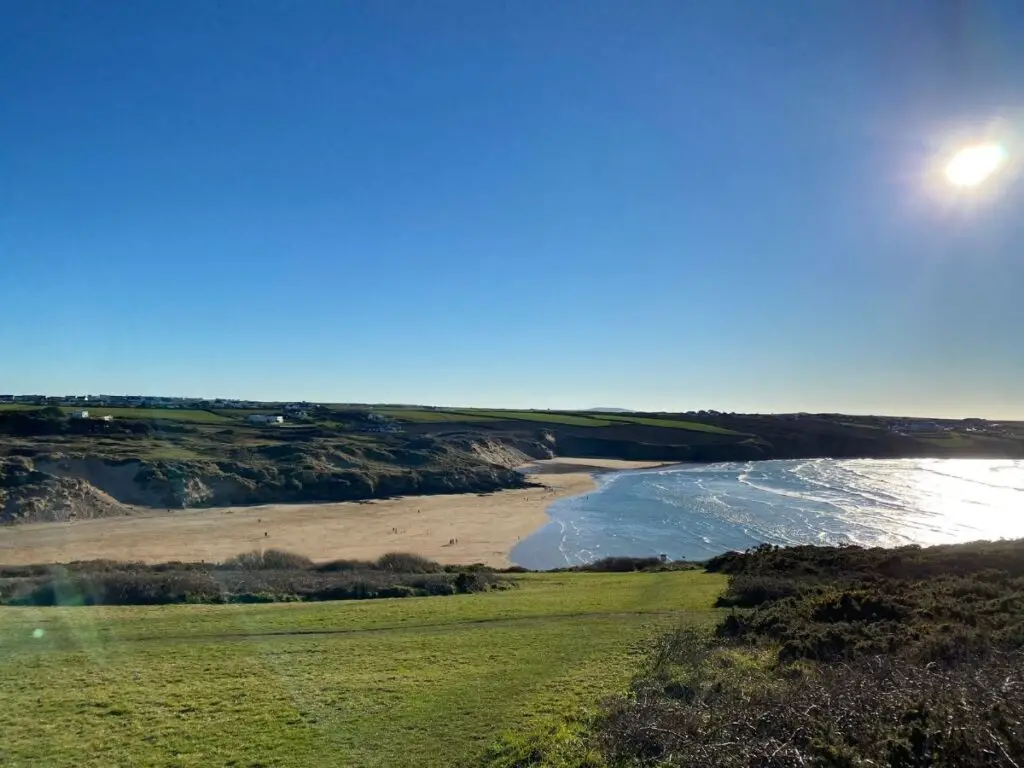 Things to do in Cornwall in February
Please also check my 'things to do' articles as I can't fit everything here and it might depend where you're based as to what you might want to do
Beach
We can't talk about things to do in Cornwall at any time without mentioning the beach!
With it being so much quieter and colder it's a perfect place to take a bracing walk. You'll still see stunning blue seas, crashing waves and plenty of surfers out too.
Most beaches are dog friendly at this time of year. As always check the tides!
Coastal walks
No matter where you decide to base yourself in Cornwall you'll have a number of coastal walks available to you.
Winter brings a bit of muddy pathways so bear that in mind before you head out. Some paths aren't too bad but some can be pretty tricky. Also make sure to stay away from headlands in stormy weather.
Mining Heritage
Many coastal walks can bring you up close and personal with the mining heritage of Cornwall.
Levant Mine and Beam Engine runs pre booked tours every Wednesday in February.
East Pool Mine runs pre booked tours on Tuesdays and Thursdays in February
Many others such as Botallack and Wheal Cotes have ruins you can explore on a coastal walk.
Explore Truro & the Cathedral
The city of Truro has a number of small, independent shops and eating options and if weather is changeable, you might be glad of places to ditch the rain and cold!
The Cathedral is also open all year and free to visit.
Eden Project
The Eden Project is open throughout February. and also has ice skating sessions going on too.
In Cornwall for Valentines day? Why not book a romantic meal at the The Eden Project? See details here.
Tate Gallery
For visitors to St Ives I recommend a trip to Tate St Ives. They have a number of events and special exhibitions on in February for both members and non members
St Michaels Mount
Visits to St Michael's Mount restart at half term, so the second half of February. You do need to book in advance here if you'd like to visit and tickets are released in early February.
St Ives Feast Day
Watch an old Cornish traditional procession through the streets leading to the 'Hurling of the silver ball' which is a form of rugby! This takes place in St Ives every February and is in remembrance of St Eia, the patron saint of the town.
The 2022 date is set to be Monday 7th February at Guildhall, St Ives. See here for details.
---
February Half Term – what's on for kids?
These events and ideas are for 2022 February half term.
Eden Project
The Eden Project is a fab day out for all kids and adults alike. Up until the 27th February you can also do ice skating there so perfect for a half term treat. Book here.
Seal Sanctuary, Gweek
The Seal Sanctuary is a great place to go to watch the feeding times and talks they have on. They also have a conservation club that's for 7-12 years during half term. Check their Facebook Page for details.
Bodmin Jail
Bodmin Jail has a number of tours on right now with some seasonal ones too. They are mostly for older kids – 8+, but parental discretion advised.
For February 2022 they have a Broken Hearts Tour, exploring all about historical romance and how it doesn't always end well!
National Trust properties
Lots of National Trust properties in Cornwall might not be fully open but their grounds are for some great winter walks.
Trelissick, near Truro, also has a bird trail event for half term (19th-27th February) so perfect for nature loving kids.
Newquay Zoo
The Zoo in Newquay is open throughout February and is a great place for all kids. They do feeding talks as well so look out for those to learn more about the animals they have there.
Pendennis Castle, Falmouth
Half Term Explorer Quest is on from the 19th – 27th February 2022 and allows kids to explore games and activities related to soldiers and the history of the castle. Looks like great fun!
Minack Theatre
The wonderful Minack Theatre on the side of a cliff is one not to be missed for all ages. It's not just for show and they do some performances throughout the year.
From 21st – 25th February 2022 'The Kiss That Missed' is on for families to enjoy. Book tickets here.