How to get to Cornwall – the best ways with or without a car
Blue seas, beautiful beaches and stunning countryside have you convinced – but the next question is – how to get to Cornwall and in the best way?
So many people have awful memories of painful drives to Cornwall as children, or maybe even more recently. It can be a number of hours in the car even if you're driving from as close as the South West.
For us, when we would drive from Sheffield, it was often a good 7 hour drive. Not something to take lightly!
While you might be sure of how you're getting to Cornwall on your next trip, this post will go through all the different ways you can do it. I hope it helps you choose the best way to get started on your next trip to Cornwall!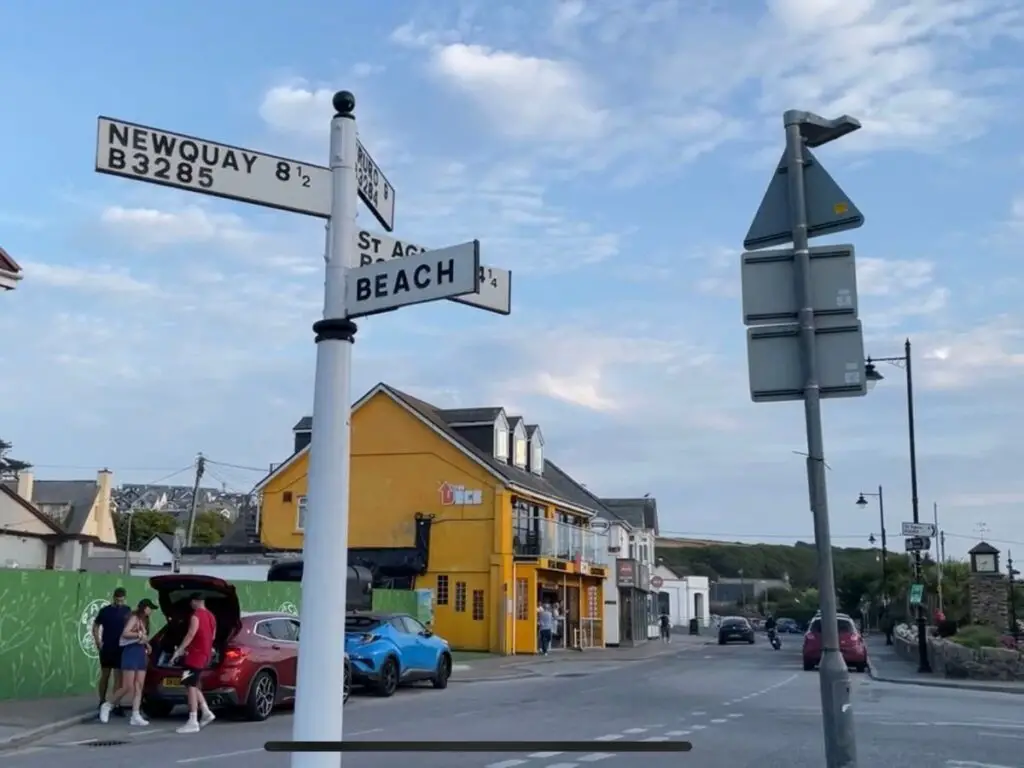 How to drive to Cornwall
With Google Maps and your phone navigation at your fingertips you would be forgiven for thinking this question is pretty irrelevant but having lived here for a while and had way too many mishaps with the sat nav I hope these tips will help you.
Of course it's going to depend on where you're driving from as to the best way to get to Cornwall. From Scotland, Wales, the North of England and most of the midlands you'll be looking at getting over to the M5 motorway and travelling South until it runs out.
From the East of England and driving from London you might be looking at taking the M4 to Bristol or the M3 to Exeter and picking up the A30/A38 from there.
There are no motorways in Cornwall and once the M5 runs out in Exeter you have a choice to travel along the A30 or the A38 and your decision will depend on your final destination in Cornwall.
Getting to Cornwall using the A30
The A30 runs through Devon, round the top of Dartmoor and finally once it gets into Cornwall it goes all the way, almost to the tip at Lands End.
Most people will use the A30 and it's perfect for destinations such as Penzance, St Ives, Newquay and Truro.
The A30 is dual carriageway all the way to Carland Cross which is about half way down. The Council are currently working on widening the road there so there's quite a bit of roadworks going on (as at Jan 2022 when I wrote this) but hopefully it will ease some of the congestion when finished.
From Carland Cross, going west, much of the A30 is single carriageway.
The A30 is the main road and as such it does get busy during peak times – I drive almost daily on it and I always check before I head out on my phone to see the traffic in case it's backed up.
Getting to Cornwall using the A38
The A38 goes south of Dartmoor in Devon, past Plymouth and over the Tamar bridge. It's a good option if you're looking to get to places like Liskeard, Looe, or some destinations on the south east coast.
The Tamar bridge is a toll bridge but you only pay when leaving Cornwall and in 2022 the car cost is £2.00 and £4.00 with a trailer.
Tips for driving to your Cornwall holiday destination
Getting to the A30 (or A38) in Cornwall is just one part of the trip. Getting to your actual destination might need some extra thought.
Sat Nav devices will often show the quickest or straightest route and they very rarely take into account that the roads it's taking you down might be single track or at least very narrow. Many times we have gone a silly way when there was a much better option.
My locals tip for you is to utilise Google Maps before you even get in your car. Check which roads are best for you to use and use StreetView to see what the size of the roads are like. If it's taking you down a narrow road see if there's a better main road that will get you there.
Your accommodation provider will also know all about the best ways to get there so always check with them if you can.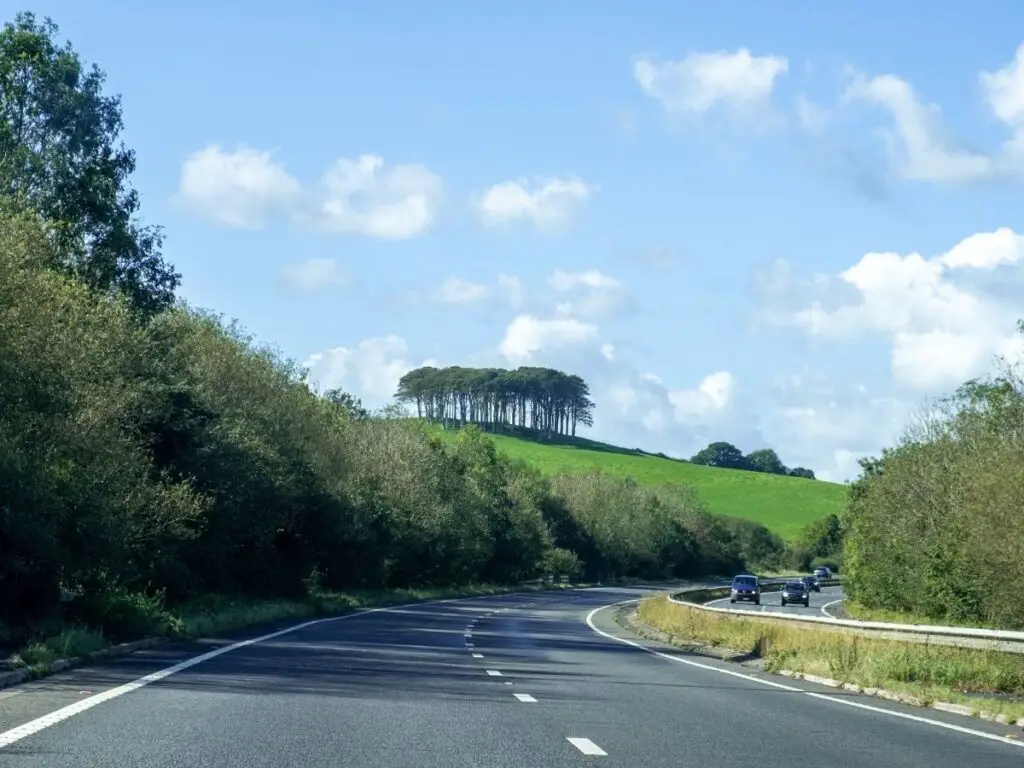 Other tips for getting to Cornwall in a car
Set off early, especially if you're travelling in high season or on weekends
always check traffic reports before you set off and keep an eye on them as you go
take plenty of rest breaks – it can be a long drive so break it up
Check your final destination and the roads that will get you there – don't rely on Sat Nav
look out for the Nearly There trees (in the image above) just before you cross into Cornwall!
How to get to Cornwall without a car
It's absolutely possible to travel to Cornwall without your own car and quite honestly, if you're coming in high season you might be glad to be without it!
You have a few different options on how to get down here; train, bus/coach, flying. Plenty of people even cycle down here as part of a John o'Groats to Lands End trip, but that's probably a bit niche!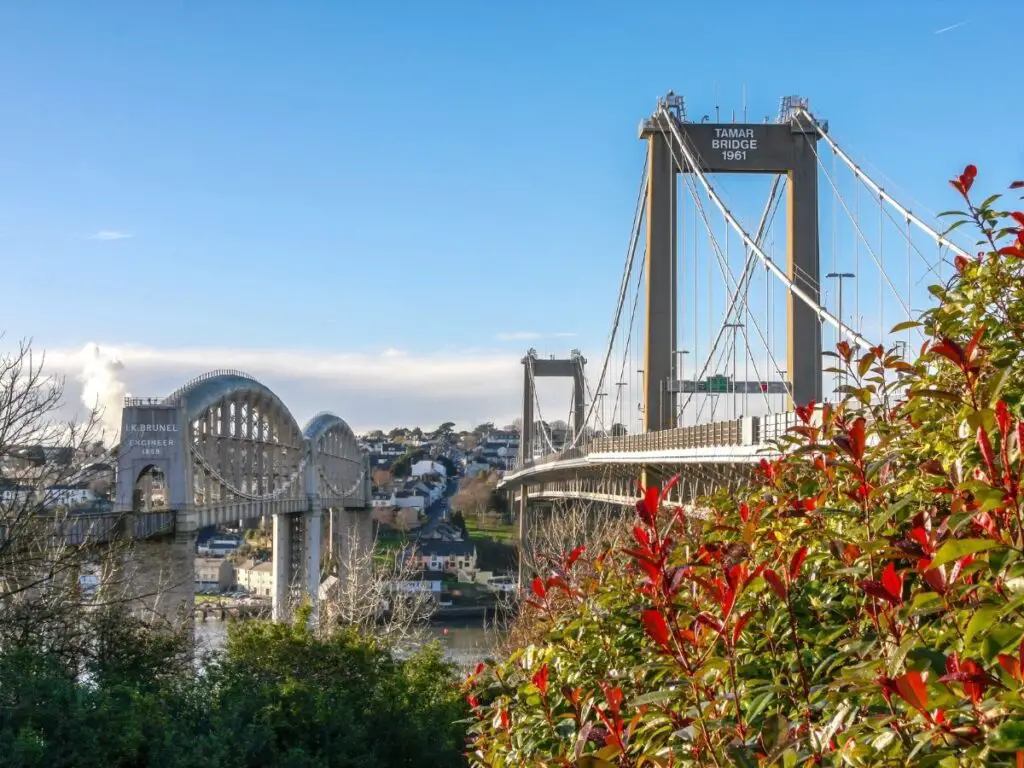 Getting a Train to Cornwall
Cornwall is quite well served by train to most of the big cities and you can get there direct from London Paddington as well as some other cities such as Birmingham or Bristol.
It takes around 5-6 hours to get to Cornwall by train during the day but there's also a night sleeper service called the Night Riviera which follows the same route but takes a little longer at about 8 hours.
The main train line goes through Saltash, Liskeard, Bodmin, Truro, Redruth, Camborne, St Erth and Penzance.
There are also other branch lines that can take you to Newquay, Par, St Ives, Looe and Falmouth.
I always find Trainline is the best to find out what train options are available to me.
Buses & Coaches to Cornwall
Coaches are a good option especially if you're on a budget and looking for a cheap way to get to Cornwall.
National Express can take you to many destinations in Cornwall including:
Newquay
Liskeard
Truro
Bodmin
Penzance
Hayle
Falmouth and quite a few more
Normally the route goes from London Victoria but stopping en route in places like Taunton, Exeter and Plymouth.
Can you fly to Cornwall?
Cornwall gets direct flights to Newquay from Scotland, London, Ireland and even Spain and Portugal.
Newquay airport is small but its size means you're rarely going to be fighting others to get to your destination afterwards. If the drive time to Cornwall is making you wince then getting to Cornwall by plane might be a better idea.
One thing to note is that the flights can be scarce out of season – so might not be the best idea in winter. I like to use Skyscanner to see what's available.
Newquay is really central in Cornwall and never more than 90 mins to even the furthest flung point of the county. (The airport is just down the road from my house – I love this location for how easy it is to explore all of Cornwall)
You can hire cars direct from the airport or get taxis to take you to your final destination.
Buses also will take you into Newquay town or into Padstow directly from the airport and the bus journey is a pretty one that goes along the coast! You could then take a train from Newquay onwards.
Ferries to Cornwall
If you're staying at the very South East of Cornwall on the Rame peninsula, perhaps in Torpoint or Cawsand then you might be interested in getting the ferry over to Cornwall.
The Torpoint ferry takes vehicles and pedestrians and run every 10-15 mins through the day. Like the Tamar bridge the toll for the ferry only applies when leaving Cornwall and it's free for pedestrians.
There's also a pedestrian only ferry from Plymouth to Cremyll on the Rame Peninsula. It runs every half hour during the day and only costs £2 each way and dogs can also go on board (for free!). You can check the timetables here as they do run differently depending on the season.
There are no direct ferries to Cornwall from overseas but you can sail from Roscoff in France or Santander in Spain to Plymouth which is just next to Cornwall.
Guided trips to Cornwall
Coach trips and guided tours often go to Cornwall and for some people this might be the best way to get here. Let someone else do the driving and get you direct to your accommodation!
Here's one guided tour that goes from London and spends 5 days in both Devon and Cornwall.