Watergate Bay Beach: your top tips for visiting
Watergate Bay beach is one of my favourite places to go, even if it didn't quite make it into the best beaches in Cornwall (I had to take *some* out!)
The wide open space is wonderful for all whether you want to play ball with your friend, chase your dog or try some kite surfing. The beach is incredibly popular with surfers as well and has lots of surf schools and kit hire should you need it.
Watergate Bay is located on the north coast of Cornwall not too far from Newquay and Padstow and very close to the airport so if you choose to fly to Cornwall it's a great destination.
Things to note about Watergate Bay Beach
Watergate bay is surrounded by cliffs that can be unstable. Stay away from the cliffside.
The tide can cut some areas off at each end of the beach. Be aware of when the tide is coming in.
Is Watergate Bay Beach family friendly?
There is so much to recommend at Watergate Bay beach for families so yes it's very family friendly.
There's lots of space for running around, playing games and tiring out the kids. Towards the left hand side of the beach you'll find a lot of rock pools to explore at low tide as well.
While Watergate Bay is a clean beach overall there does seem to be a lot of small bits of plastic pollution that seems to drop here.
Is Watergate Bay Beach dog friendly ?
Yes. Watergate bay is an excellent place for dogs because it's such a wide open space with plenty of areas to be away from others and to run around. My dog adores it there!
Be aware as the tide comes in that some of the more further out spots can be cut off. Keep an eye on it. At high tide there is no beach left as well so not so good for the dog! Always check tides before heading there.
Does Watergate Bay Beach have lifeguard cover?
Watergate Bay has lifeguard presence at high season and also a few other dates as well.
For 2022 lifeguard cover is as follows:
10am – 6pm
9-24 April (Easter break)
30 April – 25th September (high season)
weekends – 1-16th October
22-30 October (October half term)

For more information see the RNLI site here
Watergate Bay Beach parking
You have two options for parking at Watergate Bay beach: a private owned car park right by the hotel and closer to the beach and a council owned car park a little bit further back.
The private car park is charged all year round between the hours of 9am and 6pm. It's much easier for anyone with mobility issues to get to the beach. It's often quite full and especially so in high season.
The council owned car park is just a little further back from the beach although you do have to cross a road as well – something to bear in mind for those with little children. There are lots of spaces but it does still get very full in high season with cars often needing to park on the grass. Be aware if it's been wet!
One thing to note about the council car park is that it is free after 4pm every day and also through the winter months of November to March – it's one reason why we visit so often off season!
If you're staying at some of the lodging at Watergate Bay then you might also have a specific car parking area for there.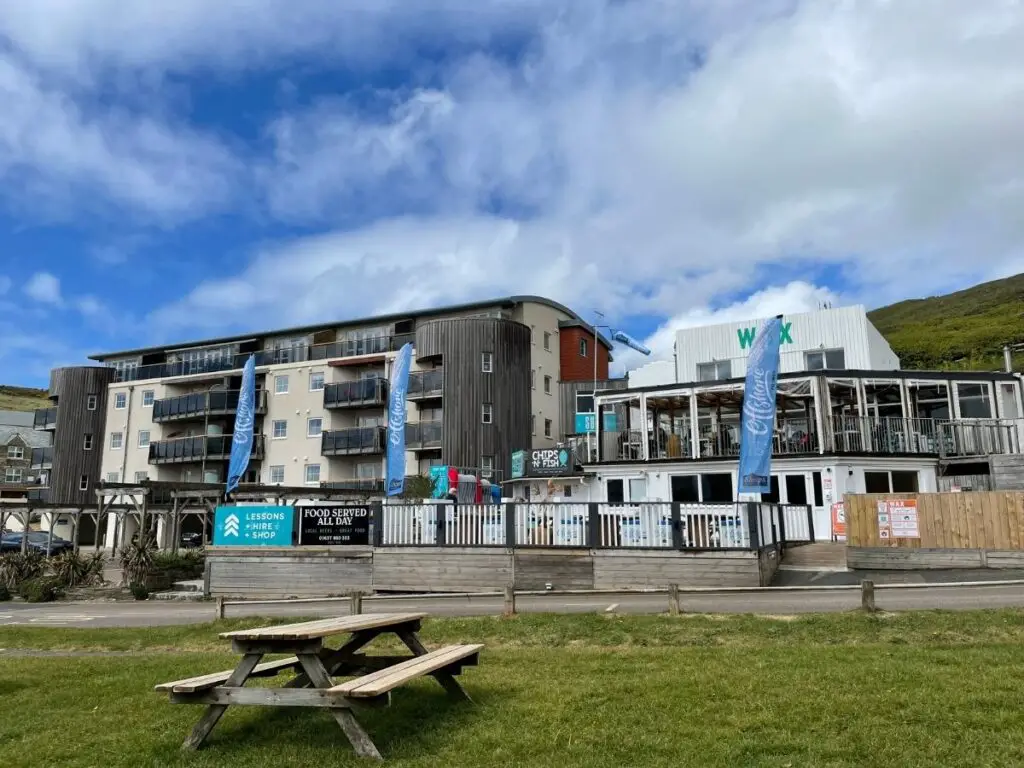 Food options at Watergate Bay
Even though Watergate Bay is away from any built up towns there are still a few options of places to get some food.
Watergate Bay Hotel
Watergate Bay hotel dominates the area around the beach and as such has some food options for all tastes and budgets.
Zacry's Restaurant
Serving meals from 6pm onwards this is a contemporary dining experience.
Emily Scott Food
Restaurant with seafood and local fish options for lunch and evening.
The Beach Hut
A slightly more laid back restaurant that's open all day from breakfast until evening. Amazing views over the beach
Pizza
New in 2021 was a pizza and takeaway option based in the private car park opposite the hotel.
Wax
Classic food from burgers to pizza served just across from the council car park. Sometimes hosts events in high season so worth checking their FB page.
Airbnbs, Hotels and other accommodation at Watergate Bay
If you want to stay at Watergate Bay you also have quite a few options.
At the beach itself you have Watergate Bay hotel and they have since completed some Airbnb type apartments above the Beach Hut restaurant that's right on the beach and offering stunning views.
Wax Restaurant also offers rooms to rent – check them out on Booking.com.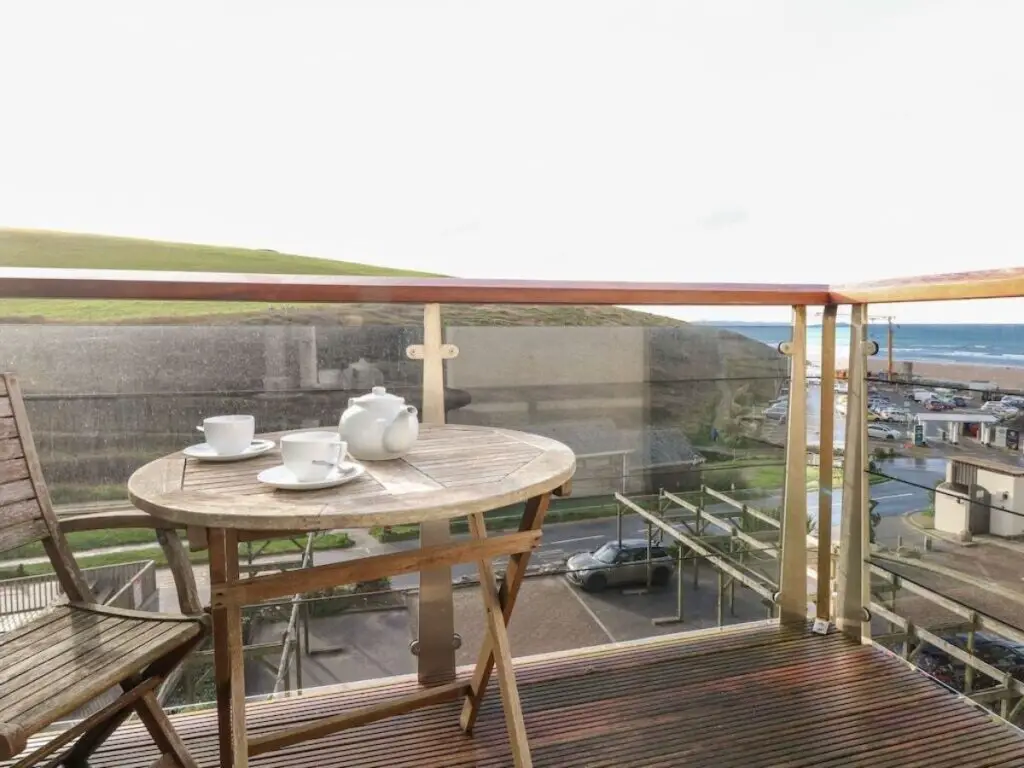 As you'd expect there are a lot of cottages and apartments to rent by Watergate Bay.
The nearest village to check is Tregurrian which is walking distance to the beach (although be aware that the road has no path and can get busy)