15 of the best beaches in Cornwall
There are so many to choose from so I'll admit that writing about the best beaches in Cornwall kept getting put off! Apparently there are over 365 beaches in the county so as you can imagine, I haven't managed to get to them all yet, and finding the best? Quite a job!
The beaches of Cornwall are honestly one of the reasons we moved to the area. I love exploring small coves and wide open bays. Discovering how the popular beaches change over the seasons and finding little gems when it gets really busy!
I've explored more of the north coast of Cornwall so you might find it's slightly skewed to this area but there's still plenty of beauties on the south coast too.
I hope you'll like this list and use it as a jumping off point to discover Cornwall's fabulous beaches along its coast. And if you find I've missed a corker, please do let me know and I'll head there and check it out – it might make it in the list next time I update!
Map of the best beaches in Cornwall
To help you get a handle on the location of these beaches in Cornwall I've made this map for you.
I've tried to have a good variety of beaches in Cornwall in this list – some are wide and perfect for dog walking, others are small coves. Some are great for surfing, some are perfect for kids to swim.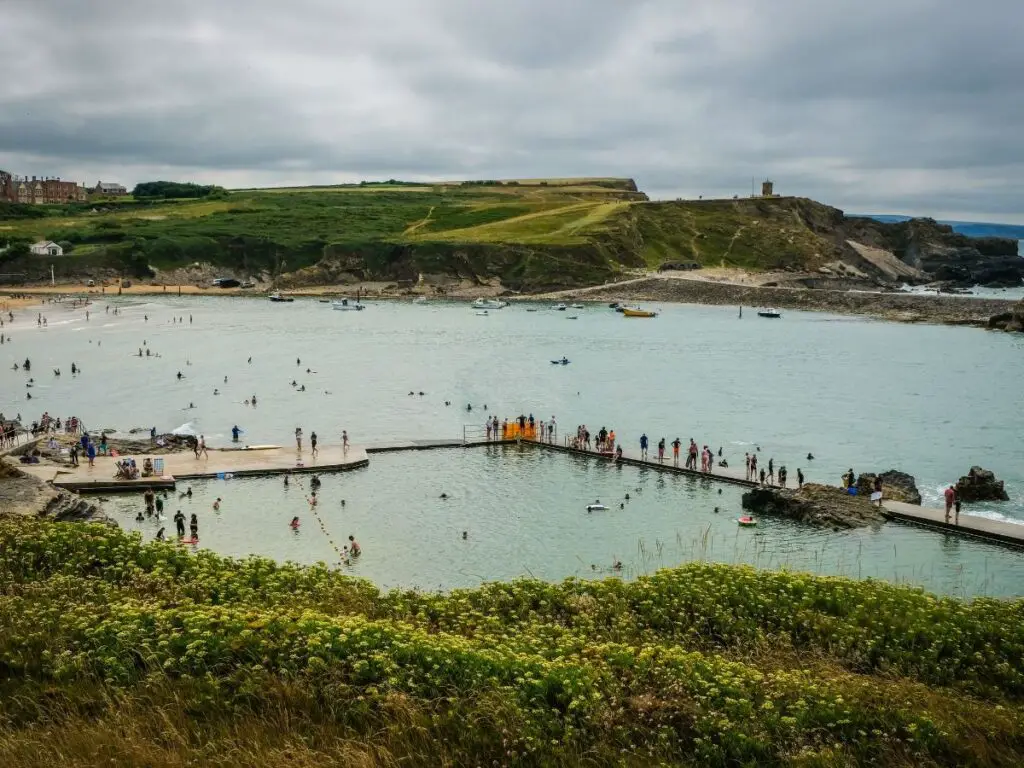 Summerleaze Beach, Bude
This beach on the north coast on Cornwall, near the Devon border is very popular with families. It's a wide open beach that feels very much like a traditional english seaside town with its beach huts overlooking the bay.
As well as the beach and sea there's also a sea pool here for swimming which again is popular with kids.
Tintagel Beach
This cove beneath the medieval castle is a stunning blue colour on a sunny day. The adventurous among you might want to explore the caves around – one is called Merlin's cave and it's said that it's where he lived.
Tintagel is a really pretty village with a hippy and alternative vibe owing to the legends of King Arthur that are around this place.
Parking is plentiful in the village and it's a walk down towards the beach. The walk back up can be a bit of a killer though!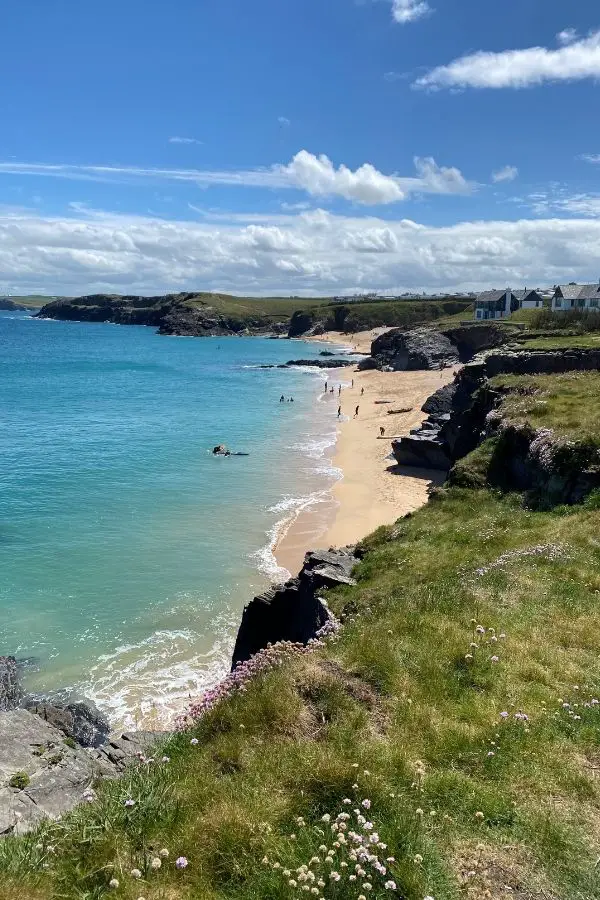 Mother Ivey's Bay
This is my favourite beach to head to, even when in high season. It's quiet, calm and a great place to try out paddle boarding or canoeing (although there is no lifeguard cover here – be aware). The beach you're looking for on Google Maps is called Long Cove Beach.
It still gets busy there but it's a little less so than the big beaches. It's a little trickier to get to with narrow roads so you do need some patience.
Mother Ivey's Bay is on Trevose head which is just by Padstow, where there are lots of lovely, quiet beaches nearby. There's a National Trust car park by the beach and it's about a 5 minus walk to the quiet cove.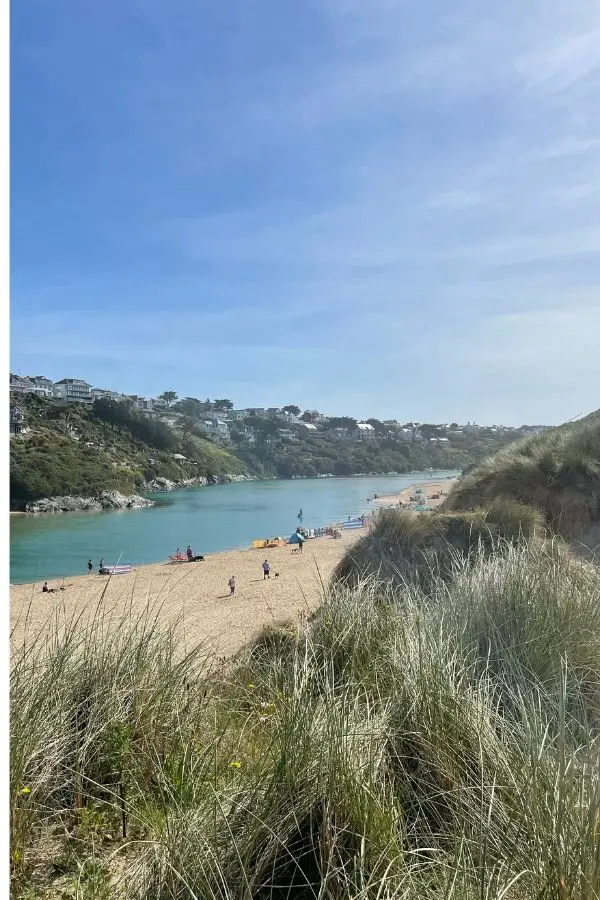 Crantock Beach
One of many beaches in Newquay and universally loved by families, dog walkers, surfers and water sports enthusiasts, Crantock Beach seems to have it all.
The River Gannel estuary is here and it's a great, safe place to try swimming and paddle boarding – we love taking our dog on the board at this spot!
When the tide is out the beach is huge and you'll find plenty of room – it does get busier by the river though where many people set up their chairs and windbreaks.
The downside is that it can become incredibly busy in high season and at weekends – the car park isn't huge although there are sometimes some overflow options in the village but you'll have a longer walk down to the beach.
Holywell Bay
Used in many films and tv series (hello Poldark!) Holywell Bay has iconic rock formations out to sea which look amazing especially at sunset.
The beach is on the other side of some amazing sand dunes that kids and adults love to slide down. Kids and dogs love exploring the water flowing to the sea – a nice safe spot for paddling.
Be careful around the rocks towards the left of the beach when tide is coming in because it can be cut off quickly.
There's a large car park at Holywell that's owned by the National Trust with some overflow fields used in high season.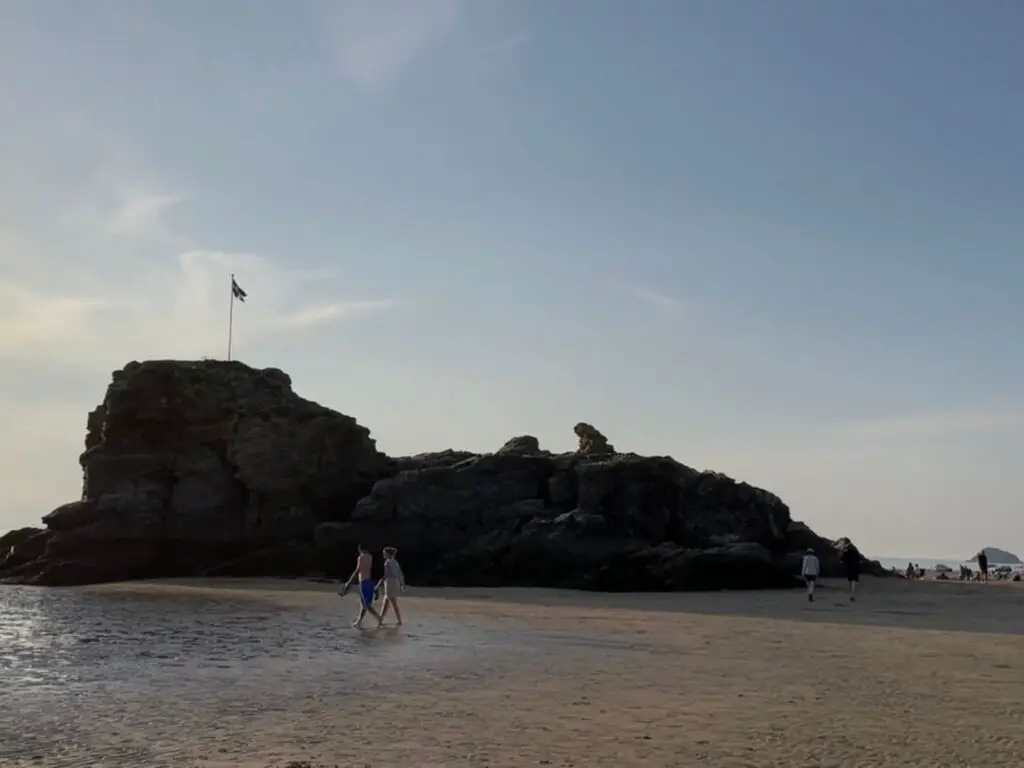 Perranporth beach
Perranporth has a huge expanse of beach which is great for games, dogs and walking. When the tide is out it seems to go on forever!
In the centre of the beach you'll see there's a large rock with the Cornish flag often flying. Explore further and you'll see that it's actually a sea pool and that's refilled when the tide comes in.
It's a really popular town with families and it can get incredibly busy here. There are a number of car parks in the area so if you can't get in the one nearest to the beach try a bit further out.
Gwithian Beach
Another beach that seems to go on forever is Gwithian Beach which is near Hayle. It's a popular area for surfers as well as dog walkers (although in July and August some sections of the beach have a dog ban – do check if you're headed with a dog).
You're close to Godrevy Point which looks out on to the lighthouse and makes a great coastal walk if you're not wanting to just laze on a beach!
There's a large car park by the beach but be aware of a bumpy and narrow track/road to get there.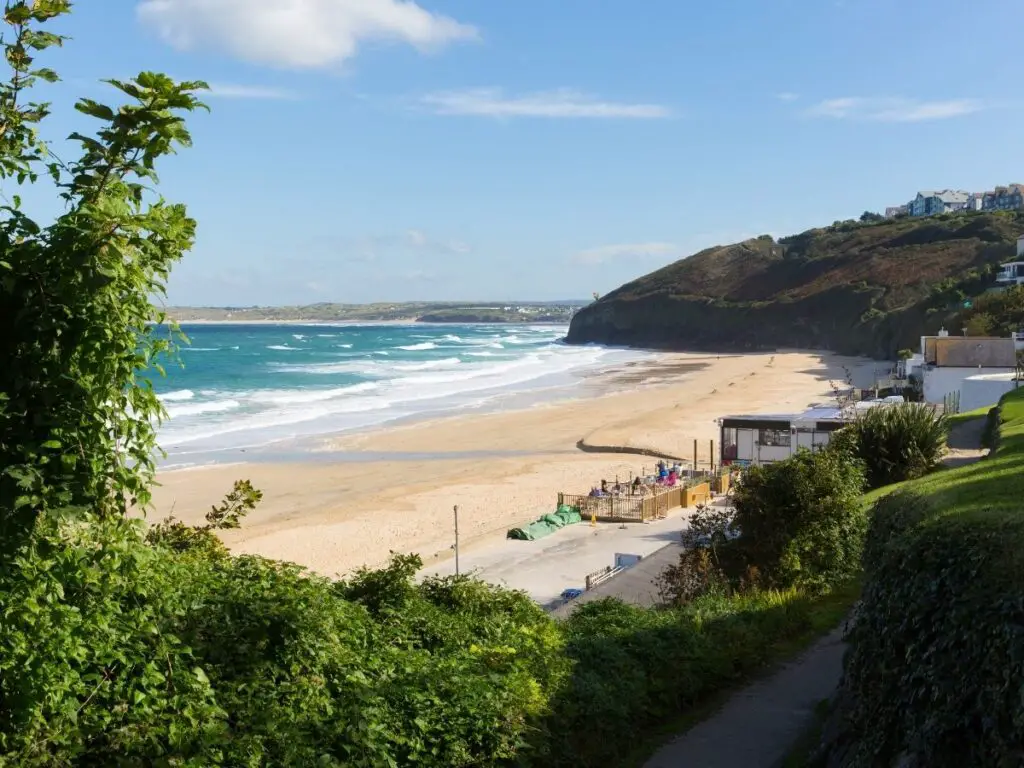 Carbis Bay
There are a number of stunning beaches around St Ives so if you're headed to that area you're in luck. Carbis Bay is just along from the town and is an amazing combination of turquoise waters and white sands that make you thing you're anywhere but England!
It's easily accessibly by train if you want to do the park and ride into St Ives from St Erth or Lelant Saltings. If you're coming by car then there's a large long stay car park in the village but be aware of the walk back up when you're done exploring!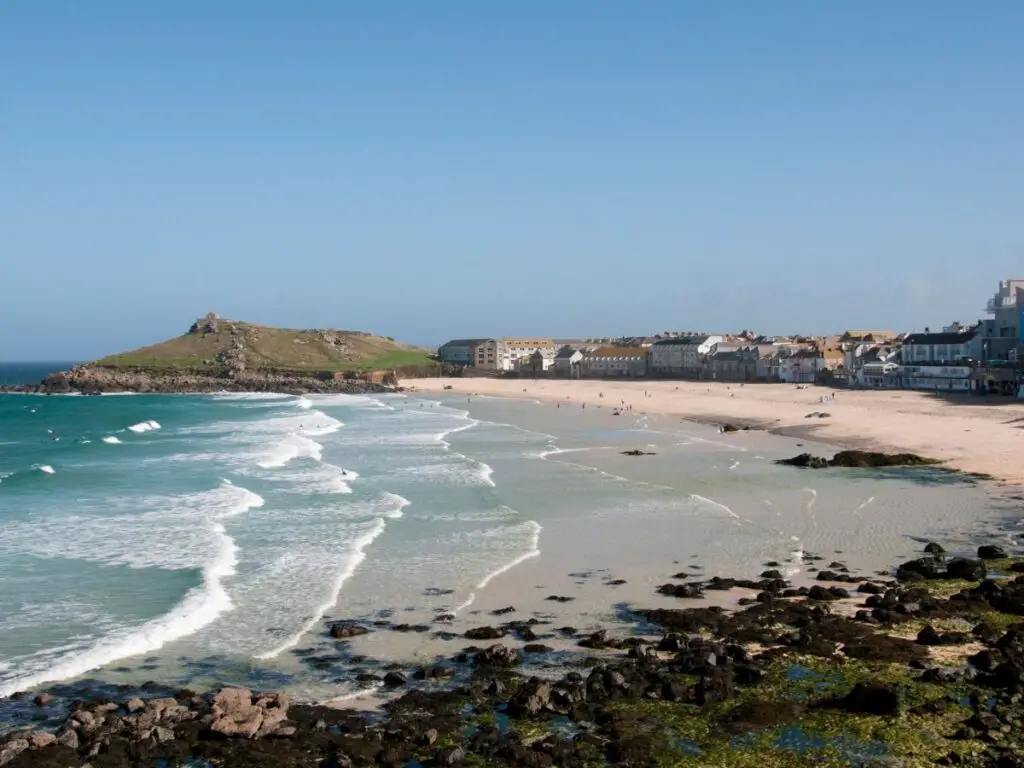 Porthmeor Beach
On the left of St Ives is Porthmeor Beach, walkable from the town and a great option for many people.
It's a popular surfing beach with lots of surf schools in the area for beginners or if you're in need of hiring some gear.
It's also a great place for sunsets if you're looking for a romantic spot in Cornwall, especially since it's so close to town and you can head back there to eat something later on.
Parking in St Ives can be a bit of a nightmare but there are large car parks in town if you don't mind walking and exploring.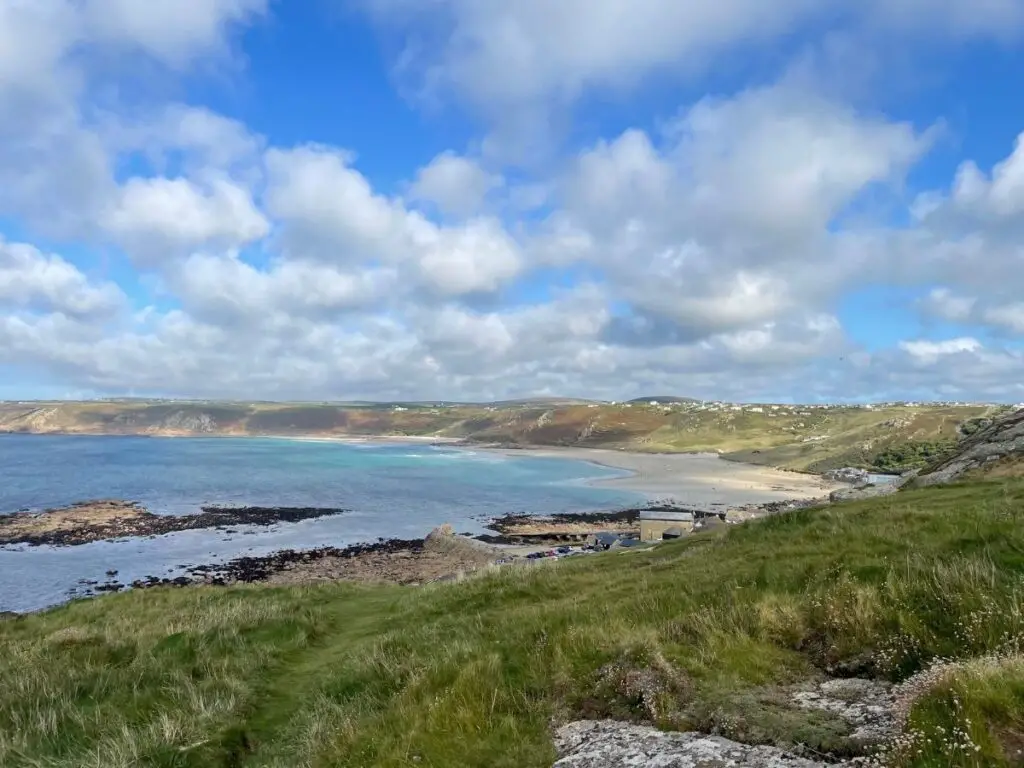 Sennen Beach
Right at the tip of Cornwall and close to Land's End is Sennen beach which, as you can imagine with it being so exposed, is a great surfing beach.
It's a popular place to go but since it's so far out might be less busy than some other areas in high season. You can walk there from Land's End if you've decided to park there for the day.
Sennen itself has a small car park that fills up really quickly so there's a much larger car park up the hill which is recommended.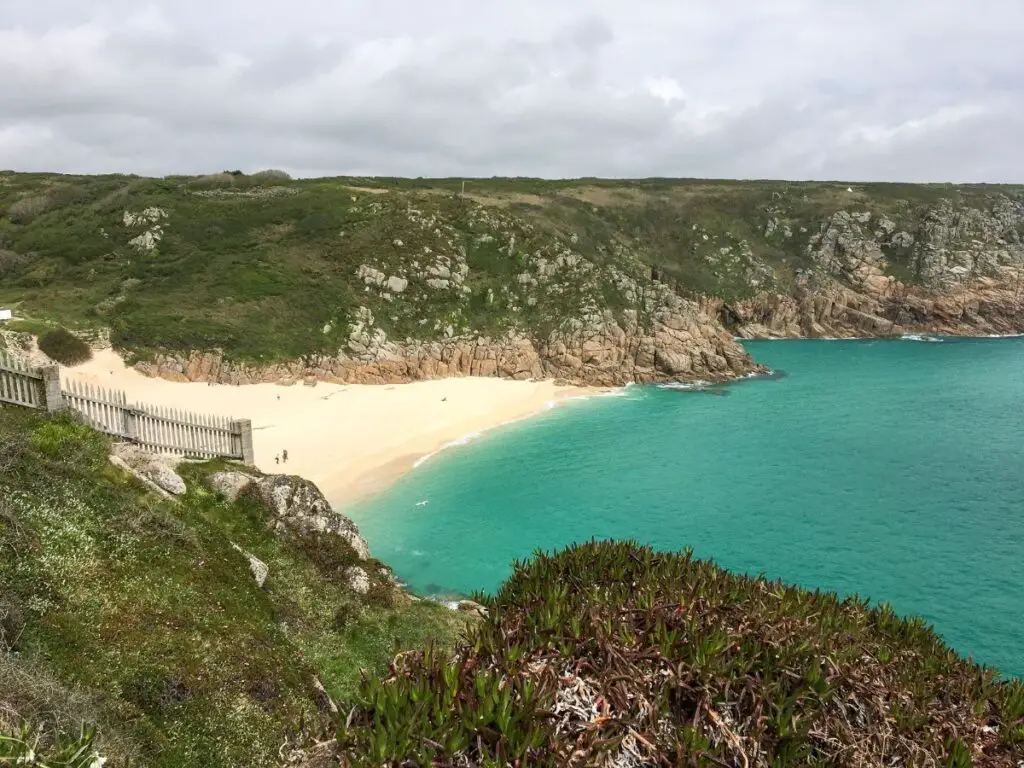 Porthcurno Beach
Situated right next to the stunning and unique Minack Theatre, Porthcurno beach is a sheltered cove that's surrounded by cliffs on either side.
If you're visiting alongside a trip to the theatre just be aware that it is an incredibly steep walk back up – I definitely struggled when we were done and regretted everything!
If you're just visiting the beach, or possibly the nearby Telegraph Museum, there's a large car park that's probably a better bet. You still have a little walk to the beach though.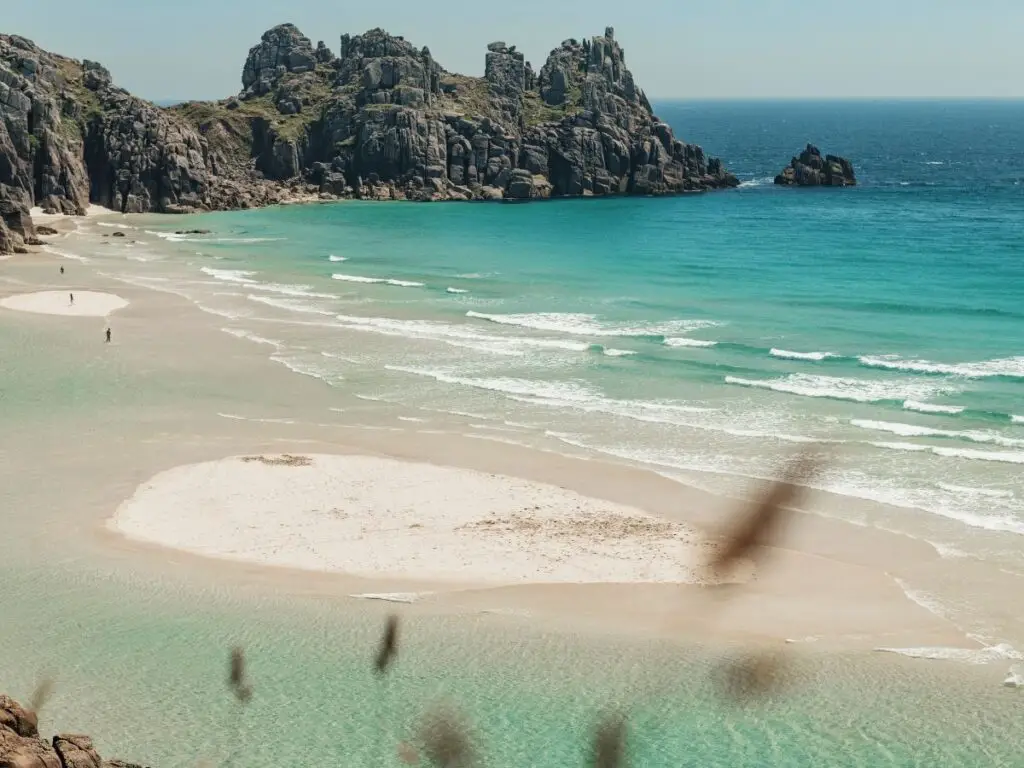 Pedn Vounder Sands
Some people say this is the best beach in Cornwall and since it's one that's a little trickier to get to that might help to keep it quieter and give it that edge. You can get there from the Porthcurno car park mentioned earlier as well.
Pedn Vounder Beach is often shown on Instagram and in TikTok videos because it is just soo stunning. When the tide is out there's a beautiful sand island that appears in the middle of the sea and the waters are crystal clear.
You have to walk to get there and also climb down a steep cliff to get there so it's not suitable for young kids and it's also a nudist beach too so that's something to bear in mind (you don't have to get naked though!). Be aware of the tides.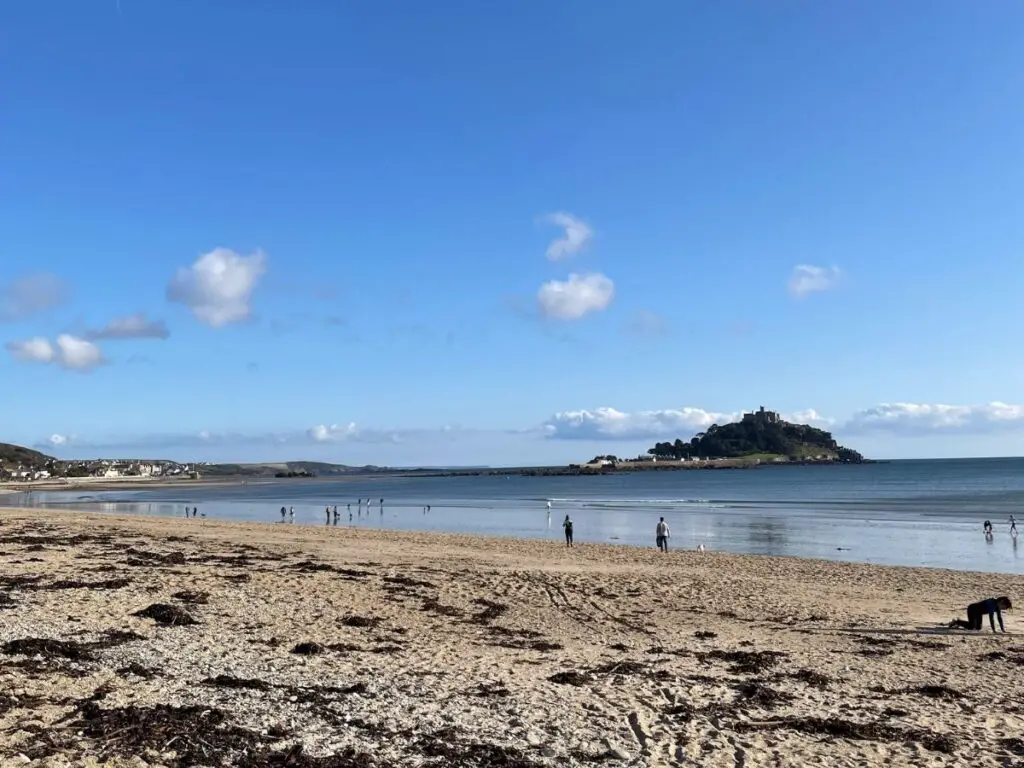 St Michael's Mount Bay
There's a long beach near St Michael's Mount which has the added advantage of being a really calm bay – perfect for canoeing and paddle boarding.
Of course, you also have the amazing tidal island to explore as well if you want to – at low tide you can walk across but at high tide they have boats to ferry passengers.
There's some parking by the beach but if you're struggling you might find the large private car parks in Marazion a better bet although they are a little more expensive.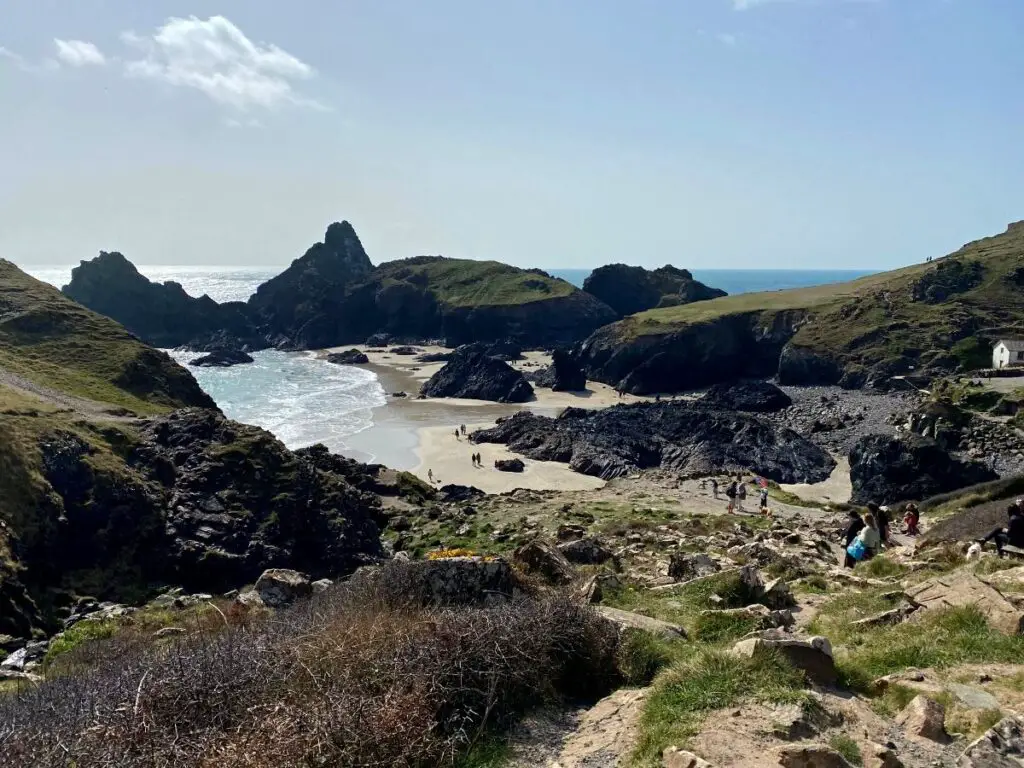 Kynance Cove
Another one of the most popular beaches in Cornwall – Kynance Cove is right by the most southerly point of England on the Lizard Peninsula.
The cove has a number of rocks around that you can scramble over finding your perfect spot on the beach. Even on a cold April day it was a gorgeous blue colour and we could paddle in the sea there.
You do need to be aware of the tides when visiting. At high tide there is no beach at all and you could get cut off if you're there and don't realise. Also it's a long way to come if you get the times wrong, although you'll still get amazing views of the coast line.
The coastline is owned by National Trust so there's a car park run by them. It can get busy in high season especially around optimal tide times.
Lantic Bay
We end with a beautiful cove that's reached by small footpaths and as such is not one of the more busier options, even in high season.
Lantic Bay is between Polruan and Polperro on the south coast. The sand isn't as fine and white as some others but the fact that it's quiet can make up for this.
Parking is at a National Trust Car park – the roads can be a but narrow to get there so patience is needed!