Visiting Trerice House and Gardens near Newquay: a National Trust day out
Trerice House and Gardens is a little gem of an attraction near Newquay in mid Cornwall.
I've visited a couple of times now, since it's only a few miles from where we live, and really enjoyed the peace and tranquility of the area. The views are spectacular from the grounds and it really feels like you're in a completely different world to the busy beaches at the coast.
Trerice is a manor house that dates back to Elizabethan times. It's impressive but also in a quite understated way. It's fairly small, especially compared to some other National Trust properties around!
If you're looking for something to do near Newquay that's a little different, or if you're a lover of gardens and history then a visit to Trerice has to be on the cards!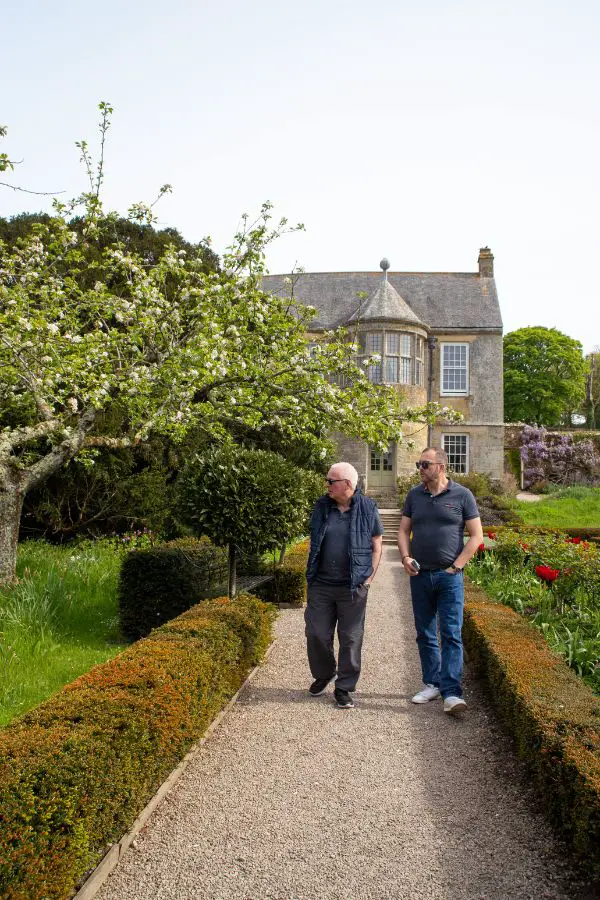 What can you do at Trerice House and Gardens
Compared to some of the other National Trust sites in Cornwall, Trerice is a small place that might take just a couple of hours of your time to visit. If the weather is good I highly recommend taking a picnic and just enjoying the peace of the place!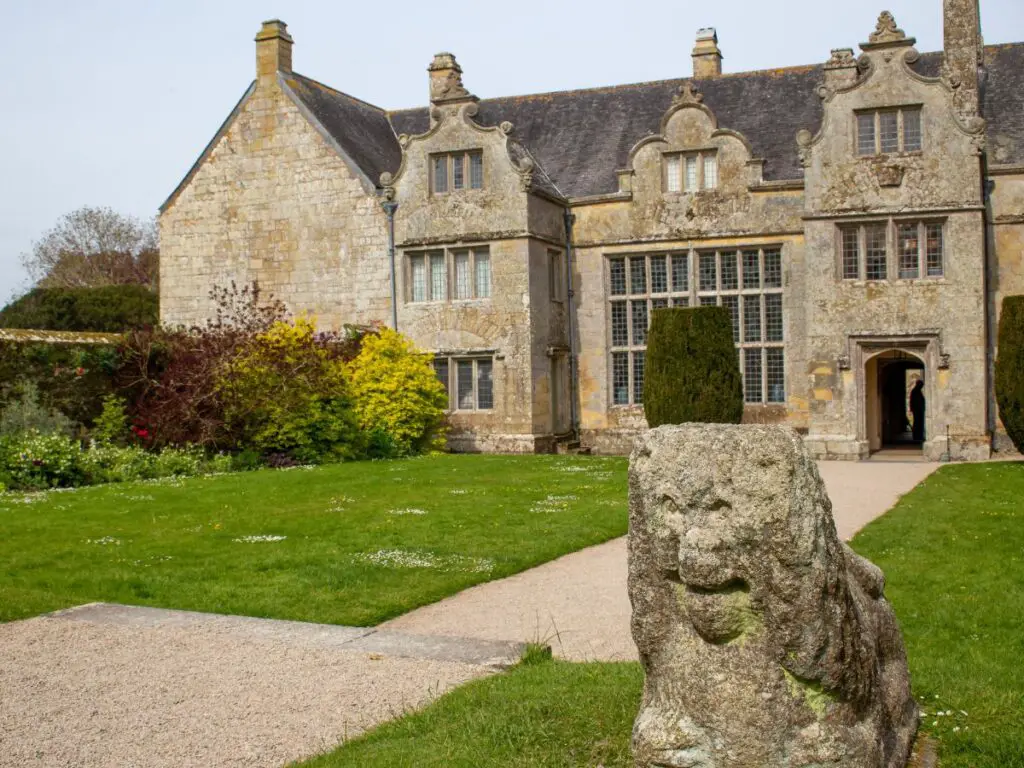 Trerice Gardens and grounds
There are a number of different areas of the gardens and grounds that you can explore, wander around and generally just enjoy being a part of. Depending on the time of year you can see a lot of different flowers – they have a lot of daffodil varieties if you visit Cornwall in Spring.
First of all you'll arrive at the Knot Garden which was inspired by the patterns in the plaster of the manor house. There's traditional apple trees surrounding the garden.
Pass through the walled gateway, which is covered in wisteria – beautiful in May, towards the front of the Manor house. You'll find some old lion statues at the front of the house at what would have been the original entrance from the road.
There's plenty of flowering beds to walk around and further up there's a wide open space that's great for kids to run around in. They also have some traditional Cornish games to play too!
Towards the rear of the house you'll find space to have a picnic, the allotment gardens and also some mazes that are grown each year (best time for these is the summer)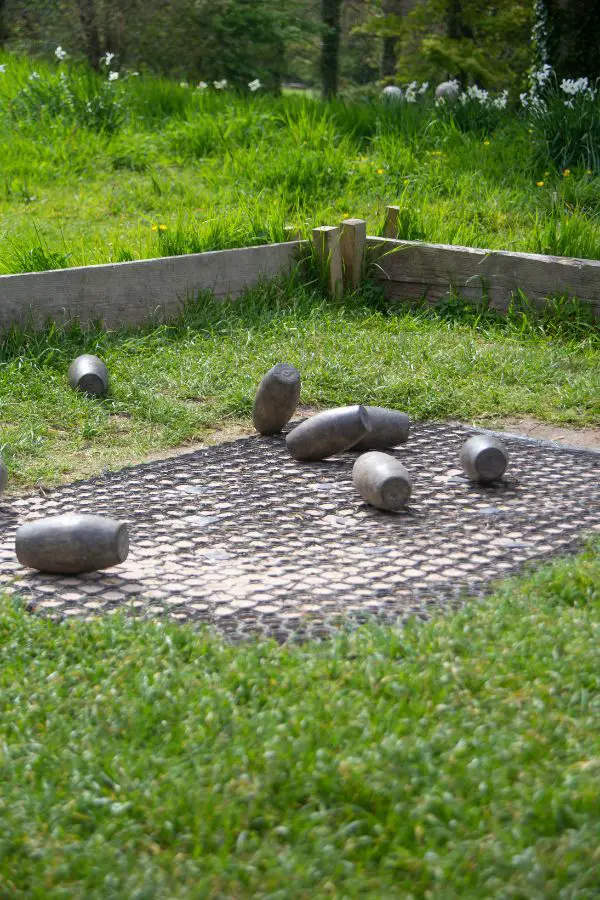 Trerice Manor House
You can look all around the Manor house at your own pace, checking out the laminated guides in each room, or you can ask the wonderful volunteers in each space. They all know a lot about the house and will help you with any questions.
The Manor house dates back to Elizabethan times but it's gone through a lot in those years from being derelict at one point to what you can see now.
The great hall is very impressive and I especially liked that there was a walkway above for minstrels to play and not be seen.
Outside of the manor house there's also a small shop with plenty of things to buy including local produce and gifts and typical National Trust offerings.
There's also a small cafe too in one of the outside barns where you can get a drink and a small snack and take it to one of the many picnic benches around to enjoy. I can confirm that the millionaires shortbread was very nice!
Before you leave take a look at the small second hand bookshop as well!
Is Trerice dog friendly?
Unfortunately Trerice House and Gardens is NOT a dog friendly attraction with the exception of guide dogs. Dogs aren't allowed anywhere at all, not even the grounds.
There is a large car park where you could walk your dog and keep him occupied while others are exploring the house and gardens. Obviously it's not a good idea to leave dogs in cars.
Was Trerice used in Poldark?
Trerice manor house is said to have inspired the writer of Poldark, Winston Graham. Specifically it was one of the inspirations for Trenwith, the land and house owned by the Poldark family.
It was a filming location in the original 70s tv series. It hasn't been used in the most recent TV adaptation.
Opening times and prices
Admissions prices are as follows (correct as at May 2022):
Adult: £11.00
Child: £5.50
Family: £27.50
1 adult, 2 children: £16.50
National Trust members can visit for free!
Trerice is open daily throughout the spring, summer and autumn months from 10.30am – 4.30pm with last entry at 4.00pm. The garden is open until 5pm when the car park also is locked.
In winter the property shifts it's opening hours to the weekends before Christmas, and a few days in the run up to the holiday. It then closes completely for a couple of months at the beginning of the year too. If you're visiting Cornwall in winter you might wish to check to see if it's open when planning your trip.
An important point to note is that the building is sometimes used for weddings and events and as such the whole place can be shut down to accommodate it.
I highly recommend just checking their website before heading there.
Road to Trerice
As someone who really doesn't enjoy driving the tiny lanes of Cornwall (who does?) I thought it's worth mentioning that in order to get to Trerice the last 1/2 a mile of road is quite narrow with some passing places.
The best way to get to Trerice is to go from the A308 at Kestle Mill – it's signposted.
Have patience, although to be fair, the road is quite quiet, even when we visited on a bank holiday.