14 of the best things to do in Padstow (plus more nearby!)
Amazing food, an exciting vibe and a host of things you can do. That's why Padstow is probably one of the most popular destinations in Cornwall.
I've loved visiting Padstow in different seasons this past year or so. From the heights of summer where people spill onto the roads around the harbour to the more quiet winter months the town has a real charm about it. It's easy to see why it attracts so many people.
If you're planning a day trip to Padstow or would like to base yourself here you're probably wondering if it's worth a trip (spoiler – yes it is!) Here are some of the best things to do in Padstow and if you want to go further afield, some nearby attractions too. I hope it helps when planning your days out!
Harbour
The harbour in Padstow is like the hub of the town. It's lined with shops, eateries and people plying their boat trips.
I love exploring harbours and just looking at all the boats around and there's lots to see in Padstow.
You can walk all the way along the outer harbour wall too and take a look over to Rock. Loads of places to sit down with an ice cream, a pastie or some fish and chips. Whatever takes your fancy really but keep an eye on the seagulls!
Ride a bike along the Camel Trail
Padstow lies at one end of the Camel Trail so you'll either arrive here or leave here. Your destination could be Wadebridge or further afield or you might just want to see where your legs get tired!
It's not just for bikes though. The Camel Trail is good for walkers, it's a pram friendly route so perfect for getting out and about with kids and dogs are welcome too. I would say though that if you're walking it with your dog keep them on a lead as there can be a lot of bikes.
You can hire bikes in Padstow if you don't have your own – Padstow Cycle Hire and Trail Bike Hire are two to check out.
Fish and Chips at Steins
You'll hear Rick Stein's name mentioned a lot in these parts as he has quite a few businesses in Padstow. (Some call it Padstein because of it!) Rick Stein is, of course, a famous television chef and he spent his early years in this area, developed a love for it and moved here. I can't judge that!
Having fish and chips by the harbour is a must do activity in Padstow and what better way to enjoy it than trying out Rick Stein's fish and chip shop. Some don't think it's worth the money but many do!
It's located on the right hand side of the harbour by the Padstow Car Park.
Ferry to Rock
Taking the ferry over to the other side of the Camel Estuary to Rock is a must if you like your beach days or if you have kids pining for some time with a bucket and spade.
Padstow itself doesn't have a beach but it's super easy to catch the ferry and it makes it a fun way to get there too. It runs daily until 6pm and there's also a Water Taxi for evening trips.
Visit the National Lobster Hatchery
This is a it of a quirky attraction but one that you might find useful if you're looking for a thing to do in Padstow when it's raining! Not that you'd need to wait for a rainy day of course, it's an interesting place to visit in any case.
The hatchery explores the lobster fishing industry through it's history and strives to help replenish lobster stocks in the area. Fishing is such a vital industry to Cornwall so this is an attraction that is actually doing something good!
It's just a small place so a good place to spend an hour or so. Great for kids, adults and dogs are welcome too!
Located next to the Padstow Town Car Park. Find out more here.
Walk the coastal path
The South West coastal path is ever present in Cornwall and you can take the path out of the town if you're looking for a little bit of a breather away from the crowds.
You can reach the coastal path by walking along North Quay Parade. Just by the toilets you can start to walk uphill and you'll be on your way.
While many just choose to take a walk to see the spectacular views across the Camel Estuary you can also keep walking to some of the beaches around here (see my next point)
Spot the Doom Bar – it's not just a name of a beer. The Doom Bar is a treacherous stretch of the Camel Estuary. The sand bar has caused numerous accidents over the years.

One Cornish folklore tale is that it was created by a mermaid to curse the town of Padstow after she was shot by a local.

See if you can spot it while walking the coastal path. Then go and find the beer that's named after it!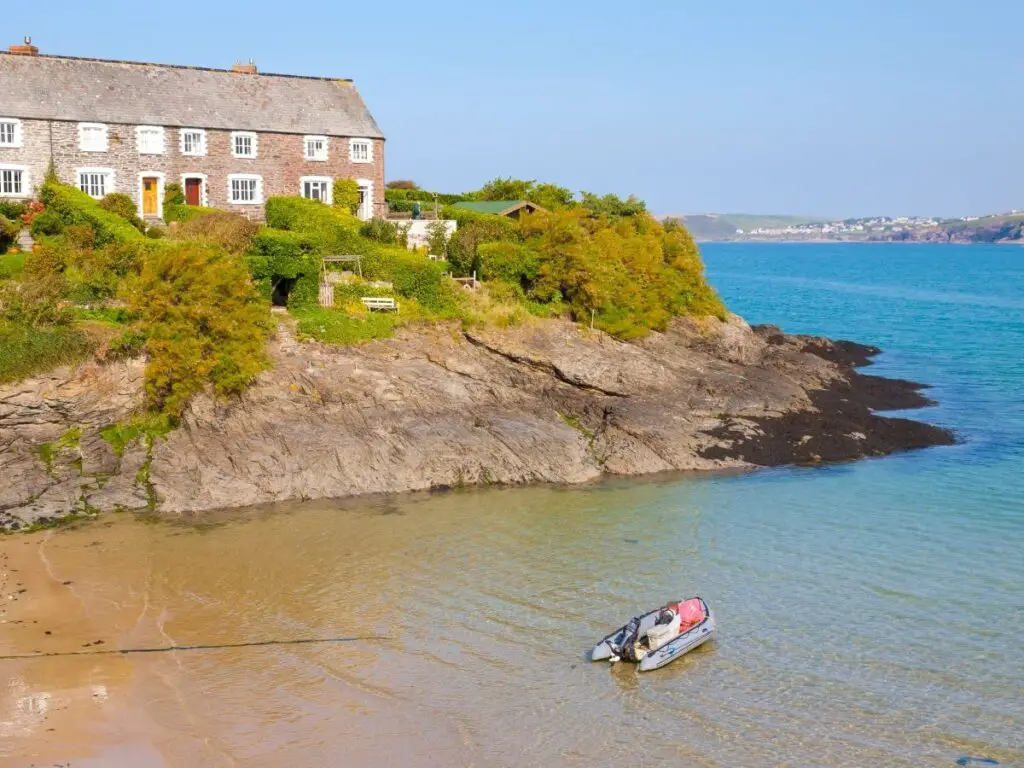 Explore the Coves around Padstow
I've included some of the different beaches around Padstow further down this page, but there are a couple of coves that are easily reachable from the town itself if you happen to be staying there.
St George's cove is the first you come to and Harbour Cove and Hawker cove are a little further along still. Dogs are allowed on the latter two year round and out of season on St George's Cove.
They aren't your typical seaside beaches, they aren't busy since you have to walk to get to them – worth the trek though!
Take a gin school masterclass at Tarquin's
Tarquin's is a local Cornish gin brand that is pretty well known around the country now. They have gin shops in both Padstow and St Ives and while you can just browse the different types and shop for some gifts, you can also have a different experience day too.
The gin masterclass teaches you all about distilling and includes a custom made bottle of gin to take home.
They are run year round so a good activity even if you're visiting Cornwall in winter. They run set days so do check to see if they work with your dates.
Check out Tarquin's Gin School here
Shops/Galleries
Padstow has a number of local shops, art and craft galleries and also some more well known names about town. It's a popular place for surf and lifestyle brands to have shops so you'll see Saltrock, Joules, Seasalt and Anne's Cottage.
You could spend an age – I love looking at all the crafts from pottery to glass sculptures.
Padstow Museum
A free attraction in Padstow is the museum which is situated just south of the harbour and near the Padstow Town Car park.
You'll learn about local history here from all aspects of history. It's a good place to spend an hour or so and perfect for those who love to learn the history of where they are.
It's run by volunteers and while free to enter they do appreciate donations.
Boat Trips
Boat trips are plentiful around Padstow and you have a number of different ones to try out depending on what you'd like to see and do.
The Jubilee Queen does relaxing cruises around the coast and they have a well stocked drinks selection on board too. Dogs and kids are also welcome!
For boat trips to watch and look out for wildlife try Padstow Sealife Safaris or Wavehunters
You can also enjoy a trip on a historic Lifeboat!
Fishing trips are also plentiful if you want to try your hand at mackerel fishing!
Eat pasties
I don't even need to explain this one do I? There are a load of local bakeries around the town of Padstow and they all have their own Cornish pasties to try. Some do some different fillings and almost all have vegetarian and vegan versions nowadays too (highly recommended – a proper filling meal!)
My tip is to grab yourself a pasty and make your way to the harbour and do some people watching while eating. Don't leave it too late or you might find they've sold out!
Check out local brews
Padstow Brewing Company is a micro brewery located in the heart of the town. They have 2 'tasting rooms' where you can dine and experience the local brews as well.
They also do some brewery tours and a BrewDay experience although covid stopped play for those – hopefully they'll resume soon!
You can find them on their locations on Broad Street and Duke Street in the centre of town – see their site here.
Another local brew you might have heard of is Doom Bar which is named after a treacherous sand bar in the estuary – you'll find it and other local drinks on sale in the pubs around Padstow.
Their brewery is across the water in Rock – they also do tours but again these have stopped due to Covid. Hopefully 2022 will bring them back!
Explore Cornwall's finest cuisine
There are a lot of really nice places to eat in Padstow. If you have a thing for fine dining you'll not be disappointed here. Fish and seafood are almost always the speciality here.
Rick Stein is the well known name in Padstow and you can get a bite to eat in a few of his establishments here:
Rick Stein's Fisheries – take away food as mentioned before but you can also eat in.
St Petroc's Bistro – a small and informal bistro
Rick Stein's Cafe – for light lunches
The Seafood Restaurant – the original that was opened in 1975
There are so many more to try too:
The Harbour Kitchen
Prawn on the Lawn
Paul Ainsworth at No 6
Cally Oyster Bar and Grill
I could go on but I'll get fat!
Need a place to stay in or near Padstow? Check our accommodation guides:

Padstow itself is a great place to base yourself but why not try St Merryn if you want to be close by but not in town itself.

Or perhaps Harlyn Bay might suit for those who want to be walking distance to a beach
Things to do near Padstow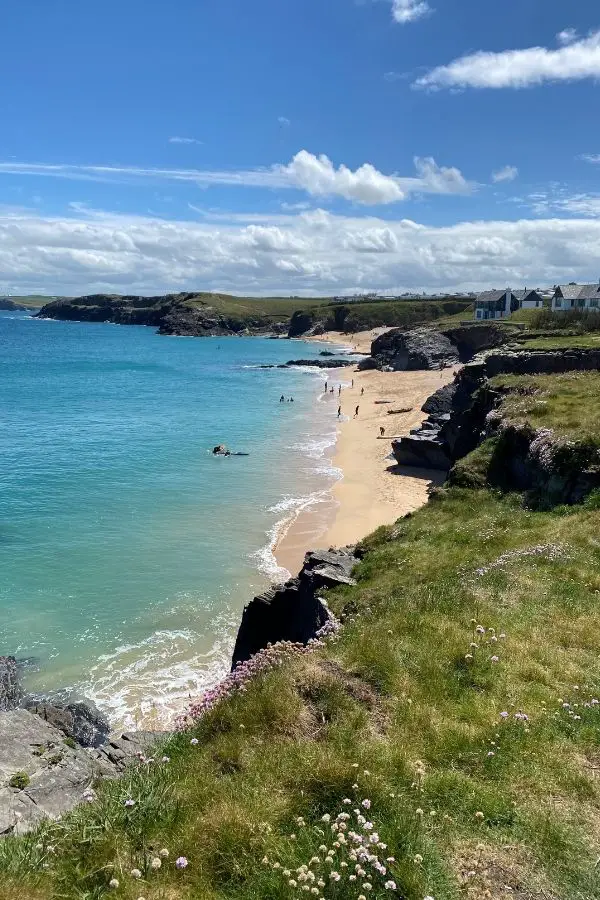 Padstow's Seven Bays for Seven Days
There are some stunning beaches around Padstow and they have cleverly marketed it as having Seven Bays for Seven Days so if you wanted to you could spend a week exploring the beaches around Padstow.
They are some of the most stunning beaches in Cornwall and my favourite is definitely Mother Ivey's Bay. I've got a post all about the beaches around Padstow and how to get to them from there so it's worth a look if beaches are your thing.
Camel Creek
A kids attraction that is very close by to Padstow is the Camel Creek Adventure Park. It's small but has a lot to do there. Suitable for young kids probably up to about 13 when they might find it a little too young for them!
The park is open year round but only on the weekends in winter. It's got lots to do whatever the weather.
Its about 6 miles away and 15 minutes by car.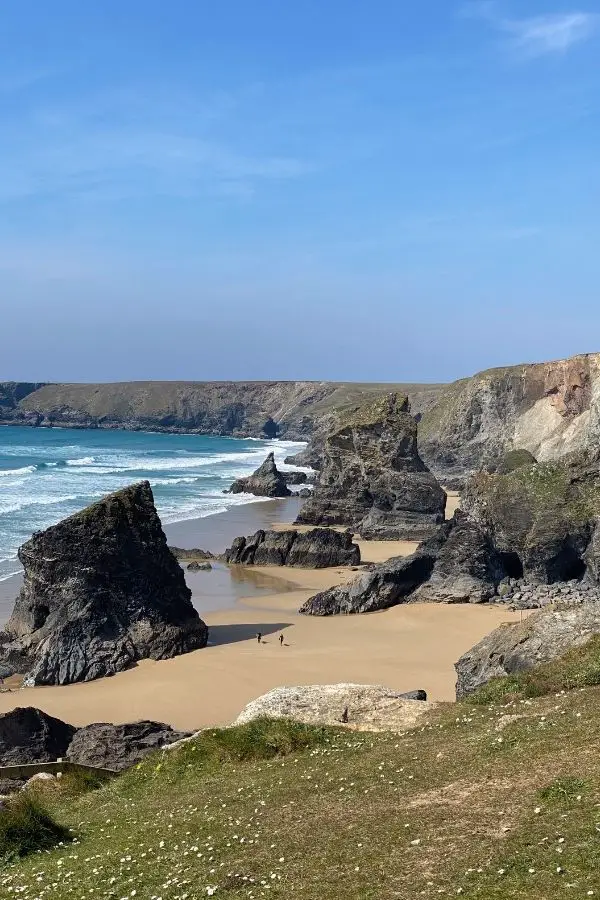 Carnewas at Bedruthan Steps
This National Trust location is one of my favourites. I love it because you only have to walk a couple of minutes from the car park to get the most stunning view across the Cornish coast and the sea stacks that are around. You can walk the coastal path but if you don't like long walks you can get good views straight away.
The sea is always a gorgeous blue colour no matter what time of year we've visited. If you visit at low tide you'll see the beautiful sandy beach but at other times the waves crash right up to the base of the cliffs.
There's a small gift shop and cafe there. National Trust members park for free.
You can get there easily by bus (Atlantic Coaster or 56) as well as car. It's bout 8 miles away and takes about 20 mins.
Cornish Birds of Prey
Perfect for animal lovers is this small attraction on the main A39 near St Columb Major. Friends of ours came back with glowing reports of their day at Cornish Birds of Prey and said it was highly recommended.
It's open 4 days a week in season (1st April – 31st October): Sunday, Monday, Tuesday and Wednesday with flying displays at 12 and 2pm.
It's about 15 minute drive from Padstow, 7.5 miles away.
The Tide Climbing Centre
For those who like a bit of sport and adventure in our lives but maybe need something under cover the Tide Climbing Centre is a good place to try out.
Just 4 miles outside Padstow
Trevibban Mill Vineyard
Cornish wine is becoming much more mainstream and just outside Padstow is a vineyard that does tours and tastings and a walk with lunch too.
4.5 miles and about a 10 minute drive from Padstow.
Go Karting
With tracks for all the family St Eval Karting is a really popular place to come for a slightly different thing to do near Padstow. If you're looking for an adult day out, perhaps for a stag or hen group, this would also fit the bill as they do Grand Prix races too.
St Eval is about 9 miles from Padstow and about 20 mins in the car.
Japanese Garden
This is a little gem of a place that's nestled between Padstow and Newquay in the village of St Mawgan. You can lose yourself in the peace and quiet of the garden and just enjoy how they have landscaped it. The Japanese Garden is open Spring to Autumn.
St Mawgan is about 9 miles away and a 20 minute drive.
Port Isaac
The village of Port Isaac is very popular with fans of a certain tv show called Doc Martin. It's not too far away from Padstow, about 15 miles and about 35 minutes drive. If you want a change of pace and to see a different harbour village this could be a good option.
Port Isaac is also popular like Padstow but it's a very different vibe. You might also catch the Fishermens Friends doing a concert on Friday evenings (in season).