October in Cornwall – what is it like to visit?
With cooling weather and visitor numbers, and a sneaky little school break at the end, October can be a really popular time to come and visit the South West. If you're considering visiting Cornwall in October here's our guide to the county at this time of year.
The days are really beginning to shorten which means early sunset searching. The temperature is dropping slightly so you'll want to take jackets out with you, but be aware, it can still be nice here.
Last year a friend came to visit in October and we were ready for rain, wind and generally bad weather but she managed a whole week of gorgeous, warm sunny days! Autumn in Cornwall, like many seasons, can be unpredictable!
Let's have a look at what other reasons there are for whether October is a good time to visit Cornwall:
All images on this page are from our October explorations in and around Cornwall unless stated otherwise.
Is October a good time to visit Cornwall?
October is the last month that some attractions will be open and after the half term break will shut down for the winter. That means that you'll find plenty to do here still, although sometimes opening hours can be reduced. Always a good idea to double check before heading out as to whether somewhere is open.
October weather can be changeable but still warm. If you like Autumn weather with wind, rain, fallen leaves and beautiful colours, October might still be a little early for that. November seems to be the best month for leaves turning.
Prices of accommodation should be a lot cheaper than in the summer months although you might find that some prices creep back up with the school holiday in there.
Book your Cornwall holiday
Check out VRBO for unique places to stay

Grab a guide book on Amazon
What to consider when visiting Cornwall in October
Weather
The weather in October around Cornwall, like all year round, can be a mixed bag. There can be storms with wind and rain and or there can be sunny and warm days too. It's a lot cooler in October than the summer but it can still be pleasant enough to not need a jacket.
The days are shortening much more which means it's an earlier sunset and later sunrise for those chasing them down.
Typically Cornwall sees average low temperatures of 11°C and highs of 14°C and an average of 14 days rain in the month of October. So perhaps you have a 50/50 chance of rain! These are just averages and you might find it's much warmer (or colder) some days.
Public and School Holidays
Normally the third week in October is when schools break up for their half term holidays so that will bring some extra traffic and busyness around the county.
It isn't normally as busy as the height of summer but do be aware when you're travelling down as it might make roads busier. Also if you're on a budget and looking for cheap accommodation this week might be slightly higher.
In 2022 October half term is Monday 24th – Friday 28th October.
Attractions
With the school holidays happening in this month most places will stay open until these are through so you'll find that you still have lots to do.
Some places might have reduced opening hours as the footfall slows down so its always a good idea to check places you want to visit before setting out.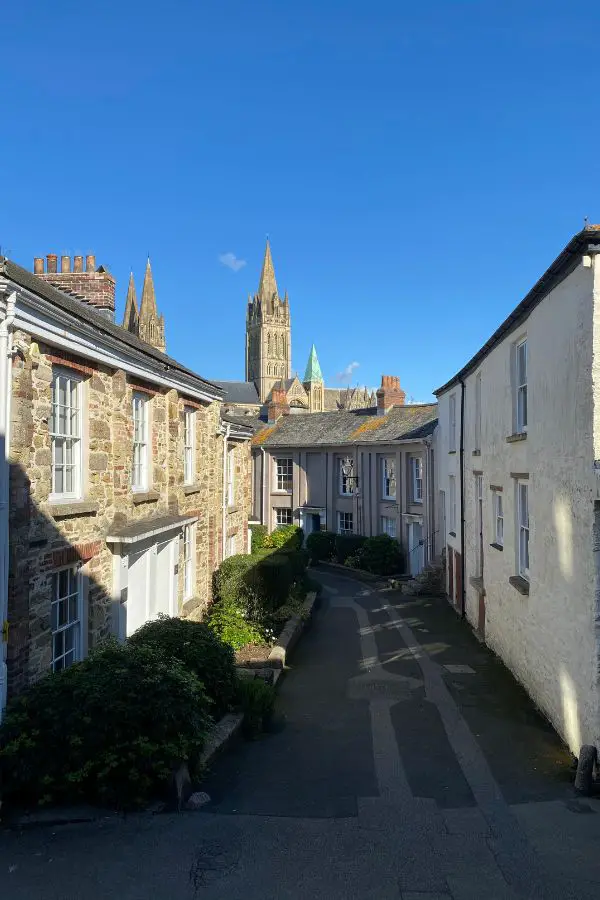 Things to do in Cornwall in October
Please also check my 'things to do' articles as I can't fit everything here and it might depend where you're based as to what you might want to do.
Go pumpkin picking
Cornwall is fantastic for farm produce and as you can imagine pumpkins grow well down here too and there are a number of farms where you can go and pick them.
October, as you can imagine, is the best time to go. Lots of places just have stalls where you can buy one but many also allow you to pick your own in the field with lots of pumpkins. It's a perfect activity for those with kids and anyone looking to get some fun photos from your trip!
Check out these 7 patches to go pumpkin picking in Cornwall!
Head to Land's End
Land's end can be on the more popular side in the busy summer months so if you can visit outside of these times it's well worth it.
Although for some it's a little over touristy I love to be able to take walks all around the coast and towards Sennen – the colours of the sea are just amazing!
When we visited in October we also managed to see dolphins from just by the Land's End sign – I didn't manage a good picture though as they were too far away for my mobile phone! Keep an eye out for them if you do go.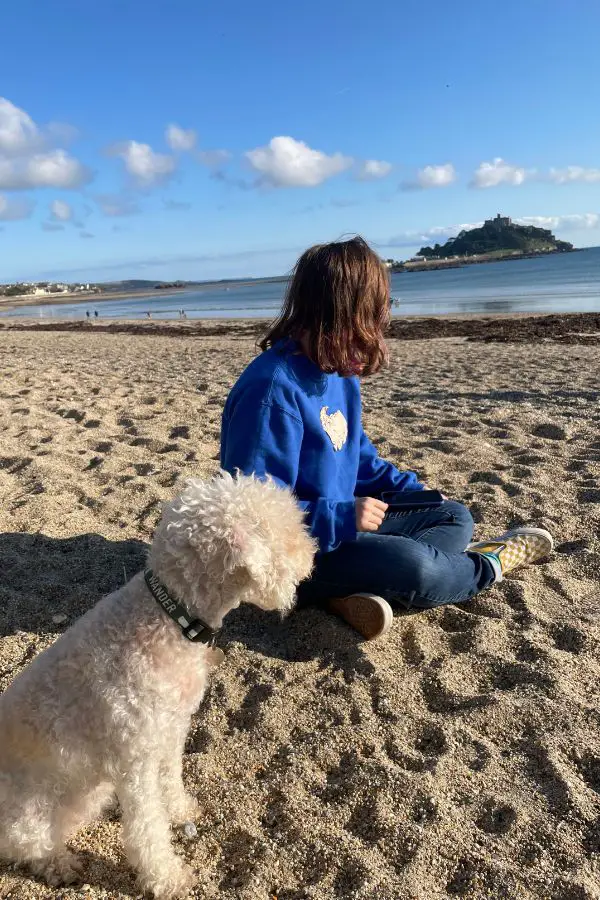 Stumble around St Michael's Mount
St Michael's Mount enters its 'autumn' opening times in October which means that you don't need to book in advance to visit the castle.
Another benefit of visiting at this time is that you can take your dog over to the village and harbour which currently isn't allowed in the summer months (dogs aren't able to go in the castle though).
If you do want to visit it's advised to check the causeway times and the weather. If the tide is in you'll need to get the boat over or back and in bad weather this can be cancelled.
What's on – Cornwall October events
Updated for 2023!
Halloweden
18th – 29th October 2023 – Eden Project, St Austell
Go on a quest to save the mystical Tree Giants at the Eden Project – this is their Halloween and half term event which is a lot of fun for all ages. You can see more about the Eden Project Halloween event here
Lowender Peran
26th-29th October 2023 – Redruth
Celebrate Cornish music and the Celtic influences with this festival in Redruth (normally in Newquay – there was a a new location for it in 2022 which has continued in 2023). There's lots of concerts, dances and more to enjoy and be part of through the week. See what's on and where here.
The Dark Gathering
Saturday 28th October 2023 – Tintagel
A unique Cornish event that happens each year on the Saturday before Halloween in Tintagel on the Northern coast of Cornwall. You'll find dancers, musicians and all sorts of folklore to learn about. Check out their site and get tickets here.