8 Amazing Beaches in Newquay (and 5 more close by to explore!)
When you have a rugged coastline like Cornwall has it means you have a number of beaches to explore in a small area. Here are all the amazing beaches in Newquay, Cornwall that you can explore. Can you believe there are 8 within the town itself? That's enough for one each day of a 7 day break with one to spare!
When we moved to this area we loved the fact that we could get so many different beaches near Newquay – it meant we really didn't have to travel far to enjoy the coastline! If you're based near the town of Newquay or any of the nearby villages on your holiday you'll have a great time!
Beaches you should visit in Newquay
So, let's take a look at the Newquay beaches starting at the East of the town in Crantock and working our way along the coast.
Taking your dogs to beaches in Newquay – All of the beaches on this page are dog friendly with the exception of Porth which bans dogs from May until the end of September.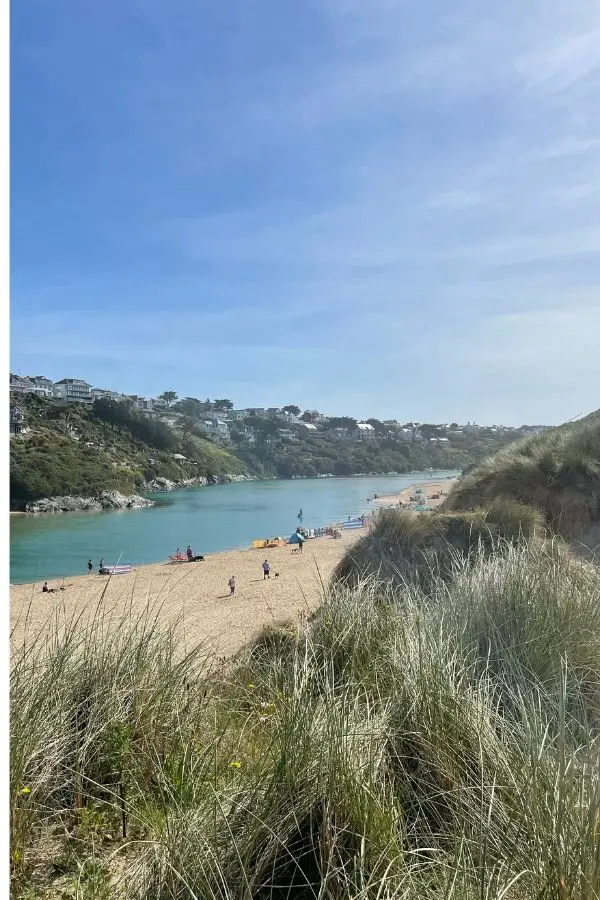 Crantock Beach
Crantock beach is one of the most popular beaches in Newquay and probably a contender for the best beach in Cornwall. It's a particular favourite with families as it's very family friendly.
The River Gannel flows into the sea here and it makes a nice and safe area for kids and dogs to paddle without having to be near the open sea.
It's a really popular beach especially for some watersports like stand up paddleboarding and surfing. There are hire shops where you can take lessons as well as hiring equipment.
You'll find a couple of cafes to grab a drink too.
Crantock beach can be reached from Newquay town on foot and there's a small ferry boat (a tiny boat – nothing huge!) that will take you across the Gannel.
If you're driving be aware that the car park can get incredibly busy. It's a National Trust car park so charges are reasonable and free if you're a member.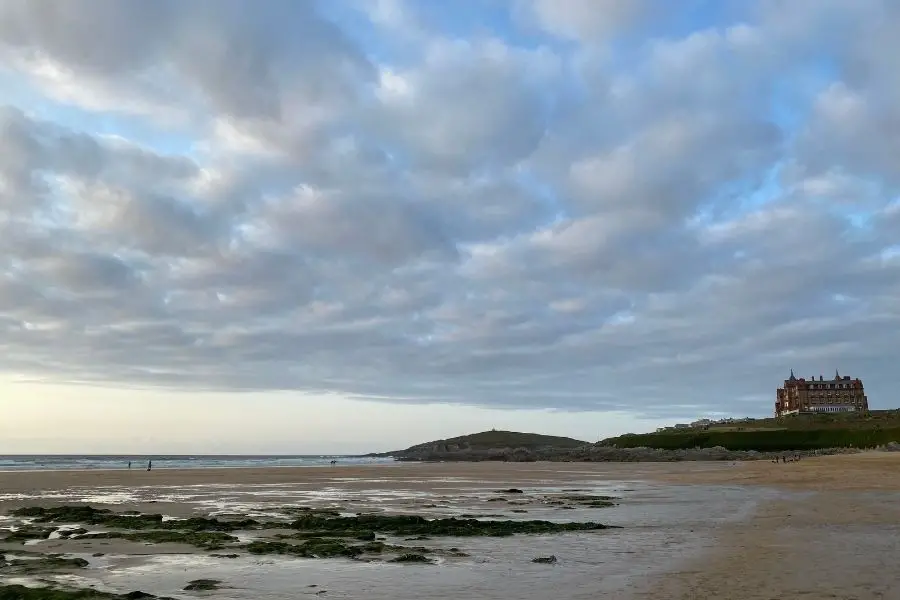 Fistral Beach
One of my favourite beaches along the Newquay coast is Fistral and it's very popular one with surfers. It has wide open spaces, some rocks to explore at either end and is flanked on one side by the iconic Headland Hotel (the one from The Witches movie from the 90s!)
You'll find a few eating and drinking options at the North end of the beach including one of Rick Steins establishments.
If it's a little busy and the tide is out then explore the northern end to find Little Fistral beach – even in the height of the busy August period we've found solitude at this end!
You can park at either end of the beach. There is roadside parking on the southern side and a private car park on the northern side near the restaurants. I personally like to park a little further up at the Atlantic Road Car park (cars only – no vans) and walk down.
Newquay Harbour Beach
You definitely need to time your visit to the Newquay harbour if you want to see the sand there but when the tide is out it can be a great small beach to spend some time in. There are a few food outlets and of course plenty of boats to enjoy watching.
To get to the harbour walk down South Quay Hill – it can be a bit of a steep walk back up the hill so bear that in mind if you have mobility issues.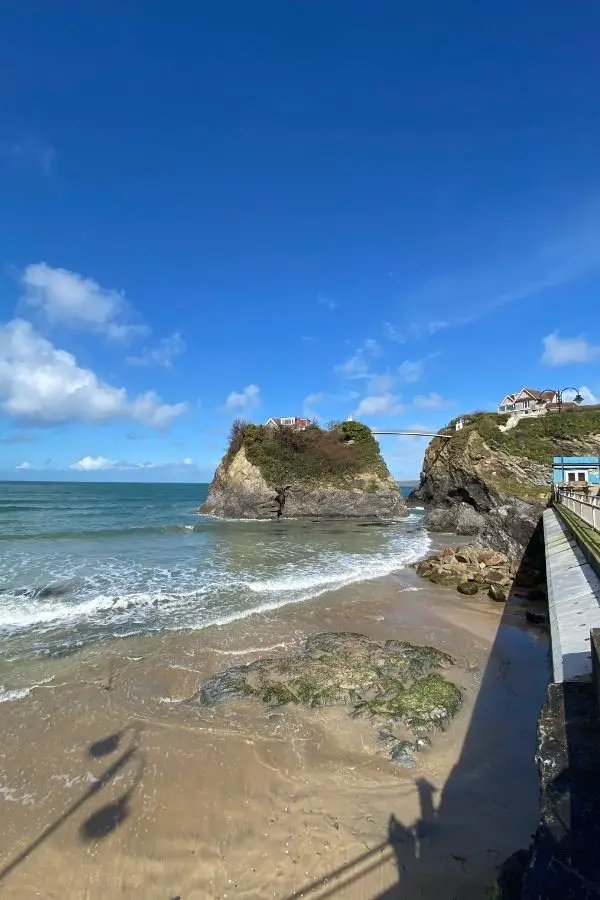 Towan Beach
Towan beach is one of the most photographed beaches around Newquay because of the Island House on the hill with the bridge over to it. I wonder how many people wish they lived there!!
This is a great beach for kids as it's safe and guarded by life guards and also small enough to keep an eye on them. You'll find plenty of rock pools to explore and soft sand to make sandcastles with.
There are loads of shops nearby as you're right by the town so perfect for beach supplies, cafes to refuel and of course there are a few surf schools too.
You'll also find the Aquarium here if you're looking for something a little different.
Access to this beach is on a sloping road at one side and steps at the other.
For parking I recommend Mount Wise car park – there are a couple closer but they can get very busy.
Great Western Beach
This is the next beach along the coast Is Great Western Beach which is surrounded by cliffs.
You're right next some of the hotels and restaurants in the centre of Newquay here so plenty to do around the beach as well.
You can reach this beach by walking down Tocarne Road which is a steep sloping and windy road.
Tolcarne Beach
Another short hop from the last one is Tolcarne Beach. Again it's similar with cliffs stretching up behind and a small cove of white sand.
For both Great Western Beach and Tolcarne beach I recommend parking at the larger car parks like Mount Wise – but it's a little bit of a walk from there, around 15 mins. If you want to be closer try the train station or Albany Road – they are small car parks but you might have some luck.
Lusty Glaze Beach
A slight anomaly in Cornwall is Lusty Glaze beach – an anomaly because it's privately owned. With this in mind it can be closed to the public if the owners wish it to be, perhaps due to weddings or events, but it's generally open to the public.
It's worth checking their site out to see if they have any events on.
They have a private car park for the area too although it does get busy.
Porth Beach
This is a long beach situated between two headlands and its the only one on this page to be not dog friendly all year round. From 15th May until the end of September dogs are not allowed.
It's a nice beach for kids – big enough for a run around and the small river entering it for a paddle too.
There's a small pub at this beach for refreshments and a small ice cream shop too.
There is parking directly on the beach if you go down Porth Beach Road or alternatively there's some parking opposite the pub.
5 more beaches near Newquay to check out
Of course there are so many beaches in Cornwall that are a short drive from Newquay. Here are a few different options that aren't too far away:
Polly Joke – a small cove at the headland next to Crantock beach. In late spring and early summer there are loads of wildflowers and poppies near Polly Joke.
Holywell Bay – beautiful beach with some stunning rock formations out to sea. It's a popular filming location and featured in Poldark!
Perranporth – The most farthest out beach from the town of Newquay itself but definitely a good one if you fancy a wide beach, shops and cafes and a slightly different vibe to Newquay itself.
Whipsiderry beach – carry on further north from Porth and the next stop is Whipsiderry Beach. It's a steep climb down to the beach but a quiet spot that isn't as popular as some others.
Watergate Bay – One of my personal favourites is the wide sands of Watergate Bay. This is a perfect dog beach with loads of space for them to run especially at low tide.