Things to do in Mevagissey
Mevagissey, on the south coast of Cornwall is a beautiful and enchanting fishing village. While it may be small, there's plenty of things to do in Mevagissey so if you're in the area or staying in the village here's a list to help you out.
I love to people watch and wander around exploring little alleyways and Mevagissey is definitely great for that. The village isn't huge but it can get quite busy in high season.
Mevagissey attractions and things to do:
If you're wondering whether to make the trip to the village check out these things to do:
Harbour wall
This is my little secret tip for you which might not be all that much of a secret (especially now) but when I visit Mevagissey it's what I always do.
Since the harbour areas can get a little busy, if you want some peace and quiet I encourage you to take a walk along to the harbour wall. You'll want to go to the right hand side of the harbour and when you get to the end where the lighthouse is you can walk behind the harbour wall and find a peaceful spot away from, almost, everyone else. The views can be stunning and the water is so clear – we saw lots of jellyfish one visit.
You can walk on both sides of the harbour and it's a pleasant way to get some lovely views of the village, the coastline and the boats too. Lots of benches available to sit with a pastie or two but of course beware of the seagulls.
Crabbing
Youngsters and even some of the not so young love to dangle lines and attract crabs and you can do so easily in the inner harbour of Mevagissey.
If you've forgotten to bring your crabbing buckets then you can find some supplies in some of the local shops.
While crabbing is fun, make sure to be sensitive to them, give them plenty of water, space and shade in the bucket and place them back in the water after a short time.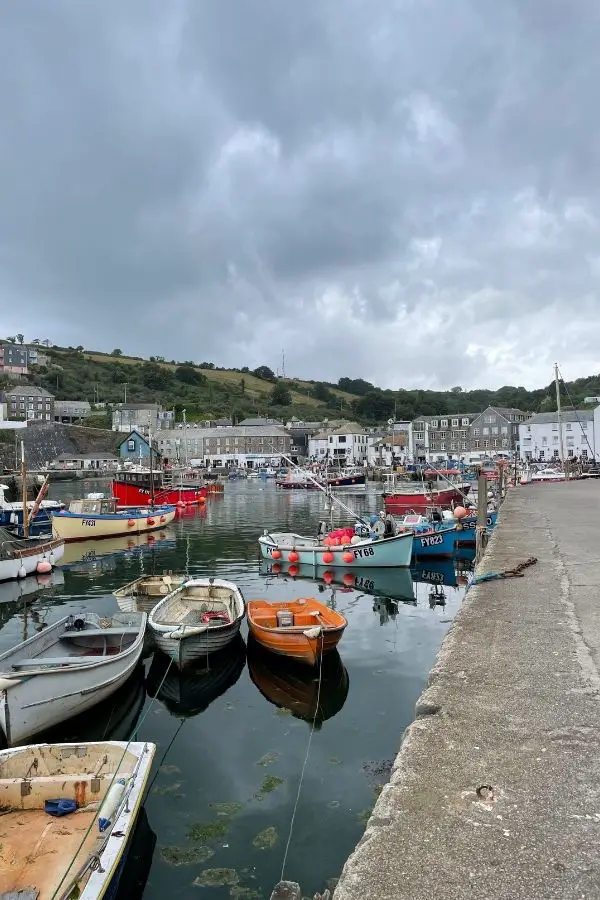 Boat trips
There are a number of boat trips you can do from the village of Mevagissey and there's really something for everyone too.
You can do dolphin spotting trips, a high paced rib boat rider even get the ferry to Fowey as well. Availability changes due to the season
Aquarium
On the right hand side of the harbour you'll see a white building that used to be the old lifeboat house. This is now a wonderfully quaint aquarium designed to help bring knowledge of the sea and coastal life to kids and knowledge hungry adults too.
With starfish, crabs, native fish species and so much more to see you'll definitely learn something!
It's free entrance (although donations are appreciated) and is open from Easter until October. Covid did have an effect on their opening so do check before heading along.
Museum
On the opposite side of the harbour to the aquarium is another free entrance attraction. You're definitely spoiled in Mevagissey!
The museum of Mevagissey is housed in a building that was actually part of an old boat builders yard that dates back to 1745 and there are a number of exhibitions about Cornish life, the village and the fishermans way of life.
Covid has unfortunately closed the museum but I hope from 2022 it will be open again and I can get to visit myself!
Model Railway
There's something a bit special about model railways and villages that just enchant visitors isn't there? The model railway in Mevagissey is no exception and is another quirky attraction in the town.
It's an especially good thing to do in Mevagissey when it's raining as it's an indoor attraction. Dogs are also invited in (as long as they are well behaved!)
You can see a number of model trains going through towns, by the seaside and through hills in this painstakingly detailed set up.
It's open most days between 10 and 6 but do check if you're out of season as it closes in the winter months.
Art Galleries
Like a lot of Cornwall there's a number of small galleries around that host some of the local artists work and Mevagissey is no different.
You can find a couple around the harbour and by the shops and cafes so definitely worth a look as you're exploring the village.
Whether you're interested in art for yourself to purchase or just enjoy seeing the different works of art in person it's a great thing to do especially if the weather has taken a turn!
Shops and cafes
As with many of the Cornish seaside villages there are a number of local stores and a few more well known names such as Fat Face around. Check out local food from the bakers, sweet shops and pasty makers and if you have time there are a number of cafes and food establishments as well.
Chips, pasties, ice creams – you'll find it all!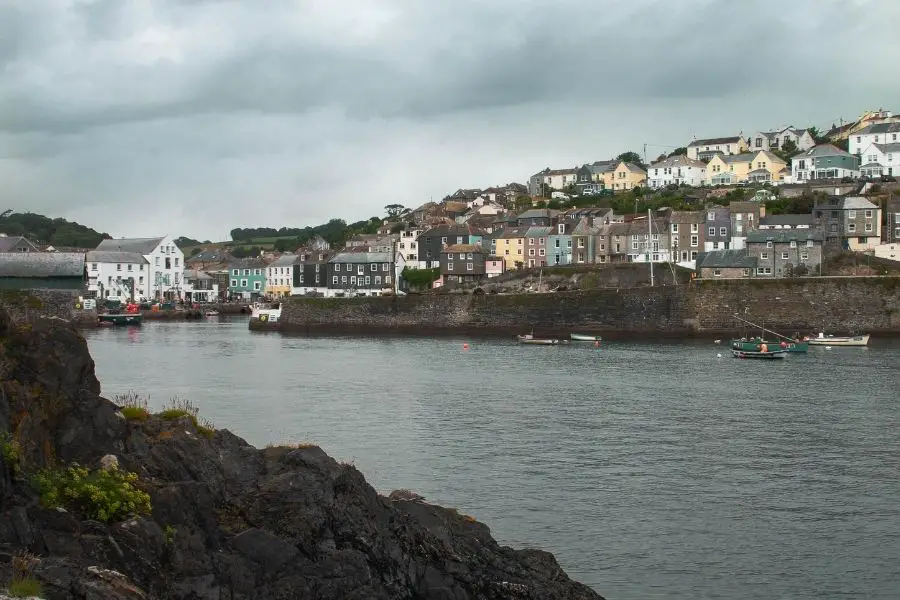 Nearby Charlestown is also worth a look if you're staying on the South Coast
Getting to Mevagissey and where to park
As you drive into Mevagissey there is a large car park which is where I tend to park. It's just a short stroll from the car park to the village and it means you're not having to contend with the narrow village roads and all of the tourists.
There are a couple of parking areas just a little further past this big one and also some spots by the harbour.
Dog friendliness?
Mevagissey is a working harbour village and as such there are always plenty of cars and fishermen heading around the harbour. The streets are narrow with small paths and there are almost always cars driving though. Always be aware of the traffic with your dog here and keep on a lead.
There is no beach in Mevagissey itself although when the tide is out there is an area by the aquarium that might be tempting to let your dog off – unfortunately dogs aren't allowed though.