12 fun things to do in Charlestown, Cornwall
Looking for swashbuckling tales of pirates, sailors and the high sea? Charlestown in Cornwall is the place to go with it's UNESCO listed historic harbour and stories both old and new of those who sail the seas.
On the south coast of Cornwall this is a very different image to that of the rugged cliffs on the north coast. It's a small harbour town, sheltered from the elements but still with that unmistakable blue Cornish seas.
I had never heard of this place until I watched Poldark and it then made my top list of places to go and we've been a number of times since. It's a super popular filming location and you'll see it pop up in loads of films and tv series.
Whether you're a history fan, a film fan or just looking for another quaint Cornwall town to explore this list of things to do in Charlestown will help you on your trip.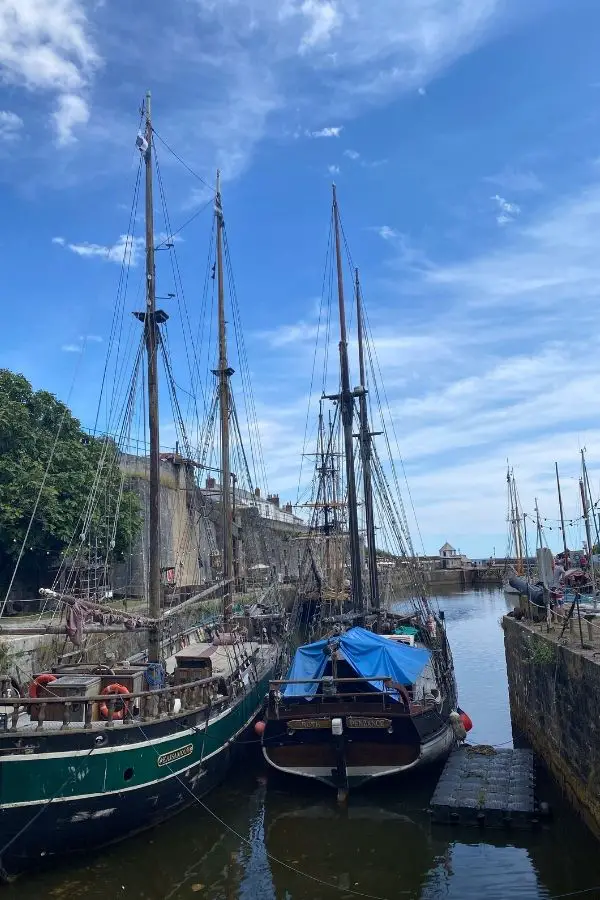 Check out the tall ships and resident boats
No matter what season you visit Charlestown there will be some boats or tall ships in the dock that you can take a look at.
There are always a couple of resident boats, the Kajsamoor Two being one of the most photogenic and interesting ones. It's actually not that old of a boat, only built in 1939 but she definitely has a presence. You can take a look at some signs around the dock telling you all about what you can see.
Another boat, this time a fishing boat called Pen Glas, is being restored and you can actually stay in the bunks there which is a really cheap way to stay in Charlestown.
If you're lucky you might find more when you visit and if you're even luckier you'll spot all the ducks splashing around!
Wander around the harbour
While checking out the boats you'll be in the perfect place to just wander around the harbour to get a good view of the coastline, the village and the sea.
The harbour dates back to the late 1700s and is still in use today. You can walk over the harbour lock gates too which separate the inner and outer harbour. The inner harbour is always full of water and it's kept in using these gates.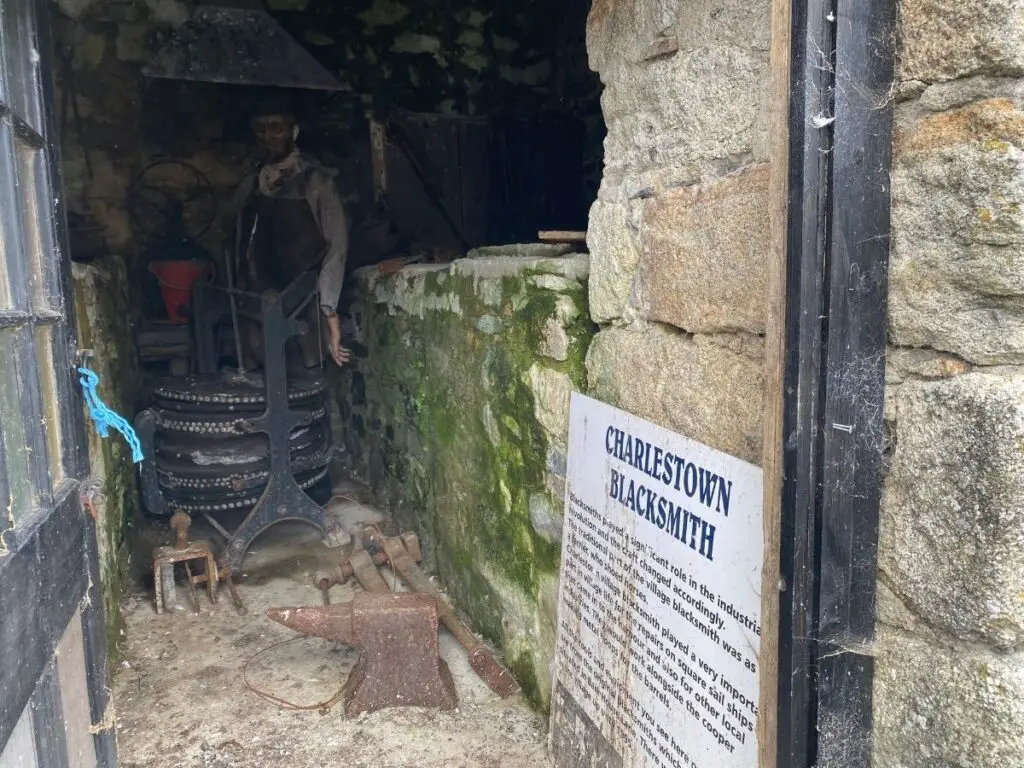 Check out the stores area – a reminder of the Georgian architecture that encourages filmakers here!
Kids will love all of the replica cannons, barrels and props around the harbourside too
Take in some art galleries
Like much of Cornwall you'll find some gorgeous art galleries and artisans showing off what they have produced. In Charlestown you'll find a number of galleries that are a great way to be inspired by the art, get ideas for souvenirs and support locals who are capturing the spirit of this wonderful area in ways I can't even imagine!
Explore antique and gift shops
And following on from looking at the galleries, don't forget that attached to many (or indeed some are a part of) are gift shops and antique emporiums.
For something special and unique to bring home to remind you of your trip or a gift for a friend you'll find some amazing pieces around here.
There a number of places to explore close to the car park.
Enjoy a historic walking tour
If you love your history and appreciate having someone on hand to let you know about all the little facts about a place then a walking tour of Charlestown is a great thing to do.
Charlestown walking tours run 90 minute guided walks around the village for you to really understand the whole place and it's run by a local who was brought up here so he knows his stuff! They run year round too so excellent for those out of season visits.
Head to the beach
There's a beach on either side of the harbour so a great place to let off steam, enjoy the sun if it's out and have a picnic or perhaps just an ice cream.
It's a pebble beach and dogs aren't allowed in the summer months from the 1st April to 31st October so do be aware of that if you're bringing a furry friend.
Find a historic pub for lunch
Overlooking the harbour is the Habourside Inn. It serves food, allows dogs and you'll get some of the best views around.
Alternatively take a look at the Rum Sailor which is situated on the inner harbour and has outdoor seating overlooking all of the boats.
There's plenty of food options to choose from in the village even though it's small.
Find treasure at the Shipwreck Museum
There are lots of tales of the sea in Cornwall and many ships that have been wrecked around the coast in the past.
The Shipwreck and Treasure museum aims to tell the stories of what has been found and they have over 8000 finds on display including an intact barrel full of coins – the only one ever found from a shipwreck!
The museum also allows has tunnels where you can learn about Charlestown Underground and the history of China Clay and its role around the world. This part is currently closed due to Covid but hopefully will open again soon.
If the weather takes a turn for the worse it's a good rainy day activity in Charlestown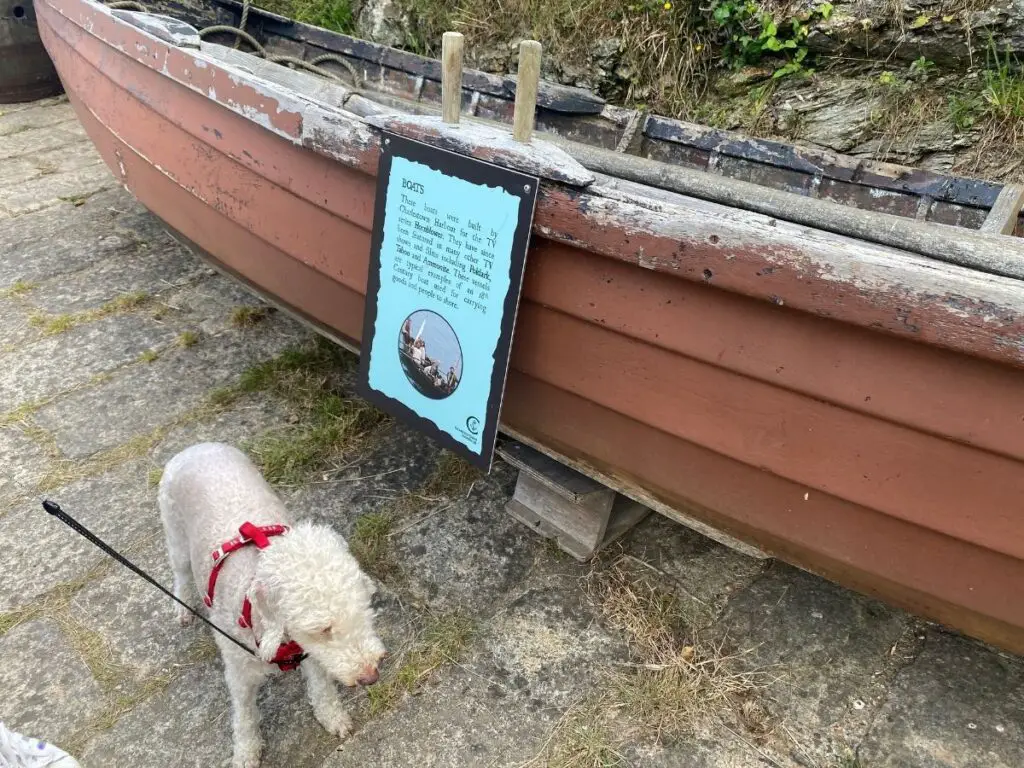 Find filming locations
Poldark is the big draw for many who love to visit filming locations and a lot of the series was filmed here where it was actually historic Truro.
You'll find that many other films and tv series were shot here too though. We were watching The Eagle has Landed with Michael Caine the other day and recognised the harbour from some scenes.
Alice in Wonderland, Dr Who, Hornblower, Treasure Island and The Three Musketeers were all filmed here – if you have any favourites you could watch beforehand and spot the filming locations as you walk around.
Go on a coastal walk
The South West Coastal path is never far from you in Cornwall and you can take to the trail for a wander out of the village and up and around the coast.
Going West to Duporth the path is currently undergoing a diversion due to coastal erosion so it doesn't go via the coast at the moment (2022). You can check the current state of the walk using their site here.
You can however still take the east route towards Carlyon Bay which is a nice walk to a stunning sandy beach.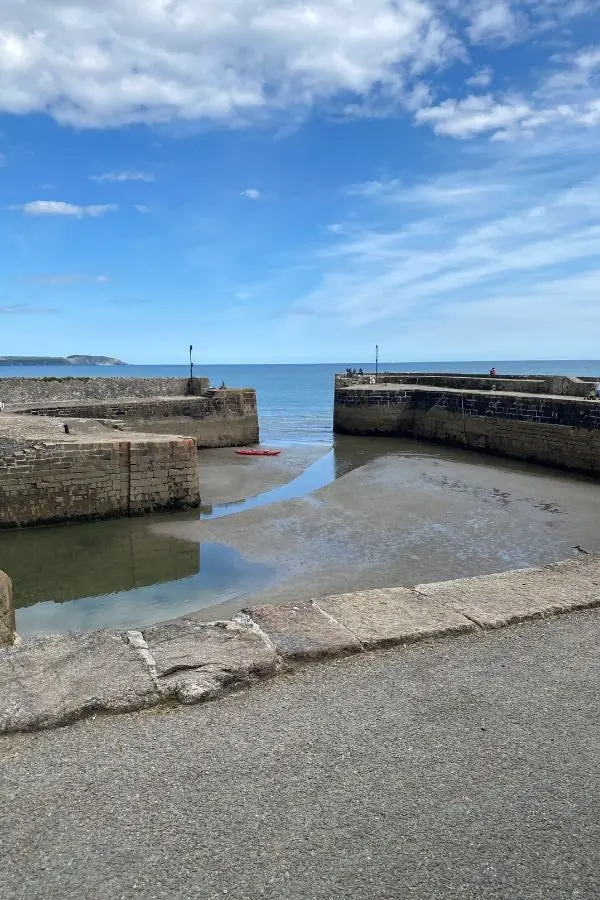 Take a sailing trip
In the summer months you can really do something special in Charlestown by going on a sailing trip on one of the tall ships. There are a few options from day trips to longer trips around Cornwall, to the Ises of Scilly and you can even sail to Brittany in France!
You can learn about what's on offer here.
Get a different view by kayaking
For something completely different you could explore the area with a kayak. Gylly Adventures run kayak tours which are suitable for complete beginners and will take you to explore the coastline, caves and coves.
They also do kayak and paddleboard hire in the village if you want to go it alone. Check them out here.
Nearby Mevagissey is also worth exploring while you're in the area!
Getting to Charlestown and Parking
Charlestown is near St Austell on the south coast of Cornwall, about midway along the coast.
Understandably, the town gets incredibly busy in high season and there is a private car park in the village. There's also car parking for the Rashleigh Arms as well although that's reserved for customers.
There's a little bit of street parking too as you drive down Charlestown Road but please be respectful of the locals and homes here. It's also a bit of a long hill to walk back up if you do park here!