Crantock Beach near Newquay: top tips for visiting
Crantock beach is another of my favourite beaches to visit near Newquay and it even features in my best beaches in Cornwall guide – it's definitely a special one.
The beach is incredibly versatile and attracts all sorts of people from kite surfers to paddle boarders, families spending the day and dog walkers spending 30 mins there. The River Gannel flows into the sea here making a more gentle area for swimmers to enjoy.
Crantock Beach is located on the north coast of Cornwall not too far from Newquay central and is fairly close to the airport so if you choose to fly to Cornwall it's a great destination.
You're also in the perfect place to explore the coastal path and headland to find the Polly Joke poppies if you're visiting in May/June.
Things to note about Crantock Beach
The beach is surrounded by high sand dunes with steep sides that can collapse. Take care near the edges
While a fairly safe beach, the tide can be unpredictable. Take care in the water especially if there are no life guards around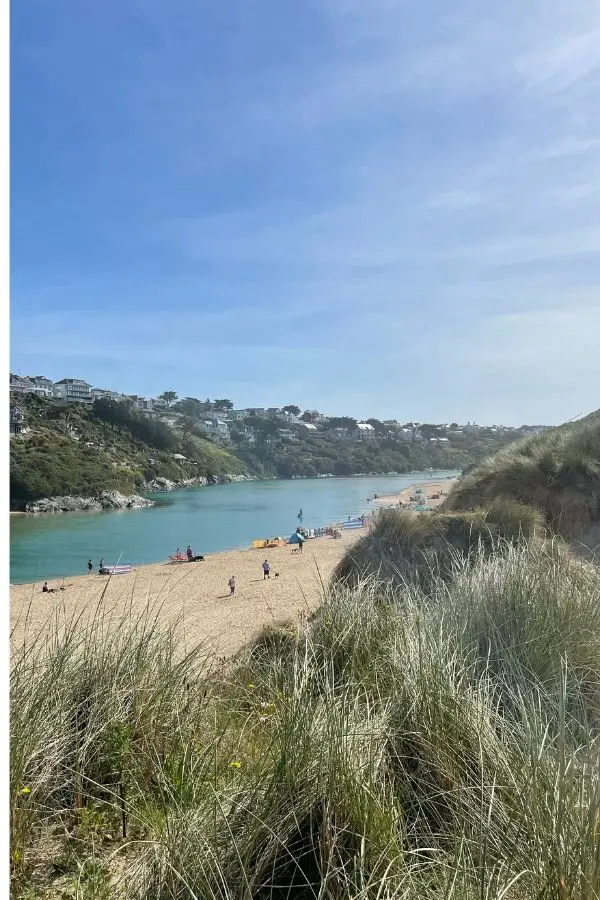 As well as the sea Crantock also benefits from being the estuary for the River Gannel. You'll also find the coastal walking paths going over the sand dunes and giving you amazing views of the beach.
If you want to get over to Newquay there's a small 'ferry', a small boat, that will take you across the river so you can walk up into the town. It's run by a small cafe across the water and runs in late May to September. See more details here.
Is Crantock Beach family friendly?
Yes, Crantock is a really family friendly beach. There's a lot of space for kids to explore, the river Gannel for paddling in and the sands are clean and soft for digging and playing around in.
While it does get very busy and crowded at Crantock, at low tide there's a lot of space for running around and playing games.
Crantock Beach is a fairly clean beach overall although does suffer a little with the amounts of people here.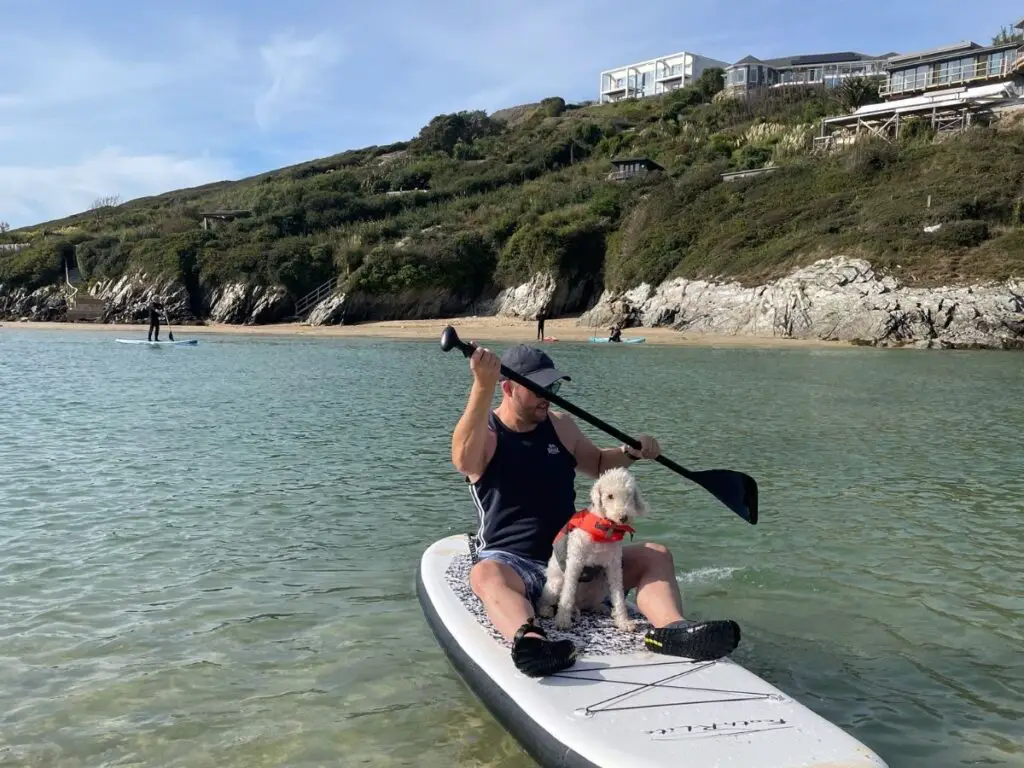 Is Crantock Beach dog friendly ?
Yes. Crantock Beach is dog friendly all year round. If you can go when it's a little quieter, either early on in the day or late then you'll find it much better for dogs. In high season it can get very busy with people setting up their space on the beach – not always good for running dogs!
Even at high tide there tends to be enough place for dogs to have a small run around so don't worry too much about there being no beach left.
There are plenty of walking trails up and over the sand dunes if you want to escape some of the crowds.
Does Crantock Beach have lifeguard cover?
Crantock Beach has lifeguard presence at high season.
For 2022 lifeguard cover is as follows:
10am – 6pm
14th May – 25th September

For more information see the RNLI site here
Crantock Beach parking
Crantock is a National Trust site and as such has a small National Trust car park attached to it.
Car park charges:
Main season (1st Mar – 31 Oct)
£2 for 1 hr
£4 for up to 4 hrs
£8 for all day
free for National Trust members
Winter (1 Nov – 28 Feb)
£1 for 1 hr
£2 for up to 4 hrs
£4 for all day
free for National Trust members
Be aware that the car park can get extremely busy even with plenty of attendants on trying to make sure people can get in. Be prepared that you might have to queue up for a space.
There's also a height barrier that is brought into place outside of the manned hours. If you have a camper or van you will need to make sure you leave before the barrier is brought back. If you have a normal sized car you can visit at any time.
There are some overflow car parks in the village of Crantock and also the Beachcomber cafe next to the beach has parking as well.
Food options at Crantock Beach
There are a number of small cafes around in Crantock and by the beach for snacks and drinks on the day.
You'll also find a couple of pubs in Crantock village – The Cornishman and The Old Albion Inn both serve food and drinks.
Right by the pubs is also the Jam Jar Cafe selling pizza, drinks and other foods.
In Crantock village itself you'll also find a small village shop for any necessaries such as milk if you're staying in the area.
Airbnbs, Caravan Parks and other accommodation at Crantock Beach
If you want to stay at Crantock Beach you have quite a few options.
As you'd expect there are a lot of cottages and holiday homes to rent by Crantock – perfect for a beach holiday. The village has a small shop and if you wanted to explore into Newquay one day there's always the small boat that will take you across the Gannel.