3 days in Cornwall – itinerary for a long weekend
A long weekend away from it all sounds like bliss doesn't it? But is 3 days in Cornwall enough to see what you want and to have a great time?
In this 3 day itinerary I'm giving you some ideas on how you can spend a long weekend (or mid week) in the wonderful county of Cornwall so you can make the most of your time.
Having done many Cornwall holidays, and now living here, I know that you don't want to be spending too much time in the car once here. Especially in the busy periods, especially if you've had a long drive to get to Cornwall and especially if you just want to relax and enjoy your time.
For that reason I've chosen this itinerary to include some of the most South Westerly Cornwall attractions and based you down there rather than try and do too much across the county.
Where to base yourself for 3 days in Cornwall
I'd recommend getting yourself either a hotel or a holiday cottage for the entire 3 days you're down here. Since day 2 involves a day around St Ives it would be a great place to base yourself. St Ives can be busy but that's for a reason – it's a really stunning coastal town with lots to do.
Alternatively, if it's a little busy for you there you could go for anywhere that's west of Camborne and that will keep you in the right area.
I'll add some accommodation recommendations for all budgets to the end of this post if you're needing some guidance.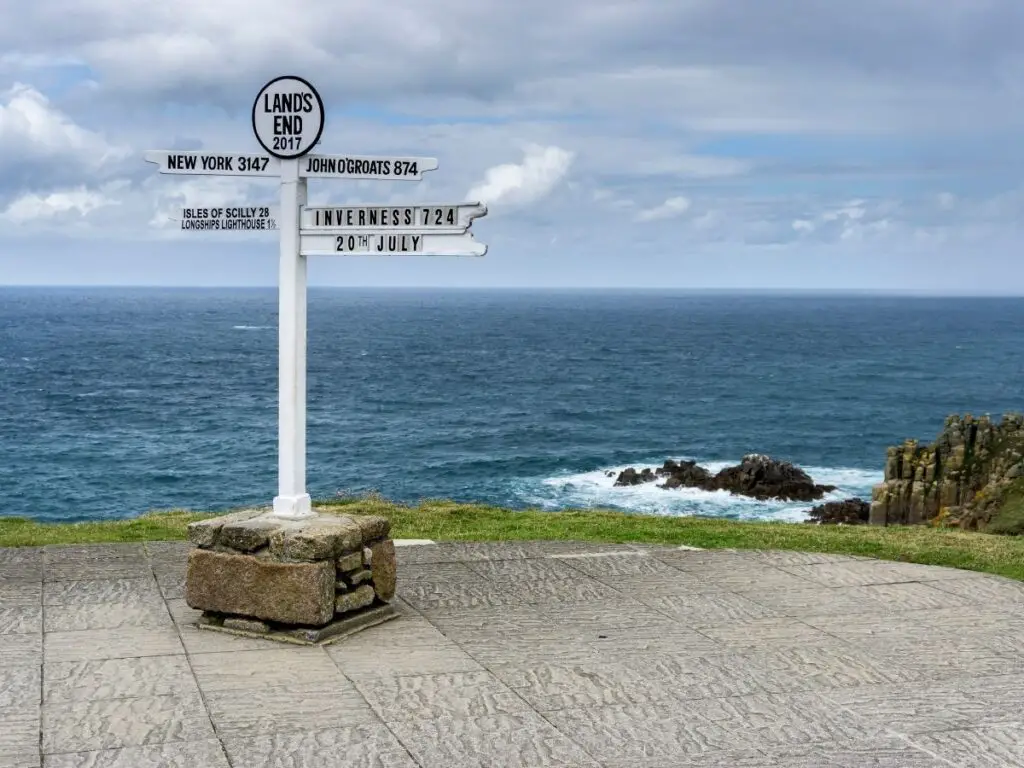 Day 1
Botallack Mines
Land's End
Minack Theatre & Porthcurno beach
Our first day in Cornwall assumes that you're already here and ready to go – don't try and add this on to a 5 hour journey!
There's a bit of walking today so make sure you have good shoes, a rain jacket and your camera!
This can be done in any order so if you have to book for the Minack theatre early you could do that and fit the others around it.
Botallack Mine
From St Ives it's around 30-40 minutes of driving along the stunning coastal road to our first stop of the day which is the Botallack Mine area.
This is one of the filming locations for the Poldark television series and it's an amazing sight to see the mines with the dramatic cliffs and sea crashing behind them.
If you're feeling energetic you might want to take a couple of hours exploring the coastal path at this far end of the country but if you're just wanting a short walk then this 1 mile trail might suit.
Land's End Landmark
You can't really head this far west in England without going to Land's End and if you've never been you'll want to tick it off your list.
There's a lot to do here if you like attractions, some rides and gift shops but for me I just love the scenery and coast. We saw dolphins here when we last came so keep a look out!
You can choose to get your photo taken at the famous sign if that appeals and there's lots of food options here too.
Land's End is about 20 mins drive from the Botallack mines – there is a large car park but be aware that the car park fee is on the steep side. I think £7 per car for the day was what we paid in 2021. the area is free to walk around though so on balance I think it's not too bad.
Minack Theatre and Porthcurno beach
Finally today we're going to head to the wonderful Minack Theatre which is an amazing place, perched on the side of the cliffs! Make sure to leave enough time to enjoy it – last entry tends to be around 5pm.
Currently Minack is pre-booking only – so check their website before heading there.
If you're lucky you might be able to coincide your 3 day Cornwall holiday with a performance but even if you can't it's a really interesting place to look around and learn the history of.
The gardens, the theatre itself and the exhibition showing the history of how the theatre came into being and how it is currently looked after was definitely one of my highlights when I went.
There's a cafe that serves some light refreshments should you need that too.
Right next to the theatre is the beautiful and picturesque Porthcurno beach and if you have any energy at all after your trip then you could take a walk down to see the turquoise waters. You might be content with the view from where the theatre is – it's a steep walk down and back!
For the evening of Day 1 I'll leave that up to you. You've had a lot of walking today so perhaps a quiet night at your accommodation with some local fish and chips might be a good idea!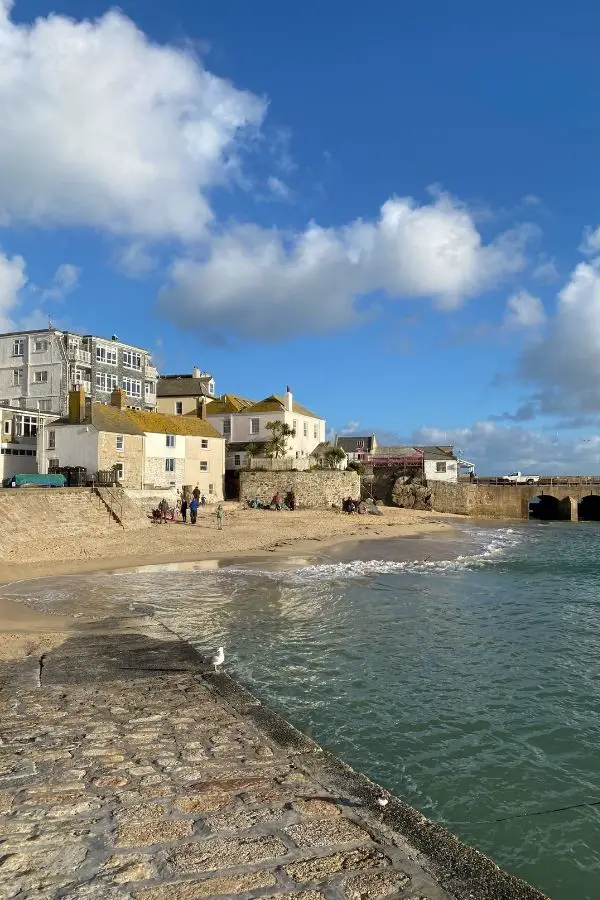 Day 2
Today we're going to spend the day in St Ives so if you chose to stay here you can even leave the car for the day!
St Ives boat trip
Tate museum
beach or coastal walk
Because we're not going far today you can choose to have a lazy morning making up for the previous days walks (and the day getting here too!). There are a lot of bakeries and cafes in St Ives so if you must leave and get out then you'll have a lot to choose from.
St Ives Boat trip
There are a lot of options for boat trips around St Ives. Some are dolphin spotting trips, some are fishing trips and some are fast paced RIB boats. Some are more kid orientated and some you can even take your dog!
You can book something online or by phone in advance, and it's recommended you do in the high season, but if you're travelling in quieter periods you might find a boat trip that appeals to you as you walk along the harbour of St Ives where many will have their sales reps and posters.
Whatever option you choose you can spend a good couple of hours looking for dolphins, seals and enjoying the coastline from a different perspective. Saves your legs too!
Tate Museum
St Ives has long been a haven for artists and this is celebrated with so many galleries in the area. The big one is the Tate St Ives which houses some modern art in an amazing building overlooking the sea.
If you're interested in art there's also the Barbara Hepworth Sculpture Garden that's worth a look too – they are both part of Tate but there's a separate admission fee for both.
You'll find food options too but, of course, being in St Ives you're spoiled for choice there too.
Beach or coastal walk
Finally for our St Ives day take a walk to one of the many beaches around St Ives or simply do some of the South West Coastal path. Whichever one you choose you'll get stunning scenery, white sand and amazingly blue sea that feels like it shouldn't be England!
Why not grab some locally made pasties from a baker and take them with you on your walk?
You're spoiled for choice for places to eat on an evening in St Ives – some restaurants may even have some entertainment laid on for you, or you could find a smaller establishment for some quieter time. If you're there in high season, as always, it's worth booking ahead if you can or just enjoy the take away options.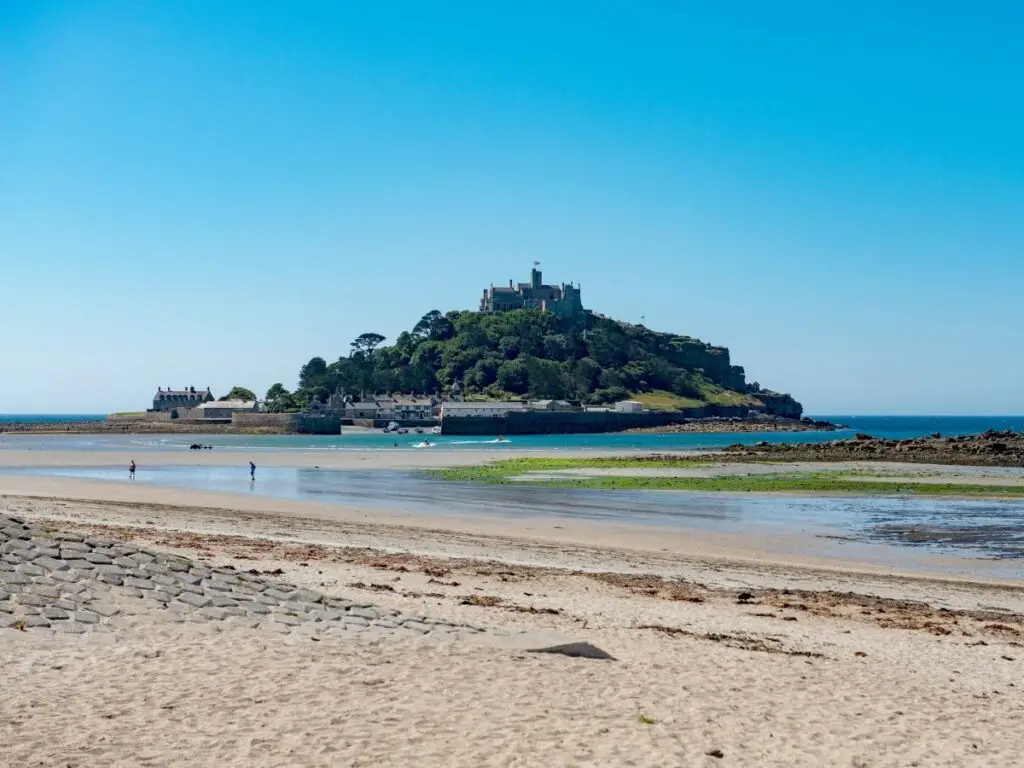 Day 3
Our last day takes us to the south coast which is a little different to the dramatic north coastline. It's not a huge drive away from St Ives so can be enjoyed as a full last day in Cornwall or perhaps as a precursor to your journey home.
St Michael's Mount
Seal Sanctuary in Greek
St Michael's Mount, Marazion
Around 20 minutes from St Ives is the stunning tidal island of St Michael's Mount. Parking can get busy here but there's plenty of it in a large private car park in Marazion.
Getting across to St Michael's Mount will depend on the tide times when you're there. When the causeway is covered by the sea you'll need to get the boat across which is a fun excursion in itself! If it's low tide you can walk across on the cobbled path.
While over on the island you can choose to just enjoy the journey over there, explore the tiny village and return or you can enter the Castle, grounds and gardens. It's a National Trust property so members get in free (although the boat trip costs a small amount for all visitors if you need that).
There's a lot to see here so if you can allow a few hours. As always be aware of the tide times and whether you'll need to walk or get the boat back. You'll see all the details on their site.
Cornish Seal Sanctuary, Gweek
Finally let's have a little bit of cute to remember a wonderful 3 days in Cornwall by taking a trip to the Cornish Seal Sanctuary.
This small centre is dedicated to the rescue of seals and sea lions from local areas and takes them in for rehabilitation and convalescence. They help pups and full grown animals.
There's viewing areas that show you them swimming under water and you can see them outside too. It's not just seals but also otters, penguins and sea lions. Time it right and you'll see them being fed and enjoy an informative talk too.
While perfect for kids to enjoy in Cornwall it's also dog friendly (for well behaved dogs) and adults will love the place too.
Last entry is around 3pm and currently needs to be pre-booked so bear that in mind when thinking about your last day in Cornwall.
If you're not heading home, your last evening can be enjoyed exploring the coast of Cornwall and perhaps one last amazing sunset. Praa Sands isn't too far away and a personal favourite.
Are you coming from London? Here's my guide to making a Cornwall road trip from London and where you might like to stop off at on the way
Accommodation options
Now you've seen what this itinerary includes you can see that you'll likely want to be based in the very South West of Cornwall.
I recommend St Ives to give you a good base for day 2 and also for plenty of eating options on an evening.
For hotels in St Ives check out Booking.com and for cottages and apartments check VRBO.com
Tip – if you do choose St Ives then be aware that parking can be tricky. See if your accommodation has a parking space or you'll need to add car parks to your budget.